The summer issue is here!
Subscribe
Page 69 from: The summer issue is here!
CONFERENCE REPORT 69recyclinginternational.com | July/August | 2021 new on the scene: wAtt4eVer With the arrival of e-mobility, energy storage systems will be a big part of the future of car recycling, according to Catherine Lenae...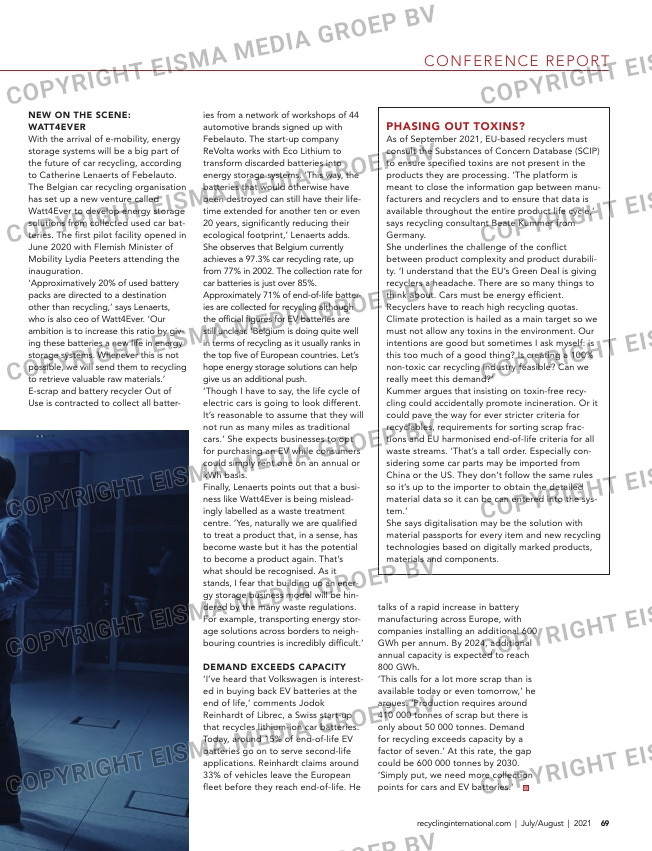 CONFERENCE REPORT
69recyclinginternational.com | July/August | 2021
new on the scene:
wAtt4eVer
With the arrival of e-mobility, energy
storage systems will be a big part of
the future of car recycling, according
to Catherine Lenaerts of Febelauto.
The Belgian car recycling organisation
has set up a new venture called
Watt4Ever to develop energy storage
solutions from collected used car bat-
teries. The first pilot facility opened in
June 2020 with Flemish Minister of
Mobility Lydia Peeters attending the
inauguration.
'Approximatively 20% of used battery
packs are directed to a destination
other than recycling,' says Lenaerts,
who is also ceo of Watt4Ever. 'Our
ambition is to increase this ratio by giv-
ing these batteries a new life in energy
storage systems. Whenever this is not
possible, we will send them to recycling
to retrieve valuable raw materials.'
E-scrap and battery recycler Out of
Use is contracted to collect all batter-
ies from a network of workshops of 44
automotive brands signed up with
Febelauto. The start-up company
ReVolta works with Eco Lithium to
transform discarded batteries into
energy storage systems. 'This way, the
batteries that would otherwise have
been destroyed can still have their life-
time extended for another ten or even
20 years, significantly reducing their
ecological footprint,' Lenaerts adds.
She observes that Belgium currently
achieves a 97.3% car recycling rate, up
from 77% in 2002. The collection rate for
car batteries is just over 85%.
Approximately 71% of end-of-life batter-
ies are collected for recycling although
the official figures for EV batteries are
still unclear. 'Belgium is doing quite well
in terms of recycling as it usually ranks in
the top five of European countries. Let's
hope energy storage solutions can help
give us an additional push.
'Though I have to say, the life cycle of
electric cars is going to look different.
It's reasonable to assume that they will
not run as many miles as traditional
cars.' She expects businesses to opt
for purchasing an EV while consumers
could simply rent one on an annual or
kWh basis.
Finally, Lenaerts points out that a busi-
ness like Watt4Ever is being mislead-
ingly labelled as a waste treatment
centre. 'Yes, naturally we are qualified
to treat a product that, in a sense, has
become waste but it has the potential
to become a product again. That's
what should be recognised. As it
stands, I fear that building up an ener-
gy storage business model will be hin-
dered by the many waste regulations.
For example, transporting energy stor-
age solutions across borders to neigh-
bouring countries is incredibly difficult.'
demAnd exceeds cApAcity
'I've heard that Volkswagen is interest-
ed in buying back EV batteries at the
end of life,' comments Jodok
Reinhardt of Librec, a Swiss start-up
that recycles lithium-ion car batteries.
Today, around 15% of end-of-life EV
batteries go on to serve second-life
applications. Reinhardt claims around
33% of vehicles leave the European
fleet before they reach end-of-life. He
talks of a rapid increase in battery
manufacturing across Europe, with
companies installing an additional 600
GWh per annum. By 2024, additional
annual capacity is expected to reach
800 GWh.
'This calls for a lot more scrap than is
available today or even tomorrow,' he
argues. 'Production requires around
410 000 tonnes of scrap but there is
only about 50 000 tonnes. Demand
for recycling exceeds capacity by a
factor of seven.' At this rate, the gap
could be 600 000 tonnes by 2030.
'Simply put, we need more collection
points for cars and EV batteries.'
protected. Fire is extinguished by
interrupting the chain reactions in the
flames.
Benefits include:
• Eco-friendly chemistry
• Supervised quarantine, 24/7
• No water used
• Non-toxic and non-corrosive
• Guaranteed storage life of 15 years
• Operating temperature from -54°C
to +150°C
• Equipped with lighting and 230
Volts power supply
FireBox says its units can be used in
either stationary or mobile form with
options to buy, lease or rent. The
company, headquartered in Bern, esti-
mates that there will be around one
million EVs in Switzerland by 2030.
Other positive news on the topic is that
Polish recycling company Elemental
Holding is constructing a EUR 182 mil-
lion facility dedicated to processing car
batteries. The plant will be one of the
first facilities of its kind in the world.
phAsing out toxins?
As of September 2021, EU-based recyclers must
consult the Substances of Concern Database (SCIP)
to ensure specified toxins are not present in the
products they are processing. 'The platform is
meant to close the information gap between manu-
facturers and recyclers and to ensure that data is
available throughout the entire product life cycle,'
says recycling consultant Beate Kummer from
Germany.
She underlines the challenge of the conflict
between product complexity and product durabili-
ty. 'I understand that the EU's Green Deal is giving
recyclers a headache. There are so many things to
think about. Cars must be energy efficient.
Recyclers have to reach high recycling quotas.
Climate protection is hailed as a main target so we
must not allow any toxins in the environment. Our
intentions are good but sometimes I ask myself: is
this too much of a good thing? Is creating a 100%
non-toxic car recycling industry feasible? Can we
really meet this demand?'
Kummer argues that insisting on toxin-free recy-
cling could accidentally promote incineration. Or it
could pave the way for ever stricter criteria for
recyclables, requirements for sorting scrap frac-
tions and EU harmonised end-of-life criteria for all
waste streams. 'That's a tall order. Especially con-
sidering some car parts may be imported from
China or the US. They don't follow the same rules
so it's up to the importer to obtain the detailed
material data so it can be can entered into the sys-
tem.'
She says digitalisation may be the solution with
material passports for every item and new recycling
technologies based on digitally marked products,
materials and components.
64-65-66-67-68-69_iarchighlights.indd 69 06-07-21 14:07