The summer issue is here!
Subscribe
Page 67 from: The summer issue is here!
CONFERENCE REPORT 67recyclinginternational.com | July/August | 2021 new LiFe For cAr bAtteries You can hardly talk about cars without mentioning batteries, argues Christian Winkler of TES. He cites market data suggesting there will...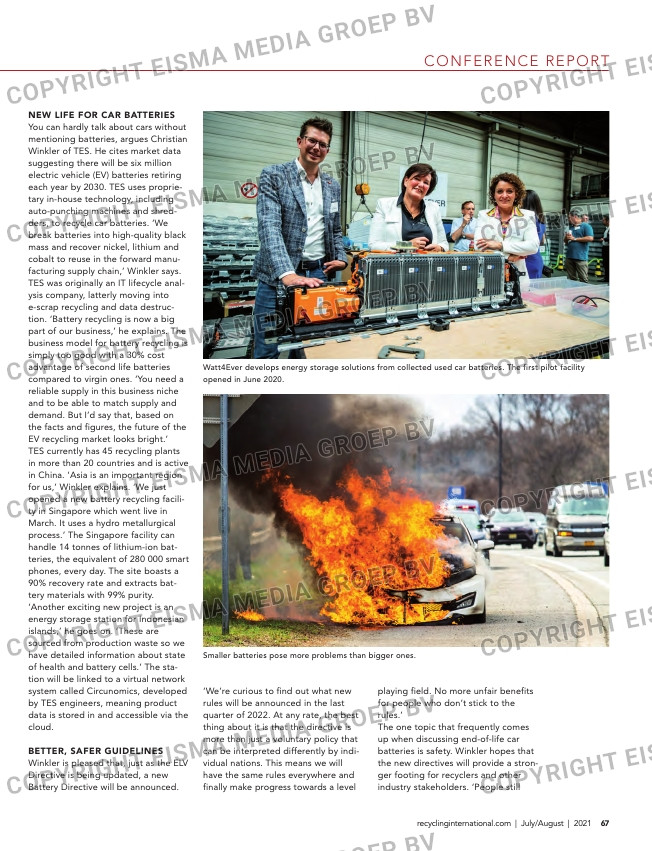 CONFERENCE REPORT
67recyclinginternational.com | July/August | 2021
new LiFe For cAr bAtteries
You can hardly talk about cars without
mentioning batteries, argues Christian
Winkler of TES. He cites market data
suggesting there will be six million
electric vehicle (EV) batteries retiring
each year by 2030. TES uses proprie-
tary in-house technology, including
auto-punching machines and shred-
ders, to recycle car batteries. 'We
break batteries into high-quality black
mass and recover nickel, lithium and
cobalt to reuse in the forward manu-
facturing supply chain,' Winkler says.
TES was originally an IT lifecycle anal-
ysis company, latterly moving into
e-scrap recycling and data destruc-
tion. 'Battery recycling is now a big
part of our business,' he explains. The
business model for battery recycling is
simply too good with a 30% cost
advantage of second life batteries
compared to virgin ones. 'You need a
reliable supply in this business niche
and to be able to match supply and
demand. But I'd say that, based on
the facts and figures, the future of the
EV recycling market looks bright.'
TES currently has 45 recycling plants
in more than 20 countries and is active
in China. 'Asia is an important region
for us,' Winkler explains. 'We just
opened a new battery recycling facili-
ty in Singapore which went live in
March. It uses a hydro metallurgical
process.' The Singapore facility can
handle 14 tonnes of lithium-ion bat-
teries, the equivalent of 280 000 smart
phones, every day. The site boasts a
90% recovery rate and extracts bat-
tery materials with 99% purity.
'Another exciting new project is an
energy storage station for Indonesian
islands,' he goes on. 'These are
sourced from production waste so we
have detailed information about state
of health and battery cells.' The sta-
tion will be linked to a virtual network
system called Circunomics, developed
by TES engineers, meaning product
data is stored in and accessible via the
cloud.
better, sAFer guideLines
Winkler is pleased that, just as the ELV
Directive is being updated, a new
Battery Directive will be announced.
'We're curious to find out what new
rules will be announced in the last
quarter of 2022. At any rate, the best
thing about it is that the directive is
more than just a voluntary policy that
can be interpreted differently by indi-
vidual nations. This means we will
have the same rules everywhere and
finally make progress towards a level
playing field. No more unfair benefits
for people who don't stick to the
rules.'
The one topic that frequently comes
up when discussing end-of-life car
batteries is safety. Winkler hopes that
the new directives will provide a stron-
ger footing for recyclers and other
industry stakeholders. 'People still
ELVs in and out of Europe. Then we
know exactly what's going on, who is
involved, and then we can ensure that
the right practices are used to process
exported vehicles. You might say it's a
virtual problem. There are gaps in the
system.'
wAit And see
Salau adds: 'Despite it being a very
unusual and hard year for most peo-
ple, 2020 was actually a very good
one for the European car recycling
industry.' However, she cautioned law-
makers to think twice about setting
fixed targets for recycled plastic con-
tent in new automotive parts. 'This is
only feasible if recyclers can guaran-
tee that recycled plastic can be used
as a substitute with the exact same
technical and quality properties as vir-
gin material.'
Moreover, it's questionable whether a
steady supply of recycled content can
be guaranteed throughout the auto-
motive production cycle. If there are
any issues, however minor, it could
result in production issues that make it
impractical for manufacturers to meet
pre-determined quotas.
The review of the ELV Directive is seen
as the perfect opportunity to ensure
that overlapping regulations are
brought within the same framework.
Hatzi-Hull uses the stage several times
to invite delegates to participate in
providing expert feedback and to
voice their interests. When she joking-
ly asks whether it would be best to
leave the directive as it is, anxious
murmurs rise from the audience.
Industry stakeholders want more har-
monisation and clearer targets;
they've been demanding this for
years. The other side of the coin is
uncertainty, asserts Lein Tange, ceo of
PolystyreneLoop which opened an
innovative polystyrene recycling plant
in Terneuzen, the Netherlands, in
June. 'There is a constant pressure of
new legislation. This means the big
companies are not eager to invest.
After all, what counts as a state-of-
the-art technology today may be con-
sidered not good enough a few years
from now. This results in a wait-and-
see attitude.'
Watt4Ever develops energy storage solutions from collected used car batteries. The first pilot facility
opened in June 2020.
Smaller batteries pose more problems than bigger ones.
64-65-66-67-68-69_iarchighlights.indd 67 06-07-21 14:07