The summer issue is here!
Subscribe
Page 62 from: The summer issue is here!
62 Oso Polymers (UK) Driven by China's scrap import ban, Chinese investors are developing new scrap processing plants elsewhere in South East Asia and also in North America and Europe. Based in Leeds in the north of England, Oso Po...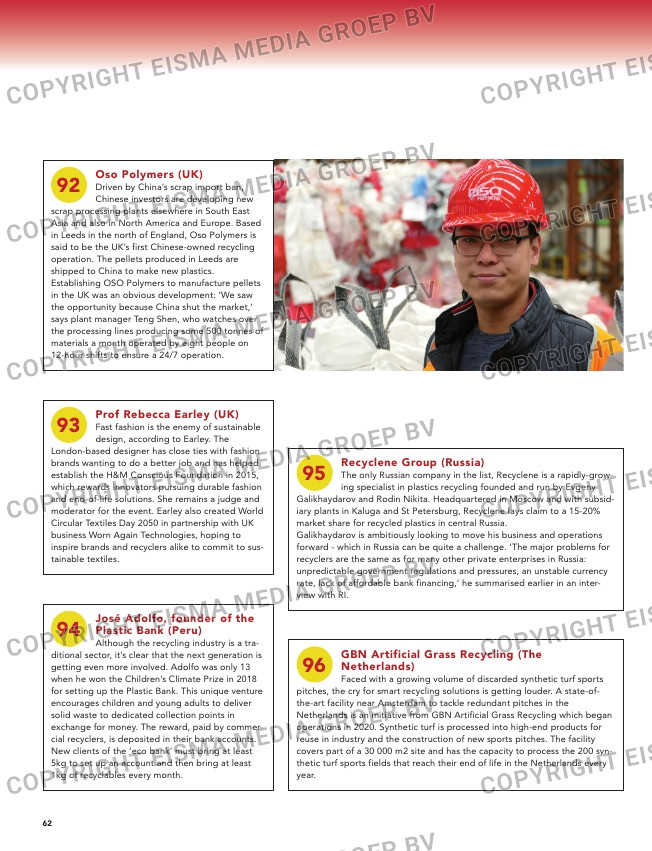 62
Oso Polymers (UK)
Driven by China's scrap import ban,
Chinese investors are developing new
scrap processing plants elsewhere in South East
Asia and also in North America and Europe. Based
in Leeds in the north of England, Oso Polymers is
said to be the UK's first Chinese-owned recycling
operation. The pellets produced in Leeds are
shipped to China to make new plastics.
Establishing OSO Polymers to manufacture pellets
in the UK was an obvious development: 'We saw
the opportunity because China shut the market,'
says plant manager Teng Shen, who watches over
the processing lines producing some 500 tonnes of
materials a month operated by eight people on
12-hour shifts to ensure a 24/7 operation.
José Adolfo, founder of the
Plastic Bank (Peru)
Although the recycling industry is a tra-
ditional sector, it's clear that the next generation is
getting even more involved. Adolfo was only 13
when he won the Children's Climate Prize in 2018
for setting up the Plastic Bank. This unique venture
encourages children and young adults to deliver
solid waste to dedicated collection points in
exchange for money. The reward, paid by commer-
cial recyclers, is deposited in their bank accounts.
New clients of the 'eco bank' must bring at least
5kg to set up an account and then bring at least
1kg of recyclables every month.
GBN Artificial Grass Recycling (The
Netherlands)
Faced with a growing volume of discarded synthetic turf sports
pitches, the cry for smart recycling solutions is getting louder. A state-of-
the-art facility near Amsterdam to tackle redundant pitches in the
Netherlands is an initiative from GBN Artificial Grass Recycling which began
operations in 2020. Synthetic turf is processed into high-end products for
reuse in industry and the construction of new sports pitches. The facility
covers part of a 30 000 m2 site and has the capacity to process the 200 syn-
thetic turf sports fields that reach their end of life in the Netherlands every
year.
Prof Rebecca Earley (UK)
Fast fashion is the enemy of sustainable
design, according to Earley. The
London-based designer has close ties with fashion
brands wanting to do a better job and has helped
establish the H&M Conscious Foundation in 2015,
which rewards innovators pursuing durable fashion
and end-of-life solutions. She remains a judge and
moderator for the event. Earley also created World
Circular Textiles Day 2050 in partnership with UK
business Worn Again Technologies, hoping to
inspire brands and recyclers alike to commit to sus-
tainable textiles.
Recyclene Group (Russia)
The only Russian company in the list, Recyclene is a rapidly-grow-
ing specialist in plastics recycling founded and run by Evgeny
Galikhaydarov and Rodin Nikita. Headquartered in Moscow and with subsid-
iary plants in Kaluga and St Petersburg, Recyclene lays claim to a 15-20%
market share for recycled plastics in central Russia.
Galikhaydarov is ambitiously looking to move his business and operations
forward – which in Russia can be quite a challenge. 'The major problems for
recyclers are the same as for many other private enterprises in Russia:
unpredictable government regulations and pressures, an unstable currency
rate, lack of affordable bank financing,' he summarised earlier in an inter-
view with RI.
Jeffrey Spangenberger, founder of the Recell
Center (USA)
America will have a little shy of two million tonnes of depleted
electric vehicle batteries by 2040. 'It's clear the demand for electric car bat-
tery materials cannot be met without recycling,' says Spangenberger,
researcher at the Argonne National Laboratory who has worked on several
projects to resolve the battery recycling issue. 'The US is trailing other coun-
tries when it comes to battery recycling: we're trying to pick up steam and
become a leader.'
As a result, Spangenberger helped establish the Recell Center in 2019, a
EUR 5 million cathode-to-cathode recycling initiative that strives to provide
stability to the battery supply chain. 'If you can take out and fix a cathode
and put it back in a battery, that makes a lot more sense than recycling the
cathode into metal powder and getting back only a third to half the value of
the component.'
92
94
96
93
95
DGrade (UAE)
DGrade delivers closed-loop solutions with collected plastics
reused in the fabrication of clothing, uniforms and accessories for
customers across the UAE and beyond. One project is Simply Bottles which
connects schools and businesses to educate and boost plastic bottle recy-
cling in the UAE. Since its inception, the initiative has engaged hundreds of
thousands of students and employees, recovering more than 34 tonnes of
PET. DGrade also works with the Formula 1 Yas Marina Circuit to collect
plastic from the race and other events which is then recycled into uniforms
for staff at the circuit. A new UAE based facility will use flakes from PET bot-
tles in the production of yarn and new bottles.
24-25-26-27-28-29-30-31-32-33-34-36-37-38-39-40-41-45-46-47-48-49-50-51-52-53-54-55-56-57-58-59-60-61-62-63_top100.indd 62 08-07-21 08:57