The summer issue is here!
Subscribe
Page 48 from: The summer issue is here!
48 MGG Polymers (Austria) Formerly known as MBA Polymers Austria, the Müller- Gutenbrunn Group's plastics recycling facility in Kematen is thought to be the first in the world able to produce post-consumer recycled PC/ABS, which repr...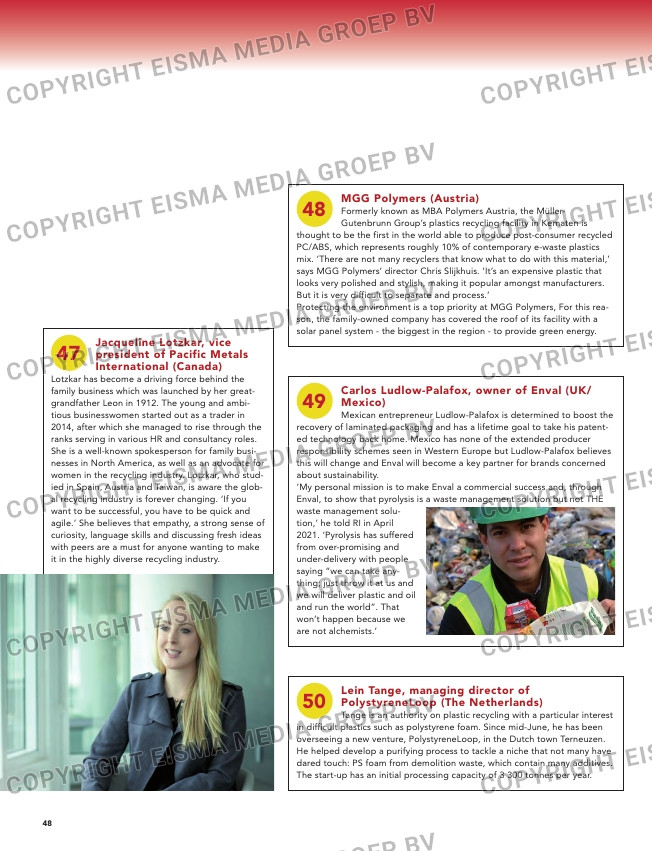 48
MGG Polymers (Austria)
Formerly known as MBA Polymers Austria, the Müller-
Gutenbrunn Group's plastics recycling facility in Kematen is
thought to be the first in the world able to produce post-consumer recycled
PC/ABS, which represents roughly 10% of contemporary e-waste plastics
mix. 'There are not many recyclers that know what to do with this material,'
says MGG Polymers' director Chris Slijkhuis. 'It's an expensive plastic that
looks very polished and stylish, making it popular amongst manufacturers.
But it is very difficult to separate and process.'
Protecting the environment is a top priority at MGG Polymers, For this rea-
son, the family-owned company has covered the roof of its facility with a
solar panel system – the biggest in the region – to provide green energy.
Lein Tange, managing director of
PolystyreneLoop (The Netherlands)
Tange is an authority on plastic recycling with a particular interest
in difficult plastics such as polystyrene foam. Since mid-June, he has been
overseeing a new venture, PolystyreneLoop, in the Dutch town Terneuzen.
He helped develop a purifying process to tackle a niche that not many have
dared touch: PS foam from demolition waste, which contain many additives.
The start-up has an initial processing capacity of 3 300 tonnes per year.
Miranda Wang, co-founder of
Novoloop (USA)
Wang started Novoloop straight out of
college together with her best friend Jeanny Yao.
The young women felt compelled to find a method
to treat plastic scrap more efficiently after learning
that most material in the US was either incinerated
or landfilled. Their 'breakthrough' accelerated ther-
mal oxidative decomposition technology harvests
carbon-rich feedstock from polyethylene scrap to
produce high performance materials that rival vir-
gin plastic. 'We want to help double the size of the
circular economy,' Wang tells us. 'Our flagship
product, XIRC, is designed to help planet-con-
scious brands accelerate the adoption of sustain-
able performance materials without compromising
quality and durability.' XIRC contains up to 50%
post-consumer recycled content.
Jacqueline Lotzkar, vice
president of Pacific Metals
International (Canada)
Lotzkar has become a driving force behind the
family business which was launched by her great-
grandfather Leon in 1912. The young and ambi-
tious businesswomen started out as a trader in
2014, after which she managed to rise through the
ranks serving in various HR and consultancy roles.
She is a well-known spokesperson for family busi-
nesses in North America, as well as an advocate for
women in the recycling industry. Lotzkar, who stud-
ied in Spain, Austria and Taiwan, is aware the glob-
al recycling industry is forever changing. 'If you
want to be successful, you have to be quick and
agile.' She believes that empathy, a strong sense of
curiosity, language skills and discussing fresh ideas
with peers are a must for anyone wanting to make
it in the highly diverse recycling industry.
Carlos Ludlow-Palafox, owner of Enval (UK/
Mexico)
Mexican entrepreneur Ludlow-Palafox is determined to boost the
recovery of laminated packaging and has a lifetime goal to take his patent-
ed technology back home. Mexico has none of the extended producer
responsibility schemes seen in Western Europe but Ludlow-Palafox believes
this will change and Enval will become a key partner for brands concerned
about sustainability.
'My personal mission is to make Enval a commercial success and, through
Enval, to show that pyrolysis is a waste management solution but not THE
waste management solu-
tion,' he told RI in April
2021. 'Pyrolysis has suffered
from over-promising and
under-delivery with people
saying "we can take any-
thing; just throw it at us and
we will deliver plastic and oil
and run the world". That
won't happen because we
are not alchemists.'
WEEE Metallica
(France)
This e-scrap recycling leader is
currently promoting its technology for
use in recycling electronic residues and
by-products. It established the world's
first industrial facility dedicated exclu-
sively to processing printed circuit
boards via pyrolysis in 2011. The site at
Isberges treats about 30 000 tonnes of
low-grade boards to produce a clean
metal concentrate that serves copper
smelters.
48
50
47
49
24-25-26-27-28-29-30-31-32-33-34-36-37-38-39-40-41-45-46-47-48-49-50-51-52-53-54-55-56-57-58-59-60-61-62-63_top100.indd 48 08-07-21 08:57