The summer issue is here!
Subscribe
Page 43 from: The summer issue is here!
Technology experT Shred-Tech developed one of the world's first mobile shredding trucks, designed to shred confidential office paper and documents on site. These trucks quickly became popular and have long been the largest revenue-ge...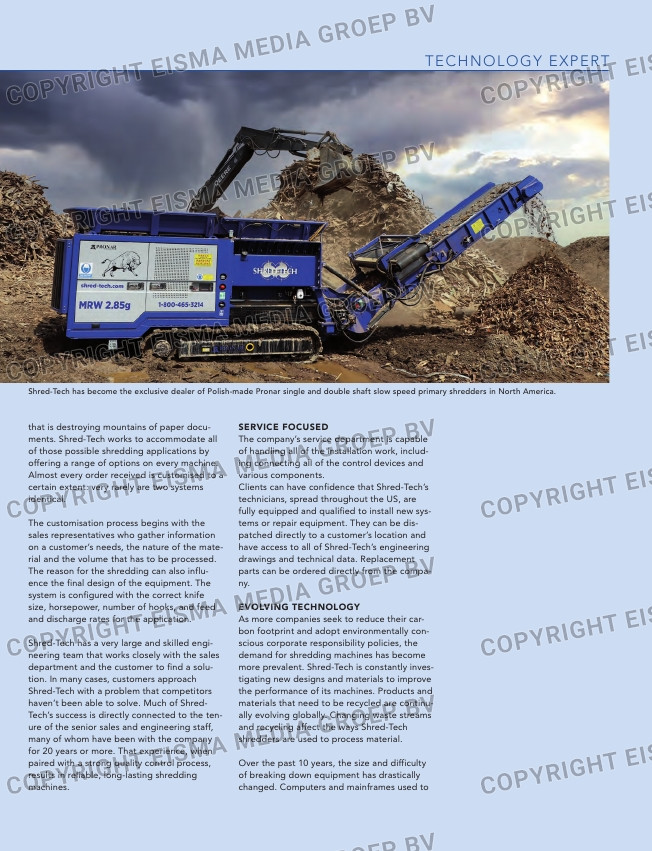 Technology experT
Shred-Tech developed one of the world's first
mobile shredding trucks, designed to shred
confidential office paper and documents on
site. These trucks quickly became popular and
have long been the largest revenue-generating
segment of Shred-Tech's business.
Although mobile shredding trucks are the
company's primary product, Shred-Tech con-
tinues to see growth in its stationary industrial
shredding equipment. Shred-Tech offers a
wide line-up of site-based shredding and recy-
cling systems, including two-shaft shredders,
four-shaft screened shredders, single-rotor
screened shredders and granulators, as well as
large primary shredders. Since its inception,
the company has installed more than 6 000
shredding and recycling systems worldwide in
locations as diverse as Fortune 500 manufac-
turers, hospitals and military facilities.
On an annual basis, Shred-Tech sells shredders
to almost every industry imaginable – whether
it's construction and demolition, automotive,
metals, paper, wood or plastics. In the auto-
motive industry, for example, the machines
shred by-products produced by Tier I suppli-
ers, including metals, plastics and the materials
used inside vehicles. Additionally, used tyres
can be shredded and recycled by third parties
to be consumed as fuel in cement kilns.
Most of Shred-Tech's mobile shredding vehi-
cles are manufactured at its headquarters in
Cambridge, Ontario but the company also has
production facilities the United Kingdom,
Thailand, Japan, Australia and, in the USA, in
Raleigh, North Carolina, home to its latest
manufacturing plant. The 20 000-square-foot
facility in Raleigh is designed to offload the
mobile truck refurbishment work that was
being carried out at the Cambridge facility.
CUSTOMISED SOLUTIONS
Shredding needs change depending on the
application. A company that breaks down dirt
at a rare earth metals mining operation
requires a vastly different shredder than one
that is destroying mountains of paper docu-
ments. Shred-Tech works to accommodate all
of those possible shredding applications by
offering a range of options on every machine.
Almost every order received is customised to a
certain extent: very rarely are two systems
identical.
The customisation process begins with the
sales representatives who gather information
on a customer's needs, the nature of the mate-
rial and the volume that has to be processed.
The reason for the shredding can also influ-
ence the final design of the equipment. The
system is configured with the correct knife
size, horsepower, number of hooks, and feed
and discharge rates for the application.
Shred-Tech has a very large and skilled engi-
neering team that works closely with the sales
department and the customer to find a solu-
tion. In many cases, customers approach
Shred-Tech with a problem that competitors
haven't been able to solve. Much of Shred-
Tech's success is directly connected to the ten-
ure of the senior sales and engineering staff,
many of whom have been with the company
for 20 years or more. That experience, when
paired with a strong quality control process,
results in reliable, long-lasting shredding
machines.
SERVICE FOCUSED
The company's service department is capable
of handling all of the installation work, includ-
ing connecting all of the control devices and
various components.
Clients can have confidence that Shred-Tech's
technicians, spread throughout the US, are
fully equipped and qualified to install new sys-
tems or repair equipment. They can be dis-
patched directly to a customer's location and
have access to all of Shred-Tech's engineering
drawings and technical data. Replacement
parts can be ordered directly from the compa-
ny.
EVOLVING TECHNOLOGY
As more companies seek to reduce their car-
bon footprint and adopt environmentally con-
scious corporate responsibility policies, the
demand for shredding machines has become
more prevalent. Shred-Tech is constantly inves-
tigating new designs and materials to improve
the performance of its machines. Products and
materials that need to be recycled are continu-
ally evolving globally. Changing waste streams
and recycling affect the ways Shred-Tech
shredders are used to process material.
Over the past 10 years, the size and difficulty
of breaking down equipment has drastically
changed. Computers and mainframes used to
Shred-Tech has become the exclusive dealer of Polish-made Pronar single and double shaft slow speed primary shredders in North America.
42-43-44_shred-tech.indd 43 06-07-21 14:04