The summer issue is here!
Subscribe
Page 20 from: The summer issue is here!
Restrictions on exports of recovered paper from Europe would be 'a very big mistake', according to recyclers. 'It's not all about muscles' 20 'adapt to circularity' call Ahead of the EU publishing a roadmap for achieving c...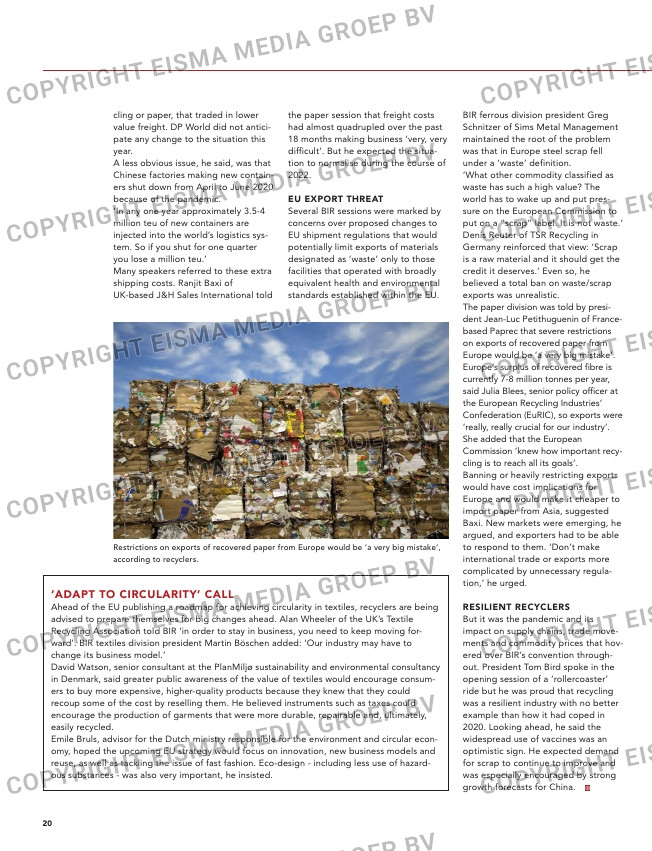 Restrictions on exports of recovered paper from Europe would be 'a very big mistake',
according to recyclers.
'It's not all about muscles'
20
'adapt to circularity' call
Ahead of the EU publishing a roadmap for achieving circularity in textiles, recyclers are being
advised to prepare themselves for big changes ahead. Alan Wheeler of the UK's Textile
Recycling Association told BIR 'in order to stay in business, you need to keep moving for-
ward'. BIR textiles division president Martin Böschen added: 'Our industry may have to
change its business model.'
David Watson, senior consultant at the PlanMiljø sustainability and environmental consultancy
in Denmark, said greater public awareness of the value of textiles would encourage consum-
ers to buy more expensive, higher-quality products because they knew that they could
recoup some of the cost by reselling them. He believed instruments such as taxes could
encourage the production of garments that were more durable, repairable and, ultimately,
easily recycled.
Emile Bruls, advisor for the Dutch ministry responsible for the environment and circular econ-
omy, hoped the upcoming EU strategy would focus on innovation, new business models and
reuse, as well as tackling the issue of fast fashion. Eco-design – including less use of hazard-
ous substances – was also very important, he insisted.
cling or paper, that traded in lower
value freight. DP World did not antici-
pate any change to the situation this
year.
A less obvious issue, he said, was that
Chinese factories making new contain-
ers shut down from April to June 2020
because of the pandemic.
'In any one year approximately 3.5-4
million teu of new containers are
injected into the world's logistics sys-
tem. So if you shut for one quarter
you lose a million teu.'
Many speakers referred to these extra
shipping costs. Ranjit Baxi of
UK-based J&H Sales International told
the paper session that freight costs
had almost quadrupled over the past
18 months making business 'very, very
difficult'. But he expected the situa-
tion to normalise during the course of
2022.
eu export threat
Several BIR sessions were marked by
concerns over proposed changes to
EU shipment regulations that would
potentially limit exports of materials
designated as 'waste' only to those
facilities that operated with broadly
equivalent health and environmental
standards established within the EU.
BIR ferrous division president Greg
Schnitzer of Sims Metal Management
maintained the root of the problem
was that in Europe steel scrap fell
under a 'waste' definition.
'What other commodity classified as
waste has such a high value? The
world has to wake up and put pres-
sure on the European Commission to
put on a "scrap" label. It is not waste.'
Denis Reuter of TSR Recycling in
Germany reinforced that view: 'Scrap
is a raw material and it should get the
credit it deserves.' Even so, he
believed a total ban on waste/scrap
exports was unrealistic.
The paper division was told by presi-
dent Jean-Luc Petithuguenin of France-
based Paprec that severe restrictions
on exports of recovered paper from
Europe would be 'a very big mistake'.
Europe's surplus of recovered fibre is
currently 7-8 million tonnes per year,
said Julia Blees, senior policy officer at
the European Recycling Industries'
Confederation (EuRIC), so exports were
'really, really crucial for our industry'.
She added that the European
Commission 'knew how important recy-
cling is to reach all its goals'.
Banning or heavily restricting exports
would have cost implications for
Europe and would make it cheaper to
import paper from Asia, suggested
Baxi. New markets were emerging, he
argued, and exporters had to be able
to respond to them. 'Don't make
international trade or exports more
complicated by unnecessary regula-
tion,' he urged.
resilient recyclers
But it was the pandemic and its
impact on supply chains, trade move-
ments and commodity prices that hov-
ered over BIR's convention through-
out. President Tom Bird spoke in the
opening session of a 'rollercoaster'
ride but he was proud that recycling
was a resilient industry with no better
example than how it had coped in
2020. Looking ahead, he said the
widespread use of vaccines was an
optimistic sign. He expected demand
for scrap to continue to improve and
was especially encouraged by strong
growth forecasts for China.
16-17-18-19-20-21_birconferencereport_New.indd 20 08-07-21 09:15