The summer issue is here!
Subscribe
Page 19 from: The summer issue is here!
BIR CONVENTION 19recyclinginternational.com | July/August | 2021 grades, was helping to sustain signifi- cantly higher prices. In the longer term, pledges within China's latest five-year plan to cut domestic crude steel production...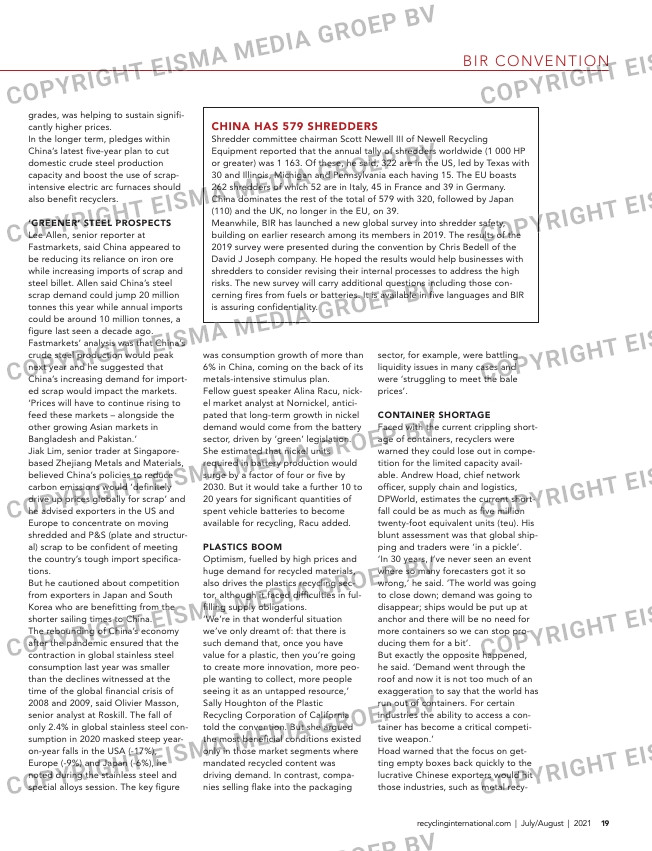 BIR CONVENTION
19recyclinginternational.com | July/August | 2021
grades, was helping to sustain signifi-
cantly higher prices.
In the longer term, pledges within
China's latest five-year plan to cut
domestic crude steel production
capacity and boost the use of scrap-
intensive electric arc furnaces should
also benefit recyclers.
'Greener' steel prospects
Lee Allen, senior reporter at
Fastmarkets, said China appeared to
be reducing its reliance on iron ore
while increasing imports of scrap and
steel billet. Allen said China's steel
scrap demand could jump 20 million
tonnes this year while annual imports
could be around 10 million tonnes, a
figure last seen a decade ago.
Fastmarkets' analysis was that China's
crude steel production would peak
next year and he suggested that
China's increasing demand for import-
ed scrap would impact the markets.
'Prices will have to continue rising to
feed these markets – alongside the
other growing Asian markets in
Bangladesh and Pakistan.'
Jiak Lim, senior trader at Singapore-
based Zhejiang Metals and Materials,
believed China's policies to reduce
carbon emissions would 'definitely
drive up prices globally for scrap' and
he advised exporters in the US and
Europe to concentrate on moving
shredded and P&S (plate and structur-
al) scrap to be confident of meeting
the country's tough import specifica-
tions.
But he cautioned about competition
from exporters in Japan and South
Korea who are benefitting from the
shorter sailing times to China.
The rebounding of China's economy
after the pandemic ensured that the
contraction in global stainless steel
consumption last year was smaller
than the declines witnessed at the
time of the global financial crisis of
2008 and 2009, said Olivier Masson,
senior analyst at Roskill. The fall of
only 2.4% in global stainless steel con-
sumption in 2020 masked steep year-
on-year falls in the USA (-17%),
Europe (-9%) and Japan (-6%), he
noted during the stainless steel and
special alloys session. The key figure
was consumption growth of more than
6% in China, coming on the back of its
metals-intensive stimulus plan.
Fellow guest speaker Alina Racu, nick-
el market analyst at Nornickel, antici-
pated that long-term growth in nickel
demand would come from the battery
sector, driven by 'green' legislation.
She estimated that nickel units
required in battery production would
surge by a factor of four or five by
2030. But it would take a further 10 to
20 years for significant quantities of
spent vehicle batteries to become
available for recycling, Racu added.
plastics boom
Optimism, fuelled by high prices and
huge demand for recycled materials,
also drives the plastics recycling sec-
tor, although it faced difficulties in ful-
filling supply obligations.
'We're in that wonderful situation
we've only dreamt of: that there is
such demand that, once you have
value for a plastic, then you're going
to create more innovation, more peo-
ple wanting to collect, more people
seeing it as an untapped resource,'
Sally Houghton of the Plastic
Recycling Corporation of California
told the convention. But she argued
the most beneficial conditions existed
only in those market segments where
mandated recycled content was
driving demand. In contrast, compa-
nies selling flake into the packaging
sector, for example, were battling
liquidity issues in many cases and
were 'struggling to meet the bale
prices'.
container shortaGe
Faced with the current crippling short-
age of containers, recyclers were
warned they could lose out in compe-
tition for the limited capacity avail-
able. Andrew Hoad, chief network
officer, supply chain and logistics,
DPWorld, estimates the current short-
fall could be as much as five million
twenty-foot equivalent units (teu). His
blunt assessment was that global ship-
ping and traders were 'in a pickle'.
'In 30 years, I've never seen an event
where so many forecasters got it so
wrong,' he said. 'The world was going
to close down; demand was going to
disappear; ships would be put up at
anchor and there will be no need for
more containers so we can stop pro-
ducing them for a bit'.
But exactly the opposite happened,
he said. 'Demand went through the
roof and now it is not too much of an
exaggeration to say that the world has
run out of containers. For certain
industries the ability to access a con-
tainer has become a critical competi-
tive weapon.'
Hoad warned that the focus on get-
ting empty boxes back quickly to the
lucrative Chinese exporters would hit
those industries, such as metal recy-
Recycling, a virtual convention was
the answer to the major challenge
of delivering to its global member –
ship the traditional twin desires
of networking and sharing know-
ledge.
Regardless of the method of delivery,
the issues faced by recyclers around
the world are no less real. Across
three days, the big debates were – as
ever – about prices, demand for scrap,
shipping and logistics, and regulations
and trade policies.
Uppermost in most minds, however,
was the impact of the pandemic on
supply and demand and future trends.
That was certainly the case when the
industry insiders told the ferrous ses-
sion that strong demand for ferrous
scrap as economies bounce back from
the pandemic, coupled with China's
recent willingness to import certain
china has 579 shredders
Shredder committee chairman Scott Newell III of Newell Recycling
Equipment reported that the annual tally of shredders worldwide (1 000 HP
or greater) was 1 163. Of these, he said, 322 are in the US, led by Texas with
30 and Illinois, Michigan and Pennsylvania each having 15. The EU boasts
262 shredders of which 52 are in Italy, 45 in France and 39 in Germany.
China dominates the rest of the total of 579 with 320, followed by Japan
(110) and the UK, no longer in the EU, on 39.
Meanwhile, BIR has launched a new global survey into shredder safety,
building on earlier research among its members in 2019. The results of the
2019 survey were presented during the convention by Chris Bedell of the
David J Joseph company. He hoped the results would help businesses with
shredders to consider revising their internal processes to address the high
risks. The new survey will carry additional questions including those con-
cerning fires from fuels or batteries. It is available in five languages and BIR
is assuring confidentiality.
High prices and huge demand for recycled materials have driven the plastics recycling sector.
16-17-18-19-20-21_birconferencereport_New.indd 19 08-07-21 09:15