The summer issue is here!
Subscribe
Page 15 from: The summer issue is here!
trends & updates 15recyclinginternational.com | July/August | 2021 smart tEch ramPs UP PEt rEcyclinG in mExico major investments in advanced sort- ing technology may well mark the beginning of a new era for plastics recycling in...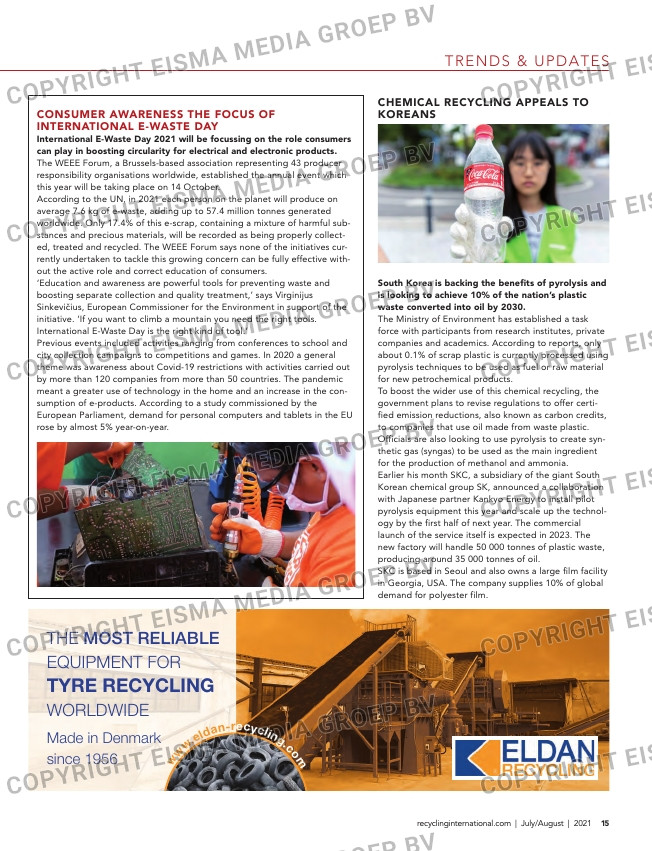 trends & updates
15recyclinginternational.com | July/August | 2021
smart tEch ramPs UP PEt rEcyclinG in mExico
major investments in advanced sort-
ing technology may well mark the
beginning of a new era for plastics
recycling in mexico.
Tech provider Tomra has recently
installed a state-of-the-art sorting line
at Indorama Ventures EcoMex. The line
can process up to 30 000 tonnes of PET
flakes per year. The installation follows
a first line installed by Tomra earlier
and total production capacity is now
currently 42 000 tonnes.
Global chemicals producer Indorama Ventures has been active in recycling since 2011.
In 2014 it acquired a PET recycling plant near the city of Guadalajara which allows the
company to pursue its strategy of expanding its activities in Central America.
Tomra's sensor-based sorting machines help Indorama separate the incoming material
by colour and type. As a first step, two Autosort units pre-sort PET bottles from landfills
and collection centres, sourced largely from central and western Mexico.
Pre-sorted materials are then washed and shredded before the respective PET flakes
are further sorted and purified by two Autosort Flake units. The flakes produced are
further recycled and made available to plastics converters as food-grade PET resin.
india inclUdEs lithiUm ion battEriEs in sUstainability
drivE
india has issued a proposed legislative
framework for the waste management
and recycling of lithium ion and nickel
cadmium batteries which are not cur-
rently covered by existing rules.
The draft Battery Waste Management
Rules from the Ministry of Environment,
Forest and Climate Change (MoEFCC) is
being circulated among industry stake-
holders. It expands the categories of bat-
teries to include those using lithium ion, nickel cadmium, alkaline and mercury.
The new legislation mandates extended producer responsibilities (EPR), waste collection
centres, targets for take-back schemes, guidelines for recyclers and data reporting. It was
originally drafted last year but implementation was delayed by the pandemic.
According to MoEFCC, the new legal framework is needed because India's existing battery
regulations cover only lead acid batteries while e-waste legislation has no specific mention
of lithium-ion batteries used in electric vehicles (EVs).
The new legislation will lay down the responsibilities of the manufacturer, importer or
assembler of batteries. Every EPR will have to register for certification at either federal or
state level. Every battery manufacturer will also need EPR authorisation within three months
of starting operations or face penalties.
Production, sale and recycling of any battery containing more than 0.0005% of mercury by
weight or exceeding 0.00023% of cadmium by weight will be prohibited.
The proposed legislation is an attempt to establish a regime for lithium-ion batteries in
anticipation of rapid adoption of electric vehicles (EVs) in India and the resulting end-of-life
batteries. India is entirely dependent on imported lithium and extracting the metal through
recycling is seen as critical to establishing domestic battery manufacturing.
The Society of Manufacturers' of Electric Vehicles says there are about 250 000 EVs on
Indian roads at present and the lithium ion battery market is expanding at a compounded
growth rate of 37% per annum.
THE MOST RELIABLE
EQUIPMENT FOR
TYRE RECYCLING
WORLDWIDE
w
w
w.
eld
an-recycling.com
Made in Denmark
since 1956
RecyclingInternational_TyreRecycling_205x64_210628_2.indd 1 28-06-2021 12:59:18
consUmEr aWarEnEss thE focUs of
intErnational E-WastE day
international E-Waste day 2021 will be focussing on the role consumers
can play in boosting circularity for electrical and electronic products.
The WEEE Forum, a Brussels-based association representing 43 producer
responsibility organisations worldwide, established the annual event which
this year will be taking place on 14 October.
According to the UN, in 2021 each person on the planet will produce on
average 7.6 kg of e-waste, adding up to 57.4 million tonnes generated
worldwide. Only 17.4% of this e-scrap, containing a mixture of harmful sub-
stances and precious materials, will be recorded as being properly collect-
ed, treated and recycled. The WEEE Forum says none of the initiatives cur-
rently undertaken to tackle this growing concern can be fully effective with-
out the active role and correct education of consumers.
'Education and awareness are powerful tools for preventing waste and
boosting separate collection and quality treatment,' says Virginijus
Sinkevičius, European Commissioner for the Environment in support of the
initiative. 'If you want to climb a mountain you need the right tools.
International E-Waste Day is the right kind of tool.'
Previous events included activities ranging from conferences to school and
city collection campaigns to competitions and games. In 2020 a general
theme was awareness about Covid-19 restrictions with activities carried out
by more than 120 companies from more than 50 countries. The pandemic
meant a greater use of technology in the home and an increase in the con-
sumption of e-products. According to a study commissioned by the
European Parliament, demand for personal computers and tablets in the EU
rose by almost 5% year-on-year.
chEmical rEcyclinG aPPEals to
KorEans
south Korea is backing the benefits of pyrolysis and
is looking to achieve 10% of the nation's plastic
waste converted into oil by 2030.
The Ministry of Environment has established a task
force with participants from research institutes, private
companies and academics. According to reports, only
about 0.1% of scrap plastic is currently processed using
pyrolysis techniques to be used as fuel or raw material
for new petrochemical products.
To boost the wider use of this chemical recycling, the
government plans to revise regulations to offer certi-
fied emission reductions, also known as carbon credits,
to companies that use oil made from waste plastic.
Officials are also looking to use pyrolysis to create syn-
thetic gas (syngas) to be used as the main ingredient
for the production of methanol and ammonia.
Earlier his month SKC, a subsidiary of the giant South
Korean chemical group SK, announced a collaboration
with Japanese partner Kankyo Energy to install pilot
pyrolysis equipment this year and scale up the technol-
ogy by the first half of next year. The commercial
launch of the service itself is expected in 2023. The
new factory will handle 50 000 tonnes of plastic waste,
producing around 35 000 tonnes of oil.
SKC is based in Seoul and also owns a large film facility
in Georgia, USA. The company supplies 10% of global
demand for polyester film.
10-11-12-13-14-15_trendsenupdates.indd 15 07-07-21 08:34