The summer issue is here!
Subscribe
Page 13 from: The summer issue is here!
trends & updates 13recyclinginternational.com | July/August | 2021 rUssia to tax mEtal ExPorts from aUGUst russia is introducing export duties on ferrous and non-ferrous met- als from 1 august 1 until the end of the year in a bid ...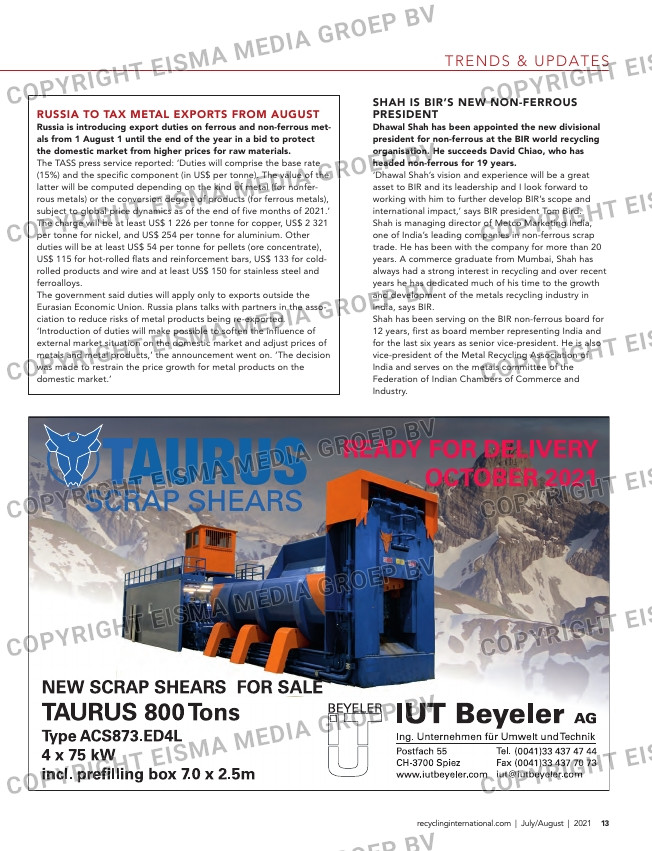 trends & updates
13recyclinginternational.com | July/August | 2021
rUssia to tax mEtal ExPorts from aUGUst
russia is introducing export duties on ferrous and non-ferrous met-
als from 1 august 1 until the end of the year in a bid to protect
the domestic market from higher prices for raw materials.
The TASS press service reported: 'Duties will comprise the base rate
(15%) and the specific component (in US$ per tonne). The value of the
latter will be computed depending on the kind of metal (for nonfer-
rous metals) or the conversion degree of products (for ferrous metals),
subject to global price dynamics as of the end of five months of 2021.'
The charge will be at least US$ 1 226 per tonne for copper, US$ 2 321
per tonne for nickel, and US$ 254 per tonne for aluminium. Other
duties will be at least US$ 54 per tonne for pellets (ore concentrate),
US$ 115 for hot-rolled flats and reinforcement bars, US$ 133 for cold-
rolled products and wire and at least US$ 150 for stainless steel and
ferroalloys.
The government said duties will apply only to exports outside the
Eurasian Economic Union. Russia plans talks with partners in the asso-
ciation to reduce risks of metal products being re-exported.
'Introduction of duties will make possible to soften the influence of
external market situation on the domestic market and adjust prices of
metals and metal products,' the announcement went on. 'The decision
was made to restrain the price growth for metal products on the
domestic market.'
biffa bUys Post-consUmEr Plastics facility
group and continue to invest for the future. It has been a year
none of us wants to repeat but certainly one which showed us
at our best.'
Results, he adds, were ahead of expectations. 'We are strongly
positioned for the post-pandemic recovery with leadership posi-
tions in our core markets, a well-developed investment pro-
gramme and exciting growth opportunities ahead, leveraging
the group's unique position at the heart of the circular econo-
my.'
shah is bir's nEW non-fErroUs
PrEsidEnt
dhawal shah has been appointed the new divisional
president for non-ferrous at the bir world recycling
organisation. he succeeds david chiao, who has
headed non-ferrous for 19 years.
'Dhawal Shah's vision and experience will be a great
asset to BIR and its leadership and I look forward to
working with him to further develop BIR's scope and
international impact,' says BIR president Tom Bird.
Shah is managing director of Metco Marketing India,
one of India's leading companies in non-ferrous scrap
trade. He has been with the company for more than 20
years. A commerce graduate from Mumbai, Shah has
always had a strong interest in recycling and over recent
years he has dedicated much of his time to the growth
and development of the metals recycling industry in
India, says BIR.
Shah has been serving on the BIR non-ferrous board for
12 years, first as board member representing India and
for the last six years as senior vice-president. He is also
vice-president of the Metal Recycling Association of
India and serves on the metals committee of the
Federation of Indian Chambers of Commerce and
Industry.
Van Peperzeel is market leader
difficult but valuable materials
in the field of collecting, sorting,
valuation and transportation of
consumer and industrial batteries
in the Netherlands. With years
of experience and expertise in
controlling and processing these
Van Peperzeel is the expert and
your reliable partner. We ensure
a safe transport, storage and an
environmentally friendly recycling
throughout Europe.
Your consumer & industrial
batteries, non-ferrous

metals and other residues
in safe hands.

Van Peperzeel

our expertise

James Wattlaan 6
8218 MB Lelystad
T +31 (0)320 – 401 400
F +31 (0)320 – 401 409
Your partner for
battery related

safety solutions

E [email protected] peperzeel.nl
I www.
10-11-12-13-14-15_trendsenupdates.indd 13 07-07-21 08:34