The 2022 Top 100 issue!
Subscribe
Page 91 from: The 2022 Top 100 issue!
BECK'S 91recyclinginternational.com | July/August | 2022 Fotobijschrift KADERKOP ?? Horrible holidays Seeing other people fulfilling their dreams with holiday trips can be an envious prospect - largely because we rarely co...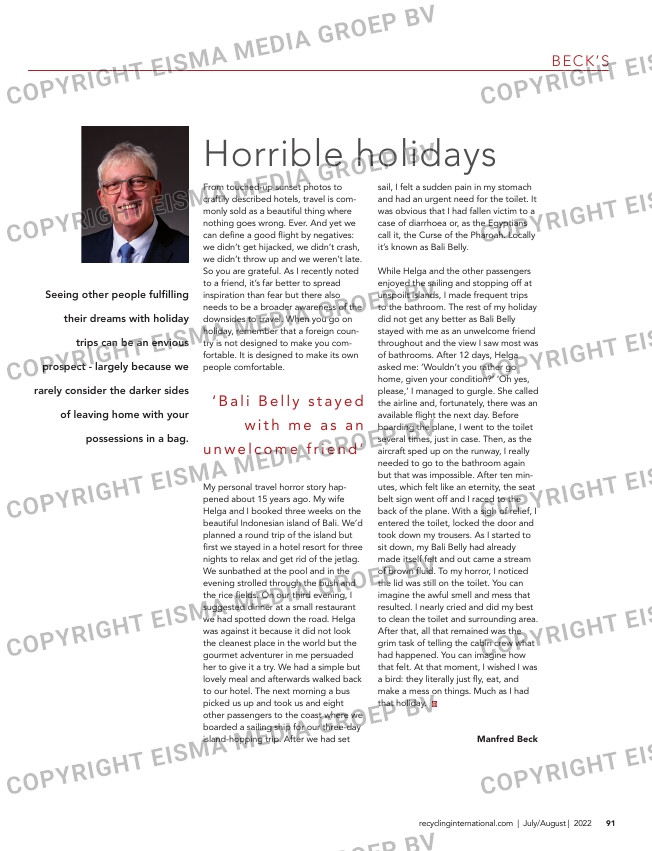 BECK'S
91recyclinginternational.com | July/August | 2022
Fotobijschrift
KADERKOP
??
Horrible holidays
Seeing other people fulfilling
their dreams with holiday
trips can be an envious
prospect – largely because we
rarely consider the darker sides
of leaving home with your
possessions in a bag.
From touched-up sunset photos to
craftily described hotels, travel is com-
monly sold as a beautiful thing where
nothing goes wrong. Ever. And yet we
can define a good flight by negatives:
we didn't get hijacked, we didn't crash,
we didn't throw up and we weren't late.
So you are grateful. As I recently noted
to a friend, it's far better to spread
inspiration than fear but there also
needs to be a broader awareness of the
downsides to travel. When you go on
holiday, remember that a foreign coun-
try is not designed to make you com-
fortable. It is designed to make its own
people comfortable.
My personal travel horror story hap-
pened about 15 years ago. My wife
Helga and I booked three weeks on the
beautiful Indonesian island of Bali. We'd
planned a round trip of the island but
first we stayed in a hotel resort for three
nights to relax and get rid of the jetlag.
We sunbathed at the pool and in the
evening strolled through the bush and
the rice fields. On our third evening, I
suggested dinner at a small restaurant
we had spotted down the road. Helga
was against it because it did not look
the cleanest place in the world but the
gourmet adventurer in me persuaded
her to give it a try. We had a simple but
lovely meal and afterwards walked back
to our hotel. The next morning a bus
picked us up and took us and eight
other passengers to the coast where we
boarded a sailing ship for our three-day
island-hopping trip. After we had set
sail, I felt a sudden pain in my stomach
and had an urgent need for the toilet. It
was obvious that I had fallen victim to a
case of diarrhoea or, as the Egyptians
call it, the Curse of the Pharoah. Locally
it's known as Bali Belly.
While Helga and the other passengers
enjoyed the sailing and stopping off at
unspoilt islands, I made frequent trips
to the bathroom. The rest of my holiday
did not get any better as Bali Belly
stayed with me as an unwelcome friend
throughout and the view I saw most was
of bathrooms. After 12 days, Helga
asked me: 'Wouldn't you rather go
home, given your condition?' 'Oh yes,
please,' I managed to gurgle. She called
the airline and, fortunately, there was an
available flight the next day. Before
boarding the plane, I went to the toilet
several times, just in case. Then, as the
aircraft sped up on the runway, I really
needed to go to the bathroom again
but that was impossible. After ten min-
utes, which felt like an eternity, the seat
belt sign went off and I raced to the
back of the plane. With a sigh of relief, I
entered the toilet, locked the door and
took down my trousers. As I started to
sit down, my Bali Belly had already
made itself felt and out came a stream
of brown fluid. To my horror, I noticed
the lid was still on the toilet. You can
imagine the awful smell and mess that
resulted. I nearly cried and did my best
to clean the toilet and surrounding area.
After that, all that remained was the
grim task of telling the cabin crew what
had happened. You can imagine how
that felt. At that moment, I wished I was
a bird: they literally just fly, eat, and
make a mess on things. Much as I had
that holiday.
Manfred Beck
' B a l i B e l l y s t a y e d
w i t h m e a s a n
u n w e l c o m e f r i e n d '
91_becks.indd 91 05-07-2022 13:46