The 2022 Top 100 issue!
Subscribe
Page 89 from: The 2022 Top 100 issue!
IN THE LABORATORY 89recyclinginternational.com | July/August | 2022 Ford backs research to boost value of recycled plastics Ford Motor Company is collaborating with Rice University to process the plastic parts of used vehicles...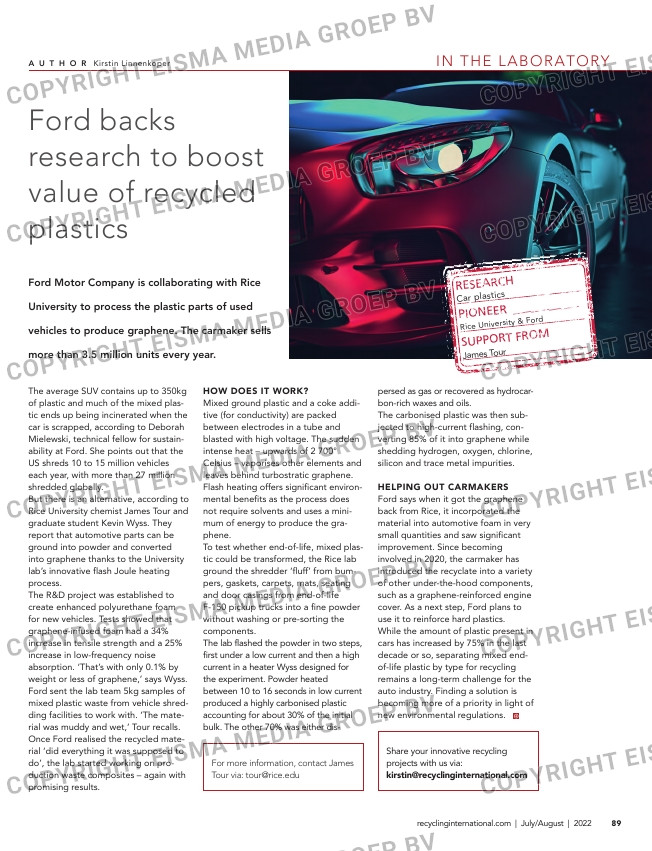 IN THE LABORATORY
89recyclinginternational.com | July/August | 2022
Ford backs
research to boost
value of recycled
plastics
Ford Motor Company is collaborating with Rice
University to process the plastic parts of used
vehicles to produce graphene. The carmaker sells
more than 3.5 million units every year.
The average SUV contains up to 350kg
of plastic and much of the mixed plas-
tic ends up being incinerated when the
car is scrapped, according to Deborah
Mielewski, technical fellow for sustain-
ability at Ford. She points out that the
US shreds 10 to 15 million vehicles
each year, with more than 27 million
shredded globally.
But there is an alternative, according to
Rice University chemist James Tour and
graduate student Kevin Wyss. They
report that automotive parts can be
ground into powder and converted
into graphene thanks to the University
lab's innovative flash Joule heating
process.
The R&D project was established to
create enhanced polyurethane foam
for new vehicles. Tests showed that
graphene-infused foam had a 34%
increase in tensile strength and a 25%
increase in low-frequency noise
absorption. 'That's with only 0.1% by
weight or less of graphene,' says Wyss.
Ford sent the lab team 5kg samples of
mixed plastic waste from vehicle shred-
ding facilities to work with. 'The mate-
rial was muddy and wet,' Tour recalls.
Once Ford realised the recycled mate-
rial 'did everything it was supposed to
do', the lab started working on pro-
duction waste composites – again with
promising results.
HOW DOES IT WORK?
Mixed ground plastic and a coke addi-
tive (for conductivity) are packed
between electrodes in a tube and
blasted with high voltage. The sudden
intense heat – upwards of 2 700°
Celsius – vaporises other elements and
leaves behind turbostratic graphene.
Flash heating offers significant environ-
mental benefits as the process does
not require solvents and uses a mini-
mum of energy to produce the gra-
phene.
To test whether end-of-life, mixed plas-
tic could be transformed, the Rice lab
ground the shredder 'fluff' from bum-
pers, gaskets, carpets, mats, seating
and door casings from end-of-life
F-150 pickup trucks into a fine powder
without washing or pre-sorting the
components.
The lab flashed the powder in two steps,
first under a low current and then a high
current in a heater Wyss designed for
the experiment. Powder heated
between 10 to 16 seconds in low current
produced a highly carbonised plastic
accounting for about 30% of the initial
bulk. The other 70% was either dis-
persed as gas or recovered as hydrocar-
bon-rich waxes and oils.
The carbonised plastic was then sub-
jected to high-current flashing, con-
verting 85% of it into graphene while
shedding hydrogen, oxygen, chlorine,
silicon and trace metal impurities.
HELPING OUT CARMAKERS
Ford says when it got the graphene
back from Rice, it incorporated the
material into automotive foam in very
small quantities and saw significant
improvement. Since becoming
involved in 2020, the carmaker has
introduced the recyclate into a variety
of other under-the-hood components,
such as a graphene-reinforced engine
cover. As a next step, Ford plans to
use it to reinforce hard plastics.
While the amount of plastic present in
cars has increased by 75% in the last
decade or so, separating mixed end-
of-life plastic by type for recycling
remains a long-term challenge for the
auto industry. Finding a solution is
becoming more of a priority in light of
new environmental regulations.
For more information, contact James
Tour via: [email protected]
Share your innovative recycling
projects with us via:
[email protected]
A U T H O R Kirstin Linnenkoper
RESEARCH
PIONEER __
_________
SUPPORT FR
OM
Car plastics
James Tour
Rice Universit
y & Ford
89_inthelab.indd 89 05-07-2022 13:46