Recycling International July issue | 2022 + TOP 100!
Subscribe
Page 88 from: Recycling International July issue | 2022 + TOP 100!
88 PLASTICSMARKET ANALYSIS Price link between prime and secondary uncoupled Brands' commitment to using recycled content in packaging boosts demand while investors are increasingly attracted to chemical recy- cling. The plasti...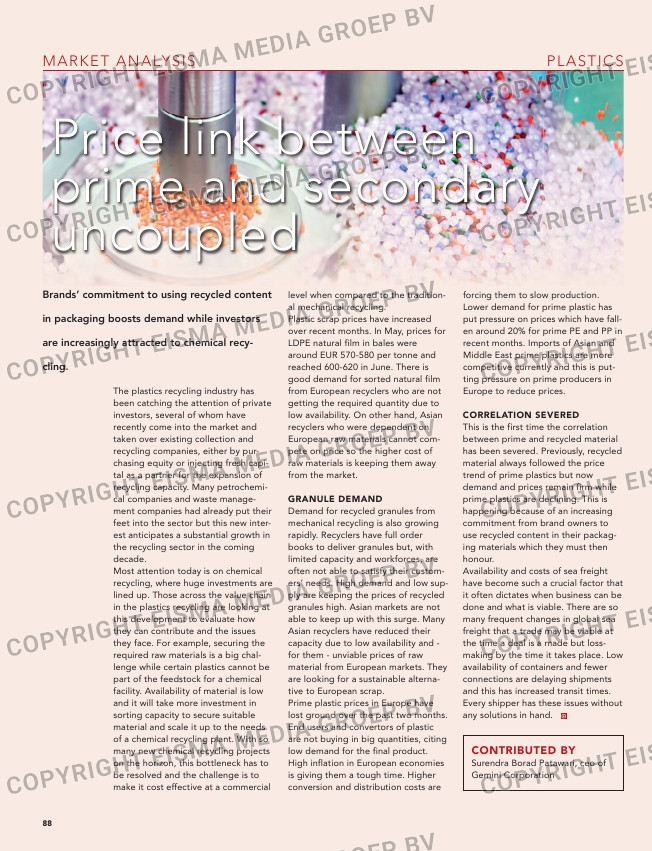 88
PLASTICSMARKET ANALYSIS
Price link between
prime and secondary
uncoupled
Brands' commitment to using recycled content
in packaging boosts demand while investors
are increasingly attracted to chemical recy-
cling.
The plastics recycling industry has
been catching the attention of private
investors, several of whom have
recently come into the market and
taken over existing collection and
recycling companies, either by pur-
chasing equity or injecting fresh capi-
tal as a partner for the expansion of
recycling capacity. Many petrochemi-
cal companies and waste manage-
ment companies had already put their
feet into the sector but this new inter-
est anticipates a substantial growth in
the recycling sector in the coming
decade.
Most attention today is on chemical
recycling, where huge investments are
lined up. Those across the value chain
in the plastics recycling are looking at
this development to evaluate how
they can contribute and the issues
they face. For example, securing the
required raw materials is a big chal-
lenge while certain plastics cannot be
part of the feedstock for a chemical
facility. Availability of material is low
and it will take more investment in
sorting capacity to secure suitable
material and scale it up to the needs
of a chemical recycling plant. With so
many new chemical recycling projects
on the horizon, this bottleneck has to
be resolved and the challenge is to
make it cost effective at a commercial
level when compared to the tradition-
al mechanical recycling.
Plastic scrap prices have increased
over recent months. In May, prices for
LDPE natural film in bales were
around EUR 570-580 per tonne and
reached 600-620 in June. There is
good demand for sorted natural film
from European recyclers who are not
getting the required quantity due to
low availability. On other hand, Asian
recyclers who were dependent on
European raw materials cannot com-
pete on price so the higher cost of
raw materials is keeping them away
from the market.
GRANULE DEMAND
Demand for recycled granules from
mechanical recycling is also growing
rapidly. Recyclers have full order
books to deliver granules but, with
limited capacity and workforces, are
often not able to satisfy their custom-
ers' needs. High demand and low sup-
ply are keeping the prices of recycled
granules high. Asian markets are not
able to keep up with this surge. Many
Asian recyclers have reduced their
capacity due to low availability and –
for them – unviable prices of raw
material from European markets. They
are looking for a sustainable alterna-
tive to European scrap.
Prime plastic prices in Europe have
lost ground over the past two months.
End users and convertors of plastic
are not buying in big quantities, citing
low demand for the final product.
High inflation in European economies
is giving them a tough time. Higher
conversion and distribution costs are
forcing them to slow production.
Lower demand for prime plastic has
put pressure on prices which have fall-
en around 20% for prime PE and PP in
recent months. Imports of Asian and
Middle East prime plastics are more
competitive currently and this is put-
ting pressure on prime producers in
Europe to reduce prices.
CORRELATION SEVERED
This is the first time the correlation
between prime and recycled material
has been severed. Previously, recycled
material always followed the price
trend of prime plastics but now
demand and prices remain firm while
prime plastics are declining. This is
happening because of an increasing
commitment from brand owners to
use recycled content in their packag-
ing materials which they must then
honour.
Availability and costs of sea freight
have become such a crucial factor that
it often dictates when business can be
done and what is viable. There are so
many frequent changes in global sea
freight that a trade may be viable at
the time a deal is a made but loss-
making by the time it takes place. Low
availability of containers and fewer
connections are delaying shipments
and this has increased transit times.
Every shipper has these issues without
any solutions in hand.
CONTRIBUTED BY
Surendra Borad Patawari, ceo of
Gemini Corporation
88_maplastics.indd 88 05-07-2022 13:45