The 2022 Top 100 issue!
Subscribe
Page 87 from: The 2022 Top 100 issue!
TEXTILESMARKET ANALYSIS Chinese fashion giant's EPR cash E-commerce platform Shein offers critical organisation millions of dollars to support second-hand clothing trade in Africa. 87recyclinginternational.com | July/August | 202...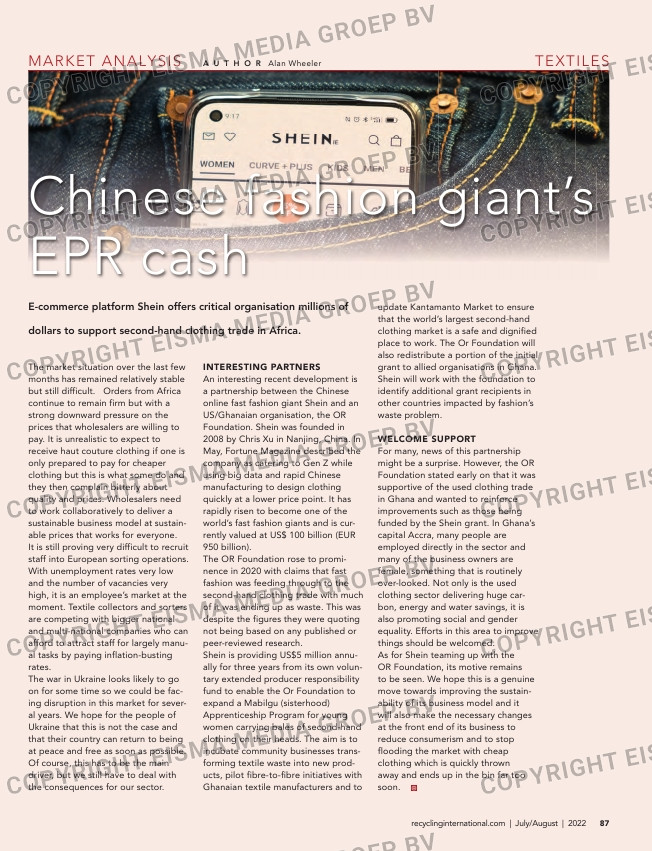 TEXTILESMARKET ANALYSIS
Chinese fashion giant's
EPR cash
E-commerce platform Shein offers critical organisation millions of
dollars to support second-hand clothing trade in Africa.
87recyclinginternational.com | July/August | 2022
The market situation over the last few
months has remained relatively stable
but still difficult. Orders from Africa
continue to remain firm but with a
strong downward pressure on the
prices that wholesalers are willing to
pay. It is unrealistic to expect to
receive haut couture clothing if one is
only prepared to pay for cheaper
clothing but this is what some do and
they then complain bitterly about
quality and prices. Wholesalers need
to work collaboratively to deliver a
sustainable business model at sustain-
able prices that works for everyone.
It is still proving very difficult to recruit
staff into European sorting operations.
With unemployment rates very low
and the number of vacancies very
high, it is an employee's market at the
moment. Textile collectors and sorters
are competing with bigger national
and multi-national companies who can
afford to attract staff for largely manu-
al tasks by paying inflation-busting
rates.
The war in Ukraine looks likely to go
on for some time so we could be fac-
ing disruption in this market for sever-
al years. We hope for the people of
Ukraine that this is not the case and
that their country can return to being
at peace and free as soon as possible.
Of course, this has to be the main
driver, but we still have to deal with
the consequences for our sector.
INTERESTING PARTNERS
An interesting recent development is
a partnership between the Chinese
online fast fashion giant Shein and an
US/Ghanaian organisation, the OR
Foundation. Shein was founded in
2008 by Chris Xu in Nanjing, China. In
May, Fortune Magazine described the
company as catering to Gen Z while
using big data and rapid Chinese
manufacturing to design clothing
quickly at a lower price point. It has
rapidly risen to become one of the
world's fast fashion giants and is cur-
rently valued at US$ 100 billion (EUR
950 billion).
The OR Foundation rose to promi-
nence in 2020 with claims that fast
fashion was feeding through to the
second-hand clothing trade with much
of it was ending up as waste. This was
despite the figures they were quoting
not being based on any published or
peer-reviewed research.
Shein is providing US$5 million annu-
ally for three years from its own volun-
tary extended producer responsibility
fund to enable the Or Foundation to
expand a Mabilgu (sisterhood)
Apprenticeship Program for young
women carrying bales of second-hand
clothing on their heads. The aim is to
incubate community businesses trans-
forming textile waste into new prod-
ucts, pilot fibre-to-fibre initiatives with
Ghanaian textile manufacturers and to
update Kantamanto Market to ensure
that the world's largest second-hand
clothing market is a safe and dignified
place to work. The Or Foundation will
also redistribute a portion of the initial
grant to allied organisations in Ghana.
Shein will work with the foundation to
identify additional grant recipients in
other countries impacted by fashion's
waste problem.
WELCOME SUPPORT
For many, news of this partnership
might be a surprise. However, the OR
Foundation stated early on that it was
supportive of the used clothing trade
in Ghana and wanted to reinforce
improvements such as those being
funded by the Shein grant. In Ghana's
capital Accra, many people are
employed directly in the sector and
many of the business owners are
female, something that is routinely
over-looked. Not only is the used
clothing sector delivering huge car-
bon, energy and water savings, it is
also promoting social and gender
equality. Efforts in this area to improve
things should be welcomed.
As for Shein teaming up with the
OR Foundation, its motive remains
to be seen. We hope this is a genuine
move towards improving the sustain-
ability of its business model and it
will also make the necessary changes
at the front end of its business to
reduce consumerism and to stop
flooding the market with cheap
clothing which is quickly thrown
away and ends up in the bin far too
soon.
A U T H O R Alan Wheeler
87_matextiles.indd 87 05-07-2022 13:45