The 2022 Top 100 issue!
Subscribe
Page 81 from: The 2022 Top 100 issue!
NICKEL & STAINLESS broadly cover 'the factors that contrib- uted to market conditions in the nickel market in the period leading up to, and including, 8 March 2022 and make recommendations to reduce the likeli- hood of similar eve...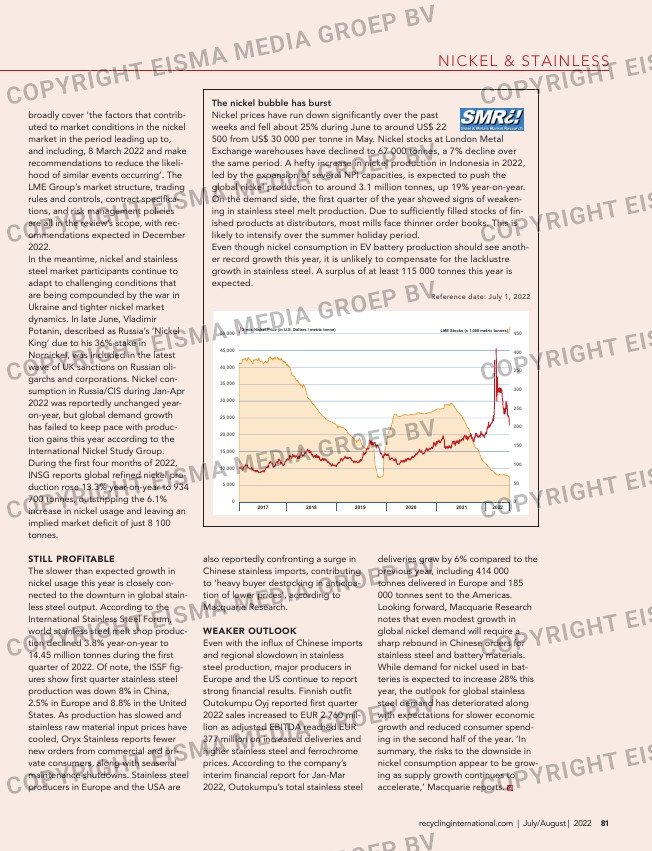 NICKEL & STAINLESS
broadly cover 'the factors that contrib-
uted to market conditions in the nickel
market in the period leading up to,
and including, 8 March 2022 and make
recommendations to reduce the likeli-
hood of similar events occurring'. The
LME Group's market structure, trading
rules and controls, contract specifica-
tions, and risk management policies
are all in the review's scope, with rec-
ommendations expected in December
2022.
In the meantime, nickel and stainless
steel market participants continue to
adapt to challenging conditions that
are being compounded by the war in
Ukraine and tighter nickel market
dynamics. In late June, Vladimir
Potanin, described as Russia's 'Nickel
King' due to his 36% stake in
Nornickel, was included in the latest
wave of UK sanctions on Russian oli-
garchs and corporations. Nickel con-
sumption in Russia/CIS during Jan-Apr
2022 was reportedly unchanged year-
on-year, but global demand growth
has failed to keep pace with produc-
tion gains this year according to the
International Nickel Study Group.
During the first four months of 2022,
INSG reports global refined nickel pro-
duction rose 13.3% year-on-year to 934
700 tonnes, outstripping the 6.1%
increase in nickel usage and leaving an
implied market deficit of just 8 100
tonnes.
STILL PROFITABLE
The slower than expected growth in
nickel usage this year is closely con-
nected to the downturn in global stain-
less steel output. According to the
International Stainless Steel Forum,
world stainless steel melt shop produc-
tion declined 3.8% year-on-year to
14.45 million tonnes during the first
quarter of 2022. Of note, the ISSF fig-
ures show first quarter stainless steel
production was down 8% in China,
2.5% in Europe and 8.8% in the United
States. As production has slowed and
stainless raw material input prices have
cooled, Oryx Stainless reports fewer
new orders from commercial and pri-
vate consumers, along with seasonal
maintenance shutdowns. Stainless steel
producers in Europe and the USA are
also reportedly confronting a surge in
Chinese stainless imports, contributing
to 'heavy buyer destocking in anticipa-
tion of lower prices', according to
Macquarie Research.
WEAKER OUTLOOK
Even with the influx of Chinese imports
and regional slowdown in stainless
steel production, major producers in
Europe and the US continue to report
strong financial results. Finnish outfit
Outokumpu Oyj reported first quarter
2022 sales increased to EUR 2 760 mil-
lion as adjusted EBITDA reached EUR
377 million on increased deliveries and
higher stainless steel and ferrochrome
prices. According to the company's
interim financial report for Jan-Mar
2022, Outokumpu's total stainless steel
The nickel bubble has burst
Nickel prices have run down significantly over the past
weeks and fell about 25% during June to around US$ 22
500 from US$ 30 000 per tonne in May. Nickel stocks at London Metal
Exchange warehouses have declined to 67 000 tonnes, a 7% decline over
the same period. A hefty increase in nickel production in Indonesia in 2022,
led by the expansion of several NPI capacities, is expected to push the
global nickel production to around 3.1 million tonnes, up 19% year-on-year.
On the demand side, the first quarter of the year showed signs of weaken-
ing in stainless steel melt production. Due to sufficiently filled stocks of fin-
ished products at distributors, most mills face thinner order books. This is
likely to intensify over the summer holiday period.
Even though nickel consumption in EV battery production should see anoth-
er record growth this year, it is unlikely to compensate for the lacklustre
growth in stainless steel. A surplus of at least 115 000 tonnes this year is
expected.
Reference date: July 1, 2022
0

50

100

150

200

250

300

350

400

450

0

5,000

10,000

15,000

20,000

25,000

30,000

35,000

40,000

45,000

50,000

2017 2018 2019 2020 2021 2022

3-mts Nickel Price (in U.S. Dollars / metric tonne)/ LME Stocks (x 1,000 metric tonnes)/

2017 2018 2019 2020 2021 2022

81recyclinginternational.com | July/August | 2022
deliveries grew by 6% compared to the
previous year, including 414 000
tonnes delivered in Europe and 185
000 tonnes sent to the Americas.
Looking forward, Macquarie Research
notes that even modest growth in
global nickel demand will require a
sharp rebound in Chinese orders for
stainless steel and battery materials.
While demand for nickel used in bat-
teries is expected to increase 28% this
year, the outlook for global stainless
steel demand has deteriorated along
with expectations for slower economic
growth and reduced consumer spend-
ing in the second half of the year. 'In
summary, the risks to the downside in
nickel consumption appear to be grow-
ing as supply growth continues to
accelerate,' Macquarie reports.
80-81_ma-nickelstainless.indd 81 05-07-2022 13:43