The 2022 Top 100 issue!
Subscribe
Page 80 from: The 2022 Top 100 issue!
MARKET ANALYSIS Prices settle as sentiment deteriorates As the LME launches a review of the market chaos in March, production dips in most major economies. broadly cover 'the factors that contrib- uted to market conditions in the ...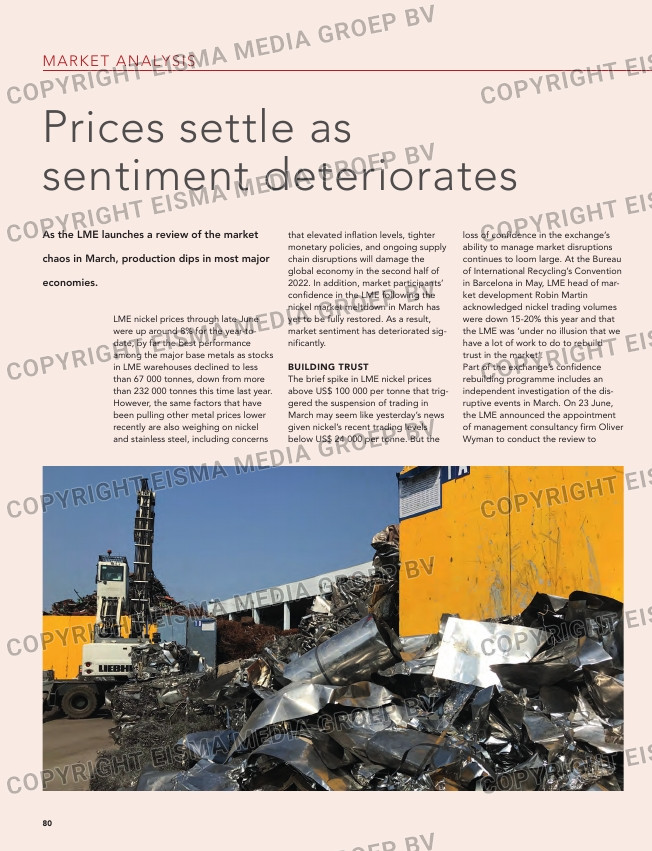 MARKET ANALYSIS
Prices settle as
sentiment deteriorates
As the LME launches a review of the market
chaos in March, production dips in most major
economies.
broadly cover 'the factors that contrib-
uted to market conditions in the nickel
market in the period leading up to,
and including, 8 March 2022 and make
recommendations to reduce the likeli-
hood of similar events occurring'. The
LME Group's market structure, trading
rules and controls, contract specifica-
tions, and risk management policies
are all in the review's scope, with rec-
ommendations expected in December
2022.
In the meantime, nickel and stainless
steel market participants continue to
adapt to challenging conditions that
are being compounded by the war in
Ukraine and tighter nickel market
dynamics. In late June, Vladimir
Potanin, described as Russia's 'Nickel
King' due to his 36% stake in
Nornickel, was included in the latest
wave of UK sanctions on Russian oli-
garchs and corporations. Nickel con-
sumption in Russia/CIS during Jan-Apr
2022 was reportedly unchanged year-
on-year, but global demand growth
has failed to keep pace with produc-
tion gains this year according to the
International Nickel Study Group.
During the first four months of 2022,
INSG reports global refined nickel pro-
duction rose 13.3% year-on-year to 934
700 tonnes, outstripping the 6.1%
increase in nickel usage and leaving an
implied market deficit of just 8 100
tonnes.
STILL PROFITABLE
The slower than expected growth in
nickel usage this year is closely con-
nected to the downturn in global stain-
less steel output. According to the
International Stainless Steel Forum,
world stainless steel melt shop produc-
tion declined 3.8% year-on-year to
14.45 million tonnes during the first
quarter of 2022. Of note, the ISSF fig-
ures show first quarter stainless steel
production was down 8% in China,
2.5% in Europe and 8.8% in the United
States. As production has slowed and
stainless raw material input prices have
cooled, Oryx Stainless reports fewer
new orders from commercial and pri-
vate consumers, along with seasonal
maintenance shutdowns. Stainless steel
producers in Europe and the USA are
loss of confidence in the exchange's
ability to manage market disruptions
continues to loom large. At the Bureau
of International Recycling's Convention
in Barcelona in May, LME head of mar-
ket development Robin Martin
acknowledged nickel trading volumes
were down 15-20% this year and that
the LME was 'under no illusion that we
have a lot of work to do to rebuild
trust in the market'.
Part of the exchange's confidence
rebuilding programme includes an
independent investigation of the dis-
ruptive events in March. On 23 June,
the LME announced the appointment
of management consultancy firm Oliver
Wyman to conduct the review to
80
LME nickel prices through late June
were up around 8% for the year-to-
date, by far the best performance
among the major base metals as stocks
in LME warehouses declined to less
than 67 000 tonnes, down from more
than 232 000 tonnes this time last year.
However, the same factors that have
been pulling other metal prices lower
recently are also weighing on nickel
and stainless steel, including concerns
that elevated inflation levels, tighter
monetary policies, and ongoing supply
chain disruptions will damage the
global economy in the second half of
2022. In addition, market participants'
confidence in the LME following the
nickel market meltdown in March has
yet to be fully restored. As a result,
market sentiment has deteriorated sig-
nificantly.
BUILDING TRUST
The brief spike in LME nickel prices
above US$ 100 000 per tonne that trig-
gered the suspension of trading in
March may seem like yesterday's news
given nickel's recent trading levels
below US$ 24 000 per tonne. But the
80-81_ma-nickelstainless.indd 80 05-07-2022 13:43