The 2022 Top 100 issue!
Subscribe
Page 8 from: The 2022 Top 100 issue!
8 'We recyclers will become slaves of policy makers' In April, Olivier François, market development and environmental affairs officer at Galloo Recycling, was elected president of the European Recycling Industries' Confederatio...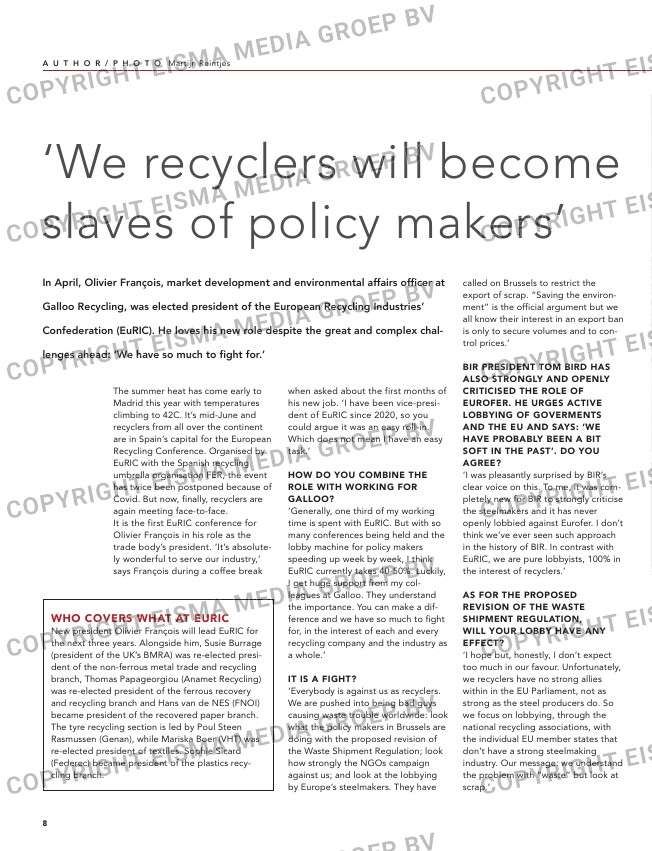 8
'We recyclers will become
slaves of policy makers'
In April, Olivier François, market development and environmental affairs officer at
Galloo Recycling, was elected president of the European Recycling Industries'
Confederation (EuRIC). He loves his new role despite the great and complex chal-
lenges ahead: 'We have so much to fight for.'
HOW WOULD FURTHER SCRAP
EXPORT RESTRICTIONS AFFECT
INDIVIDUAL RECYCLING
BUSINESSES?
'The impact would be dramatic for
many companies whose business is
built on scrap exports. As an exam-
ple, Galloo processes 1.2 million
tonnes of ferrous scrap of which half
(some 600 000 tonnes) is exported,
and of that some 30% is shipped to
Turkey, the world's biggest steel
scrap consumer. Imagine the conse-
quence for Galloo's business if that
trade was cut off.'
The summer heat has come early to
Madrid this year with temperatures
climbing to 42C. It's mid-June and
recyclers from all over the continent
are in Spain's capital for the European
Recycling Conference. Organised by
EuRIC with the Spanish recycling
umbrella organisation FER, the event
has twice been postponed because of
Covid. But now, finally, recyclers are
again meeting face-to-face.
It is the first EuRIC conference for
Olivier François in his role as the
trade body's president. 'It's absolute-
ly wonderful to serve our industry,'
says François during a coffee break
when asked about the first months of
his new job. 'I have been vice-presi-
dent of EuRIC since 2020, so you
could argue it was an easy roll-in.
Which does not mean I have an easy
task.'
HOW DO YOU COMBINE THE
ROLE WITH WORKING FOR
GALLOO?
'Generally, one third of my working
time is spent with EuRIC. But with so
many conferences being held and the
lobby machine for policy makers
speeding up week by week, I think
EuRIC currently takes 40-50%. Luckily,
I get huge support from my col-
leagues at Galloo. They understand
the importance. You can make a dif-
ference and we have so much to fight
for, in the interest of each and every
recycling company and the industry as
a whole.'
IT IS A FIGHT?
'Everybody is against us as recyclers.
We are pushed into being bad guys
causing waste trouble worldwide: look
what the policy makers in Brussels are
doing with the proposed revision of
the Waste Shipment Regulation; look
how strongly the NGOs campaign
against us; and look at the lobbying
by Europe's steelmakers. They have
called on Brussels to restrict the
export of scrap. "Saving the environ-
ment" is the official argument but we
all know their interest in an export ban
is only to secure volumes and to con-
trol prices.'
BIR PRESIDENT TOM BIRD HAS
ALSO STRONGLY AND OPENLY
CRITICISED THE ROLE OF
EUROFER. HE URGES ACTIVE
LOBBYING OF GOVERMENTS
AND THE EU AND SAYS: 'WE
HAVE PROBABLY BEEN A BIT
SOFT IN THE PAST'. DO YOU
AGREE?
'I was pleasantly surprised by BIR's
clear voice on this. To me, it was com-
pletely new for BIR to strongly criticise
the steelmakers and it has never
openly lobbied against Eurofer. I don't
think we've ever seen such approach
in the history of BIR. In contrast with
EuRIC, we are pure lobbyists, 100% in
the interest of recyclers.'
AS FOR THE PROPOSED
REVISION OF THE WASTE
SHIPMENT REGULATION,
WILL YOUR LOBBY HAVE ANY
EFFECT?
'I hope but, honestly, I don't expect
too much in our favour. Unfortunately,
we recyclers have no strong allies
within in the EU Parliament, not as
strong as the steel producers do. So
we focus on lobbying, through the
national recycling associations, with
the individual EU member states that
don't have a strong steelmaking
industry. Our message: we understand
the problem with "waste" but look at
scrap.'
WHO COVERS WHAT AT EURIC
New president Olivier François will lead EuRIC for
the next three years. Alongside him, Susie Burrage
(president of the UK's BMRA) was re-elected presi-
dent of the non-ferrous metal trade and recycling
branch, Thomas Papageorgiou (Anamet Recycling)
was re-elected president of the ferrous recovery
and recycling branch and Hans van de NES (FNOI)
became president of the recovered paper branch.
The tyre recycling section is led by Poul Steen
Rasmussen (Genan), while Mariska Boer (VHT) was
re-elected president of textiles. Sophie Sicard
(Federec) became president of the plastics recy-
cling branch.
A U T H O R / P H O T O Martijn Reintjes
EuRIC president Olivier François and vice-president Alicia Garcia-Franco of the Spanish recycling industry body FER.
08-09_interviewofrancois.indd 8 05-07-2022 13:30