The 2022 Top 100 issue!
Subscribe
Page 76 from: The 2022 Top 100 issue!
MARKET ANALYSIS Demand dips as economies falter The war in Ukraine continues to affect ferrous sectors facing lower output because of the economic downturn in many markets. 76 some of the largest plants, Zaporizhstal, ArcelorMittal...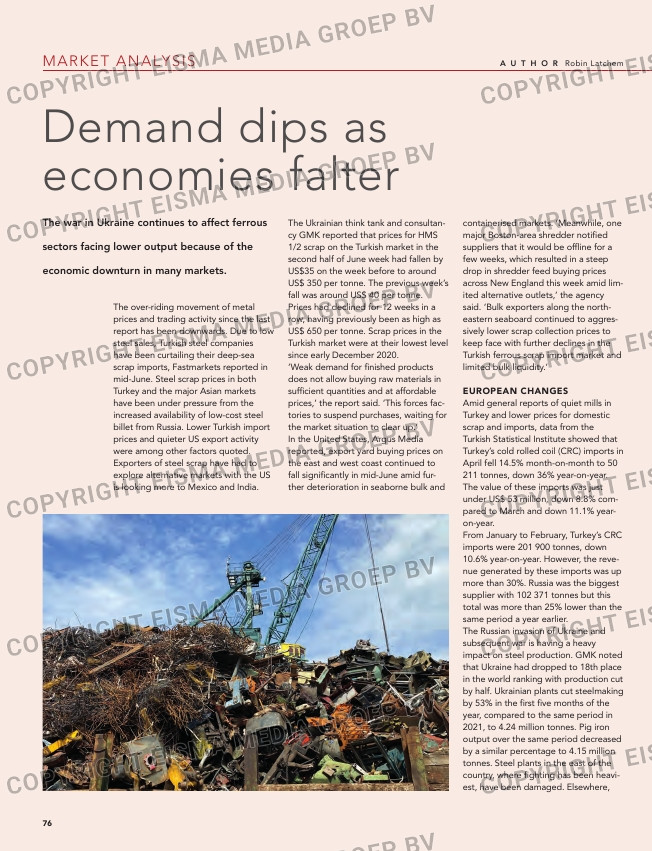 MARKET ANALYSIS
Demand dips as
economies falter
The war in Ukraine continues to affect ferrous
sectors facing lower output because of the
economic downturn in many markets.
76
some of the largest plants, Zaporizhstal,
ArcelorMittal Kryvyi Rih and others,
restarted operations in June.
DECLINE FORECAST
The war, soaring energy prices and sup-
ply chain disruption could result in a
1.9% contraction in EU steel consump-
tion this year, the European Steel
Association (Eurofer) is warning –
although it expects a 5.1% growth in
2023. The latest outlook from the
organisation, which represents all steel
producers in the EU, says the steel mar-
ket for 2022 and 2023 remains subject
to a high level of uncertainty, which is
likely to continue to undermine demand
from steel-using sectors. It follows the
outlook for global steel production from
the World Steel Association, reported in
the previous issue, which expects only
0.4% growth this year and 2.2% in 2023.
Axel Eggert, Eurofer dg, adds: 'In the
A U T H O R Robin Latchem
containerised markets. 'Meanwhile, one
major Boston-area shredder notified
suppliers that it would be offline for a
few weeks, which resulted in a steep
drop in shredder feed buying prices
across New England this week amid lim-
ited alternative outlets,' the agency
said. 'Bulk exporters along the north-
eastern seaboard continued to aggres-
sively lower scrap collection prices to
keep face with further declines in the
Turkish ferrous scrap import market and
limited bulk liquidity.'
EUROPEAN CHANGES
Amid general reports of quiet mills in
Turkey and lower prices for domestic
scrap and imports, data from the
Turkish Statistical Institute showed that
Turkey's cold rolled coil (CRC) imports in
April fell 14.5% month-on-month to 50
211 tonnes, down 36% year-on-year.
The value of these imports was just
under US$ 53 million, down 8.8% com-
pared to March and down 11.1% year-
on-year.
From January to February, Turkey's CRC
imports were 201 900 tonnes, down
10.6% year-on-year. However, the reve-
nue generated by these imports was up
more than 30%. Russia was the biggest
supplier with 102 371 tonnes but this
total was more than 25% lower than the
same period a year earlier.
The Russian invasion of Ukraine and
subsequent war is having a heavy
impact on steel production. GMK noted
that Ukraine had dropped to 18th place
in the world ranking with production cut
by half. Ukrainian plants cut steelmaking
by 53% in the first five months of the
year, compared to the same period in
2021, to 4.24 million tonnes. Pig iron
output over the same period decreased
by a similar percentage to 4.15 million
tonnes. Steel plants in the east of the
country, where fighting has been heavi-
est, have been damaged. Elsewhere,
The over-riding movement of metal
prices and trading activity since the last
report has been downwards. Due to low
steel sales, Turkish steel companies
have been curtailing their deep-sea
scrap imports, Fastmarkets reported in
mid-June. Steel scrap prices in both
Turkey and the major Asian markets
have been under pressure from the
increased availability of low-cost steel
billet from Russia. Lower Turkish import
prices and quieter US export activity
were among other factors quoted.
Exporters of steel scrap have had to
explore alternative markets with the US
is looking more to Mexico and India.
The Ukrainian think tank and consultan-
cy GMK reported that prices for HMS
1/2 scrap on the Turkish market in the
second half of June week had fallen by
US$35 on the week before to around
US$ 350 per tonne. The previous week's
fall was around US$ 40 per tonne.
Prices had declined for 12 weeks in a
row, having previously been as high as
US$ 650 per tonne. Scrap prices in the
Turkish market were at their lowest level
since early December 2020.
'Weak demand for finished products
does not allow buying raw materials in
sufficient quantities and at affordable
prices,' the report said. 'This forces fac-
tories to suspend purchases, waiting for
the market situation to clear up.'
In the United States, Argus Media
reported, export yard buying prices on
the east and west coast continued to
fall significantly in mid-June amid fur-
ther deterioration in seaborne bulk and
76-77-78-79_ma-ferrous.indd 76 05-07-2022 13:42