Recycling International July issue | 2022 + TOP 100!
Subscribe
Page 75 from: Recycling International July issue | 2022 + TOP 100!
TRENDS & UPDATES 75recyclinginternational.com | July/August | 2022 SABIC TRUMPETS REPOLYMERISATION OF PET INTO RESIN Chemical giant Sabic has unveiled a polybutylene terephthalate (PBT) resin made from ocean-bound polyethylen...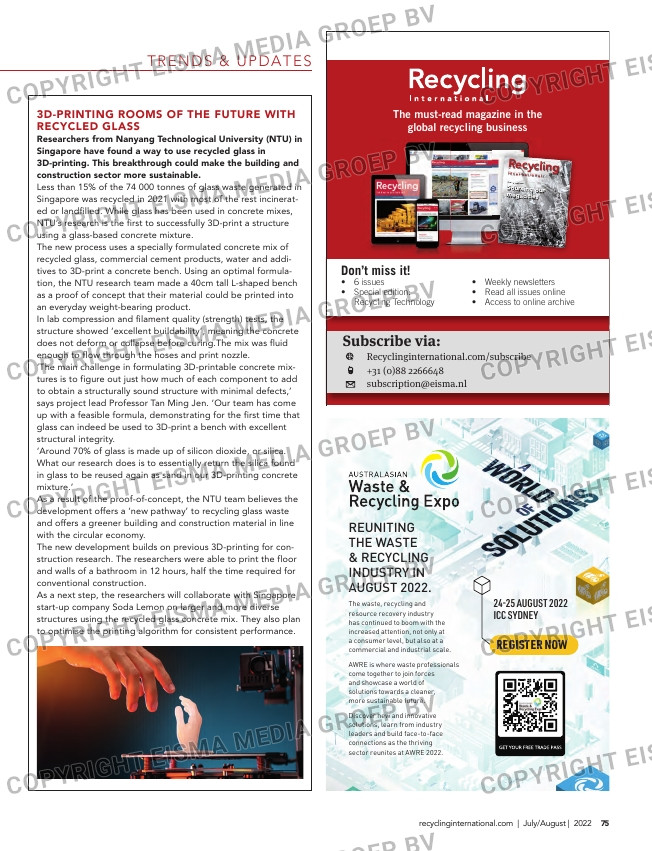 TRENDS & UPDATES
75recyclinginternational.com | July/August | 2022
SABIC TRUMPETS REPOLYMERISATION OF PET INTO
RESIN
Chemical giant Sabic has
unveiled a polybutylene
terephthalate (PBT) resin
made from ocean-bound
polyethylene terephthal-
ate (PET) bottles.
The company says its LNP
Elcrin WF0061BiQ resin is a
candidate for consumer
electronics applications
such as fan housings in
computers and automotive seating, as well as electrical connectors and enclo-
sures.
The new grade is the latest addition to Sabic's portfolio of chemically recycled
materials which help support circularity while serving as potential drop-in
replacements for virgin PBT resins. However, industry observers note that PET
bottles are capable of mechanical recycling back into new bottles without that
extra energy required for chemical recycling.
'We're continually expanding our LNP Elcrin iQ portfolio – and the PET waste
streams used to produce these materials – to help divert more plastic from the
oceans while helping our customers incorporate recycled materials in their prod-
ucts, achieve their carbon neutrality goals and meet consumer demands for
greater sustainability,' says Sabic's Sanjay Mishra.
'Within the next decade, we anticipate upcycling 10 billion plastic bottles into
higher-performing, durable materials that deliver enhanced value to customers.
Sabic is committed to working with the plastics supply chain to find new solu-
tions to address urgent environmental issues such as reducing ocean-bound
plastic waste and achieving net zero carbon emissions.'
SABIC's proprietary technology, which involves the repolymerisation of ocean-
bound PET into PBT, delivers virgin-like performance properties. It says the pro-
cess surpasses mechanical recycling in quality and consistency.
'According to an internal life cycle analysis conducted in accordance with ISO
14040/14044 protocols, LNP Elcrin WF0061BiQ compound can offer potential
reductions of up to 14% in carbon footprint and up to 25% in cumulative energy
demand, when compared to the virgin PBT compound reinforced with glass
fibre,' adds Darpan Parikh, Americas customer fulfilment leader, specialties,
Sabic.
'By replacing virgin material with our resins, customers can help reduce environ-
mental impacts by reusing plastic waste and eliminating halogenated additives.'
The must-read magazine in the
global recycling business

Recycling
I n t e r n a t i o n a l
recycl inginternational.com | January/February 2020
New series:
Sourcing our
megacities
• Worst nightmare: scrap on fire • Global paper recycling market to hit EUR 50 billion• Ticking along nicely: recycling smart watches• Second life for dusty old carpets
01_coverpage.indd 1
15-01-20 14:16
Subscribe via:
Recyclinginternational.com/subscribe
+31 (0)88 2266648
[email protected]
Don't miss it!
• 6 issues
• Special edition:
Recycling Technology

• Weekly newsletters
• Read all issues online
• Access to online archive
REUNITING
THE WASTE
& RECYCLING
INDUSTRY IN
AUGUST 2022.
The waste, recycling and
resource recovery industry
has continued to boom with the
increased attention, not only at
a consumer level, but also at a
commercial and industrial scale.
AWRE is where waste professionals
come together to join forces
and showcase a world of
solutions towards a cleaner,
more sustainable future.
Discover new and innovative
solutions, learn from industry
leaders and build face-to-face
connections as the thriving
sector reunites at AWRE 2022.
REGISTER NOW
24-25 AUGUST 2022
ICC SYDNEY
ALUMINIUM
2022.
27 – 29 September 2022
Exhibition Center Düsseldorf,
Germany
Scan here and
get your free ticket!
Code: ALU2022_recycling
3D-PRINTING ROOMS OF THE FUTURE WITH
RECYCLED GLASS
Researchers from Nanyang Technological University (NTU) in
Singapore have found a way to use recycled glass in
3D-printing. This breakthrough could make the building and
construction sector more sustainable.
Less than 15% of the 74 000 tonnes of glass waste generated in
Singapore was recycled in 2021 with most of the rest incinerat-
ed or landfilled. While glass has been used in concrete mixes,
NTU's research is the first to successfully 3D-print a structure
using a glass-based concrete mixture.
The new process uses a specially formulated concrete mix of
recycled glass, commercial cement products, water and addi-
tives to 3D-print a concrete bench. Using an optimal formula-
tion, the NTU research team made a 40cm tall L-shaped bench
as a proof of concept that their material could be printed into
an everyday weight-bearing product.
In lab compression and filament quality (strength) tests, the
structure showed 'excellent buildability', meaning the concrete
does not deform or collapse before curing.The mix was fluid
enough to flow through the hoses and print nozzle.
'The main challenge in formulating 3D-printable concrete mix-
tures is to figure out just how much of each component to add
to obtain a structurally sound structure with minimal defects,'
says project lead Professor Tan Ming Jen. 'Our team has come
up with a feasible formula, demonstrating for the first time that
glass can indeed be used to 3D-print a bench with excellent
structural integrity.
'Around 70% of glass is made up of silicon dioxide, or silica.
What our research does is to essentially return the silica found
in glass to be reused again as sand in our 3D-printing concrete
mixture.'
As a result of the proof-of-concept, the NTU team believes the
development offers a 'new pathway' to recycling glass waste
and offers a greener building and construction material in line
with the circular economy.
The new development builds on previous 3D-printing for con-
struction research. The researchers were able to print the floor
and walls of a bathroom in 12 hours, half the time required for
conventional construction.
As a next step, the researchers will collaborate with Singapore
start-up company Soda Lemon on larger and more diverse
structures using the recycled glass concrete mix. They also plan
to optimise the printing algorithm for consistent performance.
72-73-74-75_trendsupdatespart2.indd 75 07-07-2022 09:05