Recycling International July issue | 2022 + TOP 100!
Subscribe
Page 70 from: Recycling International July issue | 2022 + TOP 100!
70 We're approaching a golden age of battery recycling Batteries are no longer a niche in the global recycling space. The segment is sparking big investments, cutting-edge technologies and a host of R&D projects. Here we revi...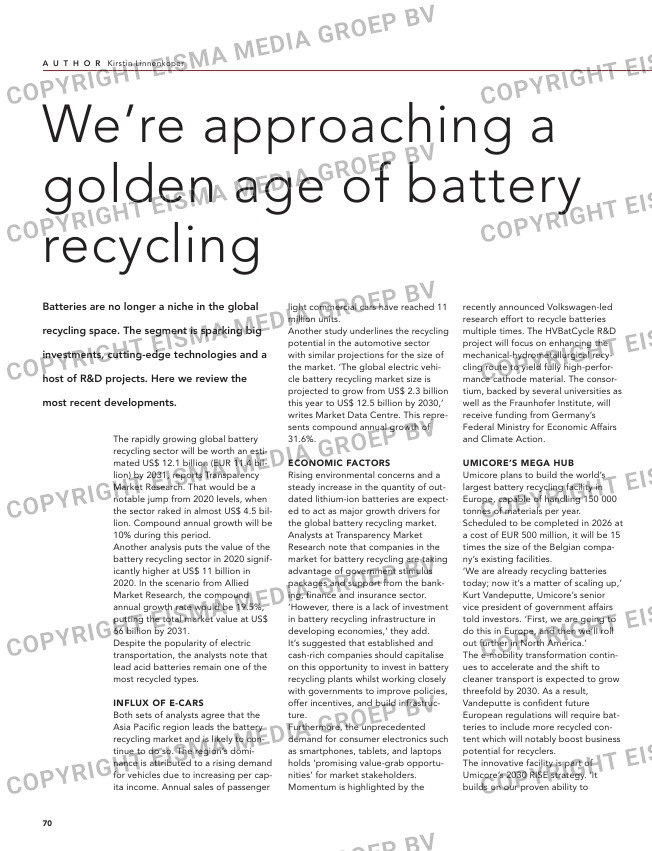 70
We're approaching a
golden age of battery
recycling
Batteries are no longer a niche in the global
recycling space. The segment is sparking big
investments, cutting-edge technologies and a
host of R&D projects. Here we review the
most recent developments.
embrace megatrends and technology
leadership,' comments company ceo
Mathias Miedreich. Focussing on sus-
tainable growth and producing mate-
rials 'for a better life', he adds, will
allow the recycler to become 'a net
beneficiary of a changing world'.
BASF: EV FOCUS
Chemical company BASF is another
big name taking a bite out of the bat-
tery recycling business. It is building a
commercial scale battery recycling
plant in Germany. The multi-million-
dollar site will be able to handle 15
000 tonnes of electric vehicle (EV) bat-
teries and battery production scrap
per year.
BASF's recycling hub will be in the city
of Schwarzheide and will strengthen
the sustainable production of cathode
active materials in Europe. The loca-
tion is said to be 'ideal' because of
the presence of many EV car manufac-
turers and cell producers in Germany
and neighbouring countries.
Operations are scheduled to start in
The rapidly growing global battery
recycling sector will be worth an esti-
mated US$ 12.1 billion (EUR 11.4 bil-
lion) by 2031, reports Transparency
Market Research. That would be a
notable jump from 2020 levels, when
the sector raked in almost US$ 4.5 bil-
lion. Compound annual growth will be
10% during this period.
Another analysis puts the value of the
battery recycling sector in 2020 signif-
icantly higher at US$ 11 billion in
2020. In the scenario from Allied
Market Research, the compound
annual growth rate would be 19.5%,
putting the total market value at US$
66 billion by 2031.
Despite the popularity of electric
transportation, the analysts note that
lead acid batteries remain one of the
most recycled types.
INFLUX OF E-CARS
Both sets of analysts agree that the
Asia Pacific region leads the battery
recycling market and is likely to con-
tinue to do so. The region's domi-
nance is attributed to a rising demand
for vehicles due to increasing per cap-
ita income. Annual sales of passenger
light commercial cars have reached 11
million units.
Another study underlines the recycling
potential in the automotive sector
with similar projections for the size of
the market. 'The global electric vehi-
cle battery recycling market size is
projected to grow from US$ 2.3 billion
this year to US$ 12.5 billion by 2030,'
writes Market Data Centre. This repre-
sents compound annual growth of
31.6%.
ECONOMIC FACTORS
Rising environmental concerns and a
steady increase in the quantity of out-
dated lithium-ion batteries are expect-
ed to act as major growth drivers for
the global battery recycling market.
Analysts at Transparency Market
Research note that companies in the
market for battery recycling are taking
advantage of government stimulus
packages and support from the bank-
ing, finance and insurance sector.
'However, there is a lack of investment
in battery recycling infrastructure in
developing economies,' they add.
It's suggested that established and
cash-rich companies should capitalise
on this opportunity to invest in battery
recycling plants whilst working closely
with governments to improve policies,
offer incentives, and build infrastruc-
ture.
Furthermore, the unprecedented
demand for consumer electronics such
as smartphones, tablets, and laptops
holds 'promising value-grab opportu-
nities' for market stakeholders.
Momentum is highlighted by the
recently announced Volkswagen-led
research effort to recycle batteries
multiple times. The HVBatCycle R&D
project will focus on enhancing the
mechanical-hydrometallurgical recy-
cling route to yield fully high-perfor-
mance cathode material. The consor-
tium, backed by several universities as
well as the Fraunhofer Institute, will
receive funding from Germany's
Federal Ministry for Economic Affairs
and Climate Action.
UMICORE'S MEGA HUB
Umicore plans to build the world's
largest battery recycling facility in
Europe, capable of handling 150 000
tonnes of materials per year.
Scheduled to be completed in 2026 at
a cost of EUR 500 million, it will be 15
times the size of the Belgian compa-
ny's existing facilities.
'We are already recycling batteries
today; now it's a matter of scaling up,'
Kurt Vandeputte, Umicore's senior
vice president of government affairs
told investors. 'First, we are going to
do this in Europe, and then we'll roll
out further in North America.'
The e-mobility transformation contin-
ues to accelerate and the shift to
cleaner transport is expected to grow
threefold by 2030. As a result,
Vandeputte is confident future
European regulations will require bat-
teries to include more recycled con-
tent which will notably boost business
potential for recyclers.
The innovative facility is part of
Umicore's 2030 RISE strategy. 'It
builds on our proven ability to
A U T H O R Kirstin Linnenkoper
Volkswagen is leading a research effort to recycle batteries multiple times.
70-71_batterytrendupdate.indd 70 05-07-2022 13:40