The 2022 Top 100 issue!
Subscribe
Page 60 from: The 2022 Top 100 issue!
60 A U T H O R S Kirstin Linnenkoper, Martijn Reintjes Olivier Mbera (Rwanda) Promising recycling practices continue to pop up across the African continent, such as in Rwanda, a country that presents itself to the outside world as m...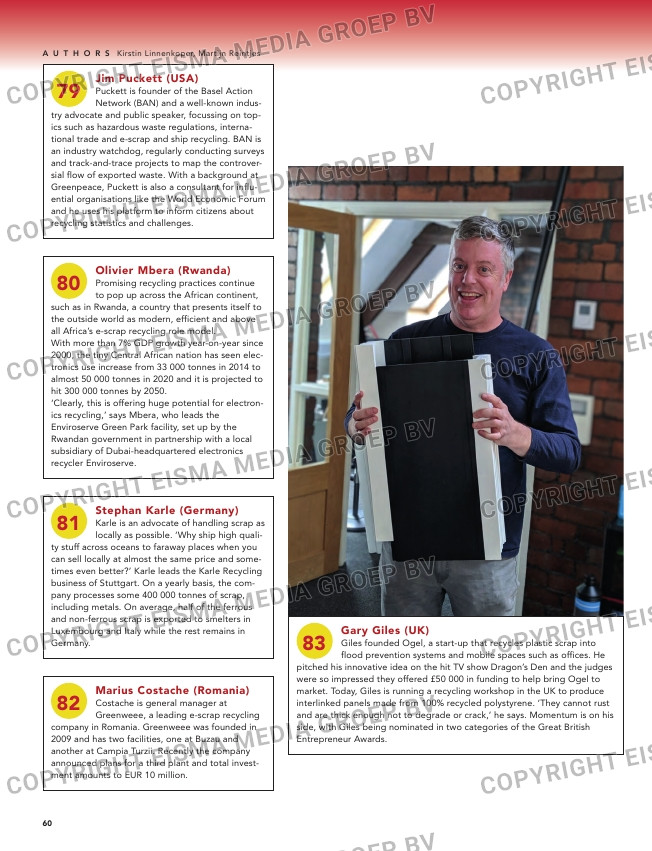 60
A U T H O R S Kirstin Linnenkoper, Martijn Reintjes
Olivier Mbera (Rwanda)
Promising recycling practices continue
to pop up across the African continent,
such as in Rwanda, a country that presents itself to
the outside world as modern, efficient and above
all Africa's e-scrap recycling role model.
With more than 7% GDP growth year-on-year since
2000, the tiny Central African nation has seen elec-
tronics use increase from 33 000 tonnes in 2014 to
almost 50 000 tonnes in 2020 and it is projected to
hit 300 000 tonnes by 2050.
'Clearly, this is offering huge potential for electron-
ics recycling,' says Mbera, who leads the
Enviroserve Green Park facility, set up by the
Rwandan government in partnership with a local
subsidiary of Dubai-headquartered electronics
recycler Enviroserve.
Jim Puckett (USA)
Puckett is founder of the Basel Action
Network (BAN) and a well-known indus-
try advocate and public speaker, focussing on top-
ics such as hazardous waste regulations, interna-
tional trade and e-scrap and ship recycling. BAN is
an industry watchdog, regularly conducting surveys
and track-and-trace projects to map the controver-
sial flow of exported waste. With a background at
Greenpeace, Puckett is also a consultant for influ-
ential organisations like the World Economic Forum
and he uses his platform to inform citizens about
recycling statistics and challenges.
Stephan Karle (Germany)
Karle is an advocate of handling scrap as
locally as possible. 'Why ship high quali-
ty stuff across oceans to faraway places when you
can sell locally at almost the same price and some-
times even better?' Karle leads the Karle Recycling
business of Stuttgart. On a yearly basis, the com-
pany processes some 400 000 tonnes of scrap,
including metals. On average, half of the ferrous
and non-ferrous scrap is exported to smelters in
Luxembourg and Italy while the rest remains in
Germany.
Marius Costache (Romania)
Costache is general manager at
Greenweee, a leading e-scrap recycling
company in Romania. Greenweee was founded in
2009 and has two facilities, one at Buzau and
another at Campia Turzii. Recently the company
announced plans for a third plant and total invest-
ment amounts to EUR 10 million.
Gary Giles (UK)
Giles founded Ogel, a start-up that recycles plastic scrap into
flood prevention systems and mobile spaces such as offices. He
pitched his innovative idea on the hit TV show Dragon's Den and the judges
were so impressed they offered £50 000 in funding to help bring Ogel to
market. Today, Giles is running a recycling workshop in the UK to produce
interlinked panels made from 100% recycled polystyrene. 'They cannot rust
and are thick enough not to degrade or crack,' he says. Momentum is on his
side, with Giles being nominated in two categories of the Great British
Entrepreneur Awards.
80
79
81
82
83
Sally Houghton (USA)
Following a career in education, Houghton found her calling at
the Plastic Recycling Corporation of California. After 16 years,
she was appointed executive director in 2021. Houghton also has an impor-
tant voice at the Bureau of International Recycling where she serves on the
plastics committee. She wants the current collection infrastructure to be
modernised and an end to 'outdated' bottle bills in the US. 'Legislators
don't understand the industry and the complexities of successful recycling.
Rather than take the time to do a deep dive and educate themselves, they
tend to pander to public opinion and perceived environmental fixes.'
Ibukun Faluyi (Nigeria)
Faluyi is executive director of Epron, the first organisation to pro-
mote responsible e-scrap recycling in Nigeria. 'I want to get pro-
ducers in my country to accept extended producer responsibility schemes.
It's a challenging mission but it's going well. We have seven big brands and
three recyclers on board now.' The renewed focus on the electronics waste
stream enables Epron to process 300 tonnes of material annually. 'We have
trained a lot of people, including government officials, so we can expand
our operations. My team and I have big plans for next three years.'
Emmanuel Katrakis (Belgium)
EuRIC's secretary-general is doing a great job to further the inter-
est of Europe's broad recycling sector. Launched in 2014, the
umbrella organisation represents the interests of more than 5 500 recycling
companies together generating an annual turnover of around EUR 100 bil-
lion. In June, the lobby platform held its annual conference in Madrid, the
first physical event since the outbreak of Covid.
40-65_top100.indd 60 07-07-2022 09:04