Recycling International July issue | 2022 + TOP 100!
Subscribe
Page 57 from: Recycling International July issue | 2022 + TOP 100!
57recyclinginternational.com | July/August | 2022 Mike Webster (Indonesia) A visit to a landfill site in the early 90s filled Mike Webster with both horror and fascination and he has been working ever since to grapple with what he c...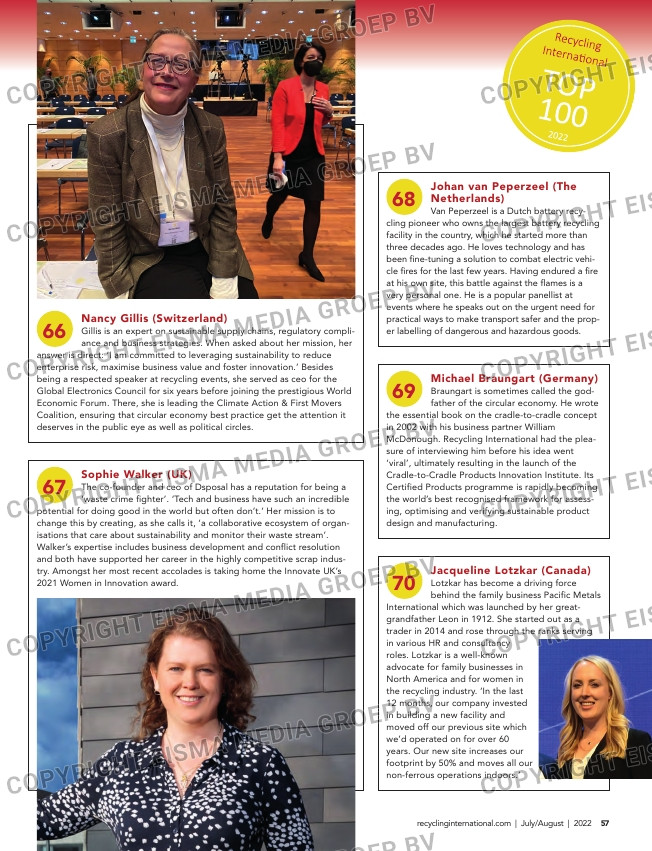 57recyclinginternational.com | July/August | 2022
Mike Webster (Indonesia)
A visit to a landfill site in the early 90s filled Mike Webster with
both horror and fascination and he has been working ever since
to grapple with what he calls 'the global waste emergency'. He is currently
involved in the Stop Ocean Plastics (STOP) platform which helps cities and
communities in south-east Asia, mainly in Indonesia, combat marine plastics.
Since its launch in 2017, the STOP programme has brought reliable waste
management services to more than 260 000 people in three cities in
Indonesia, built five waste processing facilities, and helped prevent more
than 20 000 tonnes of waste (including 2 350 tonnes of plastic) from leaking
into the environment.
Tim Rademacker (Germany)
Big companies are getting more involved with recycling and
Mitsubishi is a good example, having set up Mitsubishi Chemical
Advanced Materials in Germany to work out the best way to recover carbon
fibre. Rademacker has been leading this niche venture as general manager
since 2011. He oversees the pilot plant that has been constructed in
Wishhaven which boasts an innovative recycling line combining pyrolysis
and shredding to yield a carbon fibre and polypropylene blend called CFK.
'It contains 35% recycled content, a great starting point for such a complex
material,' Rademacker says.
Nanne Fioole (The Netherlands)
Recycling mattresses is a far from sleepy business for the owner
of Retourmatras. This company processes almost two-thirds (or
950 000) of the 1.7 million mattresses that are disposed in the Netherlands
each year. A recent focus is turning them into new products rather than sort-
ing and baling scrap components for export. A new processing facility, one
of four locations in the Netherlands operated by Fioole, was launched in
2021 to recover metals, textiles, latex and polyurethane foam. An estimated
90% of these materials goes into the production of new mattresses.
RetourMatras has established partnerships with Ikea and Renewi and is look-
ing to take the concept to other countries.
Ibrahim Aboura (UAE)
The third generation to lead the Aboura family business. With
seven yards handling some 150 000 tonnes of non-ferrous scrap
per year, Aboura Metals is one of the biggest businesses of its kind in the
Middle East. The company operates facilities and yards in Jordan, Egypt,
UAE and Saudi Arabia and has trading hubs in Kuwait, Lebanon and Sudan.
Ongoing disruption in the global supply chain and logistics, the recent slow-
down of global growth and industrial sectors, and the volatility of metal
prices are his biggest concerns.
Meanwhile, the Aboura family continues to invest in people and tools by
expanding its operations, adding new furnaces for its aluminium alloy pro-
duction and furnaces for copper, along with new cable shredding machines
to increase capacity.
Nancy Gillis (Switzerland)
Gillis is an expert on sustainable supply chains, regulatory compli-
ance and business strategies. When asked about her mission, her
answer is direct: 'I am committed to leveraging sustainability to reduce
enterprise risk, maximise business value and foster innovation.' Besides
being a respected speaker at recycling events, she served as ceo for the
Global Electronics Council for six years before joining the prestigious World
Economic Forum. There, she is leading the Climate Action & First Movers
Coalition, ensuring that circular economy best practice get the attention it
deserves in the public eye as well as political circles.
66
Sophie Walker (UK)
The co-founder and ceo of Dsposal has a reputation for being a
'waste crime fighter'. 'Tech and business have such an incredible
potential for doing good in the world but often don't.' Her mission is to
change this by creating, as she calls it, 'a collaborative ecosystem of organ-
isations that care about sustainability and monitor their waste stream'.
Walker's expertise includes business development and conflict resolution
and both have supported her career in the highly competitive scrap indus-
try. Amongst her most recent accolades is taking home the Innovate UK's
2021 Women in Innovation award.
67
Johan van Peperzeel (The
Netherlands)
Van Peperzeel is a Dutch battery recy-
cling pioneer who owns the largest battery recycling
facility in the country, which he started more than
three decades ago. He loves technology and has
been fine-tuning a solution to combat electric vehi-
cle fires for the last few years. Having endured a fire
at his own site, this battle against the flames is a
very personal one. He is a popular panellist at
events where he speaks out on the urgent need for
practical ways to make transport safer and the prop-
er labelling of dangerous and hazardous goods.
Michael Braungart (Germany)
Braungart is sometimes called the god-
father of the circular economy. He wrote
the essential book on the cradle-to-cradle concept
in 2002 with his business partner William
McDonough. Recycling International had the plea-
sure of interviewing him before his idea went
'viral', ultimately resulting in the launch of the
Cradle-to-Cradle Products Innovation Institute. Its
Certified Products programme is rapidly becoming
the world's best recognised framework for assess-
ing, optimising and verifying sustainable product
design and manufacturing.
Jacqueline Lotzkar (Canada)
Lotzkar has become a driving force
behind the family business Pacific Metals
International which was launched by her great-
grandfather Leon in 1912. She started out as a
trader in 2014 and rose through the ranks serving
in various HR and consultancy
roles. Lotzkar is a well-known
advocate for family businesses in
North America and for women in
the recycling industry. 'In the last
12 months, our company invested
in building a new facility and
moved off our previous site which
we'd operated on for over 60
years. Our new site increases our
footprint by 50% and moves all our
non-ferrous operations indoors.'
68
69
70
40-65_top100.indd 57 07-07-2022 09:04