The 2022 Top 100 issue!
Subscribe
Page 53 from: The 2022 Top 100 issue!
53recyclinginternational.com | July/August | 2022 Venkatesha Murthy (India/Singapore) Founder and owner of Vans Chemistry, an e-scrap business with its headquarters and trading office in Singapore and a recycling facility based in B...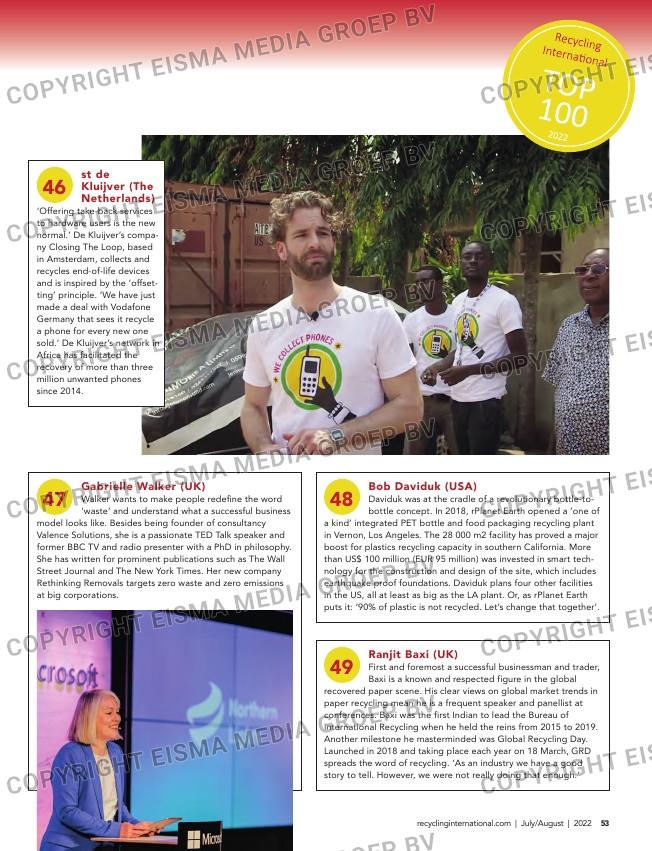 53recyclinginternational.com | July/August | 2022
Venkatesha Murthy (India/Singapore)
Founder and owner of Vans Chemistry, an e-scrap business
with its headquarters and trading office in Singapore and a
recycling facility based in Bangalore, India. Murthy is among India's
high-level recyclers who continues to be a driver of ambitious e-scrap
projects around the world. He is currently involved in setting up a
EUR 20 million integrated precious metals recovery & refining facility
in Phoenix, Arizona (USA) to be up and running by the end of the
year.
A EUR 15 million e-scrap recycling plant is scheduled for Singapore
while a similar, EUR 5 million project in Istanbul, Turkey is expected to
start production by mid 2023. And at Bangalore the entrepreneur
plans a EUR 6 million e-scrap facility to recover 25 000 tonnes of cop-
per and precious metal per year. 'I am looking for investors.'
Bob Daviduk (USA)
Daviduk was at the cradle of a revolutionary bottle-to-
bottle concept. In 2018, rPlanet Earth opened a 'one of
a kind' integrated PET bottle and food packaging recycling plant
in Vernon, Los Angeles. The 28 000 m2 facility has proved a major
boost for plastics recycling capacity in southern California. More
than US$ 100 million (EUR 95 million) was invested in smart tech-
nology for the construction and design of the site, which includes
earthquake proof foundations. Daviduk plans four other facilities
in the US, all at least as big as the LA plant. Or, as rPlanet Earth
puts it: '90% of plastic is not recycled. Let's change that together'.
Ranjit Baxi (UK)
First and foremost a successful businessman and trader,
Baxi is a known and respected figure in the global
recovered paper scene. His clear views on global market trends in
paper recycling mean he is a frequent speaker and panellist at
conferences. Baxi was the first Indian to lead the Bureau of
International Recycling when he held the reins from 2015 to 2019.
Another milestone he masterminded was Global Recycling Day.
Launched in 2018 and taking place each year on 18 March, GRD
spreads the word of recycling. 'As an industry we have a good
story to tell. However, we were not really doing that enough.'
Gabrielle Walker (UK)
Walker wants to make people redefine the word
'waste' and understand what a successful business
model looks like. Besides being founder of consultancy
Valence Solutions, she is a passionate TED Talk speaker and
former BBC TV and radio presenter with a PhD in philosophy.
She has written for prominent publications such as The Wall
Street Journal and The New York Times. Her new company
Rethinking Removals targets zero waste and zero emissions
at big corporations.
48
49
47
st de
Kluijver (The
Netherlands)
'Offering take-back services
to hardware users is the new
normal.' De Kluijver's compa-
ny Closing The Loop, based
in Amsterdam, collects and
recycles end-of-life devices
and is inspired by the 'offset-
ting' principle. 'We have just
made a deal with Vodafone
Germany that sees it recycle
a phone for every new one
sold.' De Kluijver's network in
Africa has facilitated the
recovery of more than three
million unwanted phones
since 2014.
46
Petra Mussmann
and Christian
Stolz (Austria)
This couple heads the Austrian
recycling company Ragg. Some
120 000 tonnes of ferrous scrap a
year pass through the firm's
mega shredder near Innsbruck. In
recent times, Ragg's 'stay local'
business model has proved a
blessing and the ever-strict scrap
import rules in China has led to a
material boost for the company.
Former hotel manager Christian
Stolz joined the firm some 21
years ago. He may not have the
scrap DNA from birth but he has
certainly brought added value to
the firm. 'I have learned from
experience to pay attention to
people. Hospitality is all about
attention.'
Stolz has recently placed large
signs across the yard sharing
details about the various com-
modities that are processed at
Ragg, the volumes coming in and
the recycling technology/equip-
ment used, among other things.
It's a nice tool which helps tell and
teach visitors about the impor-
tance of recycling and how com-
panies like Ragg contribute to a
better environment.
40-65_top100.indd 53 07-07-2022 09:04