The 2022 Top 100 issue!
Subscribe
Page 51 from: The 2022 Top 100 issue!
51recyclinginternational.com | July/August | 2022 Paul and Chris Coyte (New Zealand) The Coyte brothers run the fourth-generation family business Hayes Metals, the largest producer of brass and bronze ingots in Australasia with manu...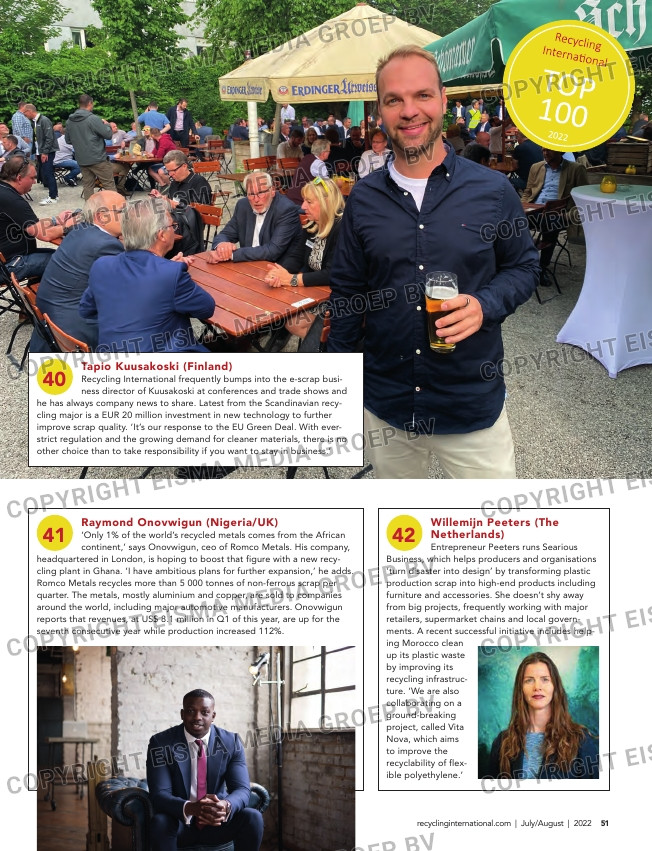 51recyclinginternational.com | July/August | 2022
Paul and Chris Coyte (New Zealand)
The Coyte brothers run the fourth-generation family business
Hayes Metals, the largest producer of brass and bronze ingots in
Australasia with manufacturing and warehousing facilities in New Zealand
and Australia, employing 75. 'Hayes Metal has focused more on higher qual-
ity alloys,' say the brothers who have concentrated on staff retention and
upskilling in the last 12 months. 'We have also invested significantly in tech-
nology and are in the process of installing a very bespoke, multi million Euro
machine to significantly improve our recycling rates and focus on material
which currently is either not recycled or incredibly difficult to recycle.'
Robin Ingenthron (USA)
Ingenthron founded Fair Trade Recycling to boost e-scrap recy-
cling practices in developing countries such as Cameroon and
Mexico and the circular economy is a 'truly inclusive society', celebrating
global best practices. Good Point Recycling currently employs 40 people
and had a turnover of over US$ 3 million (EUR 2.8 million) in 2021. 'My busi-
ness has survived so long by anticipating new economies. We had record
sales of reuse parts from LED and LCD flat screen displays – our online sales
have grown from US$ 1 000 per month in 2017 to US$ 50 000 per month
last year.' Next, the entrepreneur plans to target solar panels.
Boyan Slat (The Netherlands)
It's impossible to talk ocean plastics without mentioning the
founder of The Ocean Cleanup. The Dutch entrepreneur gained
fame for developing a floating system that catches marine litter. Recycling
International met him at the beginning of his journey, shortly before the sys-
tem was deployed off the coast of San Francisco and has tracked his prog-
ress since. His latest systems are mobile units deployed in rivers in Malaysia
and Indonesia and an 'Interceptor Fence' in Guatemala. The latter is home
to the River Motagua, the world's most polluted waterway, which is Slat's
next big project.
Salaam Sharif (UAE)
As former president of the Bureau of Middle East Recycling,
Sharif is a true ambassador for the sector in this part of the world.
Sharif Metals is built on strong family roots and operates through a network
of fully equipped yards across the Arabian peninsula in Kuwait, the UAE,
Saudi Arabia, Jordan, Lebanon, and Egypt. Recently, Sharif Metals has
expanded and modernised its aluminium and lead recycling facilities.
Tapio Kuusakoski (Finland)
Recycling International frequently bumps into the e-scrap busi-
ness director of Kuusakoski at conferences and trade shows and
he has always company news to share. Latest from the Scandinavian recy-
cling major is a EUR 20 million investment in new technology to further
improve scrap quality. 'It's our response to the EU Green Deal. With ever-
strict regulation and the growing demand for cleaner materials, there is no
other choice than to take responsibility if you want to stay in business.'
Willemijn Peeters (The
Netherlands)
Entrepreneur Peeters runs Searious
Business, which helps producers and organisations
'turn disaster into design' by transforming plastic
production scrap into high-end products including
furniture and accessories. She doesn't shy away
from big projects, frequently working with major
retailers, supermarket chains and local govern-
ments. A recent successful initiative includes help-
ing Morocco clean
up its plastic waste
by improving its
recycling infrastruc-
ture. 'We are also
collaborating on a
ground-breaking
project, called Vita
Nova, which aims
to improve the
recyclability of flex-
ible polyethylene.'
Raymond Onovwigun (Nigeria/UK)
'Only 1% of the world's recycled metals comes from the African
continent,' says Onovwigun, ceo of Romco Metals. His company,
headquartered in London, is hoping to boost that figure with a new recy-
cling plant in Ghana. 'I have ambitious plans for further expansion,' he adds.
Romco Metals recycles more than 5 000 tonnes of non-ferrous scrap per
quarter. The metals, mostly aluminium and copper, are sold to companies
around the world, including major automotive manufacturers. Onovwigun
reports that revenues, at US$ 8.1 million in Q1 of this year, are up for the
seventh consecutive year while production increased 112%.
40
4241
40-65_top100.indd 51 07-07-2022 09:04