The 2022 Top 100 issue!
Subscribe
Page 48 from: The 2022 Top 100 issue!
48 A U T H O R S Kirstin Linnenkoper, Martijn Reintjes Federica Foterni (Italy) Most refrigerators and washing machines on the Italian island of Sardinia ultimately end up in the shredder at West Recycling. From a bone-dry industrial...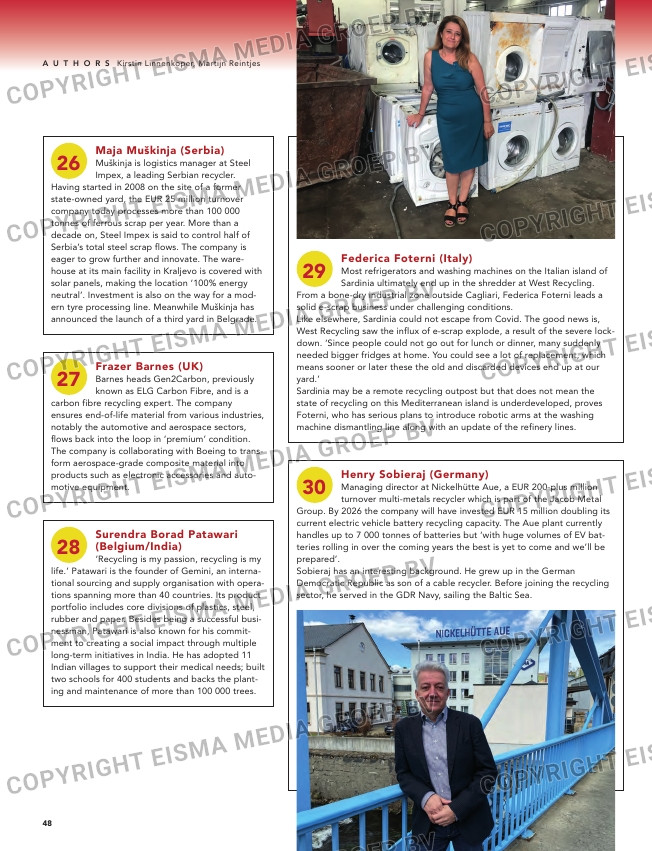 48
A U T H O R S Kirstin Linnenkoper, Martijn Reintjes
Federica Foterni (Italy)
Most refrigerators and washing machines on the Italian island of
Sardinia ultimately end up in the shredder at West Recycling.
From a bone-dry industrial zone outside Cagliari, Federica Foterni leads a
solid e-scrap business under challenging conditions.
Like elsewhere, Sardinia could not escape from Covid. The good news is,
West Recycling saw the influx of e-scrap explode, a result of the severe lock-
down. 'Since people could not go out for lunch or dinner, many suddenly
needed bigger fridges at home. You could see a lot of replacement, which
means sooner or later these the old and discarded devices end up at our
yard.'
Sardinia may be a remote recycling outpost but that does not mean the
state of recycling on this Mediterranean island is underdeveloped, proves
Foterni, who has serious plans to introduce robotic arms at the washing
machine dismantling line along with an update of the refinery lines.
Maja Muškinja (Serbia)
Muškinja is logistics manager at Steel
Impex, a leading Serbian recycler.
Having started in 2008 on the site of a former
state-owned yard, the EUR 25 million turnover
company today processes more than 100 000
tonnes of ferrous scrap per year. More than a
decade on, Steel Impex is said to control half of
Serbia's total steel scrap flows. The company is
eager to grow further and innovate. The ware-
house at its main facility in Kraljevo is covered with
solar panels, making the location '100% energy
neutral'. Investment is also on the way for a mod-
ern tyre processing line. Meanwhile Muškinja has
announced the launch of a third yard in Belgrade.
Surendra Borad Patawari
(Belgium/India)
'Recycling is my passion, recycling is my
life.' Patawari is the founder of Gemini, an interna-
tional sourcing and supply organisation with opera-
tions spanning more than 40 countries. Its product
portfolio includes core divisions of plastics, steel,
rubber and paper. Besides being a successful busi-
nessman, Patawari is also known for his commit-
ment to creating a social impact through multiple
long-term initiatives in India. He has adopted 11
Indian villages to support their medical needs; built
two schools for 400 students and backs the plant-
ing and maintenance of more than 100 000 trees.
Frazer Barnes (UK)
Barnes heads Gen2Carbon, previously
known as ELG Carbon Fibre, and is a
carbon fibre recycling expert. The company
ensures end-of-life material from various industries,
notably the automotive and aerospace sectors,
flows back into the loop in 'premium' condition.
The company is collaborating with Boeing to trans-
form aerospace-grade composite material into
products such as electronic accessories and auto-
motive equipment.
Henry Sobieraj (Germany)
Managing director at Nickelhütte Aue, a EUR 200-plus million
turnover multi-metals recycler which is part of the Jacob Metal
Group. By 2026 the company will have invested EUR 15 million doubling its
current electric vehicle battery recycling capacity. The Aue plant currently
handles up to 7 000 tonnes of batteries but 'with huge volumes of EV bat-
teries rolling in over the coming years the best is yet to come and we'll be
prepared'.
Sobieraj has an interesting background. He grew up in the German
Democratic Republic as son of a cable recycler. Before joining the recycling
sector, he served in the GDR Navy, sailing the Baltic Sea.
29
26
28
27
30
Marc Ehrlich (Switzerland)
Smart entrepreneur and recovered paper recy-
cler, Ehrlich is always looking for opportunities
to grow his business and company, Vipa. To get better
control within all major sourcing regions, Vipa has recently
launched Vipa Japan, Vipa UAE and Vipa Ireland, 'and
we've also started a metals division and a prime paper
division.' Vipa USA, which started in 2019, is growing year-
on-year.'
Summarising the company activities, the entrepreneur
says: 'Altogether, more than 100 000 maritime containers
of circular economy.'
Ehrlich believes the biggest change in the paper recycling
business will come from legislation.
40-65_top100.indd 48 07-07-2022 09:04