The 2022 Top 100 issue!
Subscribe
Page 47 from: The 2022 Top 100 issue!
47recyclinginternational.com | July/August | 2022 Murat Bayram (Germany) The scrap trader from Hamburg (Bayram is director for non-fer- rous at EMR) remains an inspiring, frequently invited, speaker at conferences who is always hap...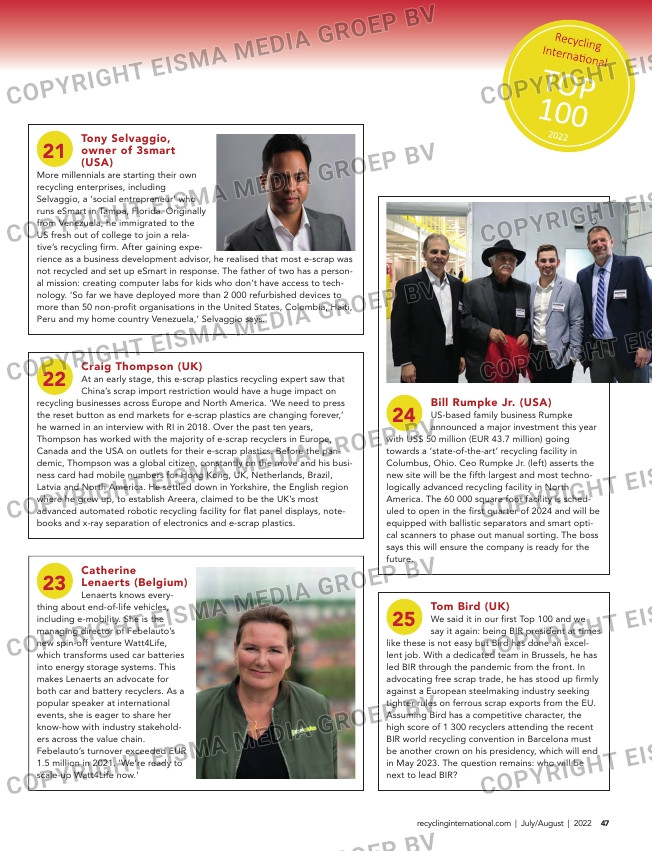 47recyclinginternational.com | July/August | 2022
Murat Bayram (Germany)
The scrap trader from Hamburg (Bayram is director for non-fer-
rous at EMR) remains an inspiring, frequently invited, speaker at
conferences who is always happy to share his views on the industry's ups
and downs. Bayram is a storyteller. Whether live on stage at BIR shows with
fellow scrap traders and 'amigos' Mark Sellier and Michael Lion or via video
stream, he always advocates the interest of the recycling sector in general
rather than promoting the company he represents. People enjoy his style of
presentation: open, enthusiastic and humorous.
Tony Selvaggio,
owner of 3smart
(USA)
More millennials are starting their own
recycling enterprises, including
Selvaggio, a 'social entrepreneur' who
runs eSmart in Tampa, Florida. Originally
from Venezuela, he immigrated to the
US fresh out of college to join a rela-
tive's recycling firm. After gaining expe-
rience as a business development advisor, he realised that most e-scrap was
not recycled and set up eSmart in response. The father of two has a person-
al mission: creating computer labs for kids who don't have access to tech-
nology. 'So far we have deployed more than 2 000 refurbished devices to
more than 50 non-profit organisations in the United States, Colombia, Haiti,
Peru and my home country Venezuela,' Selvaggio says.
Craig Thompson (UK)
At an early stage, this e-scrap plastics recycling expert saw that
China's scrap import restriction would have a huge impact on
recycling businesses across Europe and North America. 'We need to press
the reset button as end markets for e-scrap plastics are changing forever,'
he warned in an interview with RI in 2018. Over the past ten years,
Thompson has worked with the majority of e-scrap recyclers in Europe,
Canada and the USA on outlets for their e-scrap plastics. Before the pan-
demic, Thompson was a global citizen, constantly on the move and his busi-
ness card had mobile numbers for Hong Kong, UK, Netherlands, Brazil,
Latvia and North America. He settled down in Yorkshire, the English region
where he grew up, to establish Areera, claimed to be the UK's most
advanced automated robotic recycling facility for flat panel displays, note-
books and x-ray separation of electronics and e-scrap plastics.
Bill Rumpke Jr. (USA)
US-based family business Rumpke
announced a major investment this year
with US$ 50 million (EUR 43.7 million) going
towards a 'state-of-the-art' recycling facility in
Columbus, Ohio. Ceo Rumpke Jr. (left) asserts the
new site will be the fifth largest and most techno-
logically advanced recycling facility in North
America. The 60 000 square foot facility is sched-
uled to open in the first quarter of 2024 and will be
equipped with ballistic separators and smart opti-
cal scanners to phase out manual sorting. The boss
says this will ensure the company is ready for the
future.
Catherine
Lenaerts (Belgium)
Lenaerts knows every-
thing about end-of-life vehicles,
including e-mobility. She is the
managing director of Febelauto's
new spin-off venture Watt4Life,
which transforms used car batteries
into energy storage systems. This
makes Lenaerts an advocate for
both car and battery recyclers. As a
popular speaker at international
events, she is eager to share her
know-how with industry stakehold-
ers across the value chain.
Febelauto's turnover exceeded EUR
1.5 million in 2021. 'We're ready to
scale-up Watt4Life now.'
21
22
24
23
Tom Bird (UK)
We said it in our first Top 100 and we
say it again: being BIR president at times
like these is not easy but Bird has done an excel-
lent job. With a dedicated team in Brussels, he has
led BIR through the pandemic from the front. In
advocating free scrap trade, he has stood up firmly
against a European steelmaking industry seeking
tighter rules on ferrous scrap exports from the EU.
Assuming Bird has a competitive character, the
high score of 1 300 recyclers attending the recent
BIR world recycling convention in Barcelona must
be another crown on his presidency, which will end
in May 2023. The question remains: who will be
next to lead BIR?
25
40-65_top100.indd 47 07-07-2022 09:04