The 2022 Top 100 issue!
Subscribe
Page 46 from: The 2022 Top 100 issue!
46 A U T H O R S Kirstin Linnenkoper, Martijn Reintjes Frits Stam (The Netherlands) This metal recycler made headlines this year by introducing a EUR 500 fine for every load of scrap in which a battery is found. After yet another s...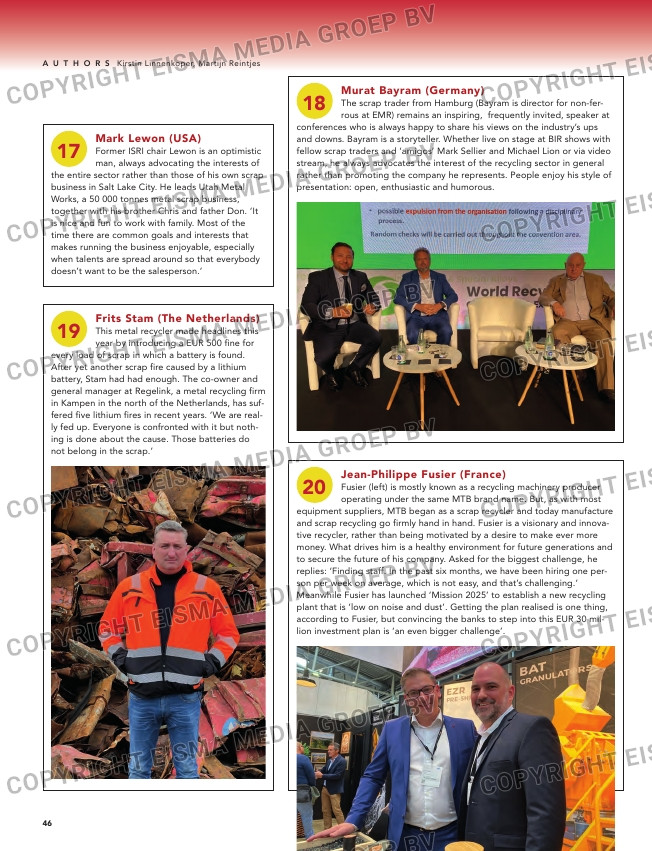 46
A U T H O R S Kirstin Linnenkoper, Martijn Reintjes
Frits Stam (The Netherlands)
This metal recycler made headlines this
year by introducing a EUR 500 fine for
every load of scrap in which a battery is found.
After yet another scrap fire caused by a lithium
battery, Stam had had enough. The co-owner and
general manager at Regelink, a metal recycling firm
in Kampen in the north of the Netherlands, has suf-
fered five lithium fires in recent years. 'We are real-
ly fed up. Everyone is confronted with it but noth-
ing is done about the cause. Those batteries do
not belong in the scrap.'
Jean-Philippe Fusier (France)
Fusier (left) is mostly known as a recycling machinery producer
operating under the same MTB brand name. But, as with most
equipment suppliers, MTB began as a scrap recycler and today manufacture
and scrap recycling go firmly hand in hand. Fusier is a visionary and innova-
tive recycler, rather than being motivated by a desire to make ever more
money. What drives him is a healthy environment for future generations and
to secure the future of his company. Asked for the biggest challenge, he
replies: 'Finding staff. In the past six months, we have been hiring one per-
son per week on average, which is not easy, and that's challenging.'
Meanwhile Fusier has launched 'Mission 2025' to establish a new recycling
plant that is 'low on noise and dust'. Getting the plan realised is one thing,
according to Fusier, but convincing the banks to step into this EUR 30 mil-
lion investment plan is 'an even bigger challenge'.
19
20
Murat Bayram (Germany)
The scrap trader from Hamburg (Bayram is director for non-fer-
rous at EMR) remains an inspiring, frequently invited, speaker at
conferences who is always happy to share his views on the industry's ups
and downs. Bayram is a storyteller. Whether live on stage at BIR shows with
fellow scrap traders and 'amigos' Mark Sellier and Michael Lion or via video
stream, he always advocates the interest of the recycling sector in general
rather than promoting the company he represents. People enjoy his style of
presentation: open, enthusiastic and humorous.
Mark Lewon (USA)
Former ISRI chair Lewon is an optimistic
man, always advocating the interests of
the entire sector rather than those of his own scrap
business in Salt Lake City. He leads Utah Metal
Works, a 50 000 tonnes metal scrap business,
together with his brother Chris and father Don. 'It
is nice and fun to work with family. Most of the
time there are common goals and interests that
makes running the business enjoyable, especially
when talents are spread around so that everybody
doesn't want to be the salesperson.'
18
17
Tony Selvaggio,
owner of 3smart
(USA)
More millennials are starting their own
recycling enterprises, including
Selvaggio, a 'social entrepreneur' who
runs eSmart in Tampa, Florida. Originally
from Venezuela, he immigrated to the
US fresh out of college to join a rela-
tive's recycling firm. After gaining expe-
rience as a business development advisor, he realised that most e-scrap was
not recycled and set up eSmart in response. The father of two has a person-
al mission: creating computer labs for kids who don't have access to tech-
nology. 'So far we have deployed more than 2 000 refurbished devices to
more than 50 non-profit organisations in the United States, Colombia, Haiti,
Peru and my home country Venezuela,' Selvaggio says.
Craig Thompson (UK)
At an early stage, this e-scrap plastics recycling expert saw that
China's scrap import restriction would have a huge impact on
recycling businesses across Europe and North America. 'We need to press
the reset button as end markets for e-scrap plastics are changing forever,'
he warned in an interview with RI in 2018. Over the past ten years,
Thompson has worked with the majority of e-scrap recyclers in Europe,
Canada and the USA on outlets for their e-scrap plastics. Before the pan-
demic, Thompson was a global citizen, constantly on the move and his busi-
ness card had mobile numbers for Hong Kong, UK, Netherlands, Brazil,
Latvia and North America. He settled down in Yorkshire, the English region
where he grew up, to establish Areera, claimed to be the UK's most
advanced automated robotic recycling facility for flat panel displays, note-
books and x-ray separation of electronics and e-scrap plastics.
Catherine
Lenaerts (Belgium)
Lenaerts knows every-
thing about end-of-life vehicles,
including e-mobility. She is the
managing director of Febelauto's
new spin-off venture Watt4Life,
which transforms used car batteries
into energy storage systems. This
makes Lenaerts an advocate for
both car and battery recyclers. As a
popular speaker at international
events, she is eager to share her
know-how with industry stakehold-
ers across the value chain.
Febelauto's turnover exceeded EUR
1.5 million in 2021. 'We're ready to
scale-up Watt4Life now.'
40-65_top100.indd 46 07-07-2022 09:04