The 2022 Top 100 issue!
Subscribe
Page 36 from: The 2022 Top 100 issue!
36 Headaches versus high hopes R e c y c l i n g I n t e r n a t i o n a l 's 2 0 2 2 To p 1 0 0 Turbulent markets, high energy and freight costs, as well as growing uncertainty about future scrap trade restrictions, are the b...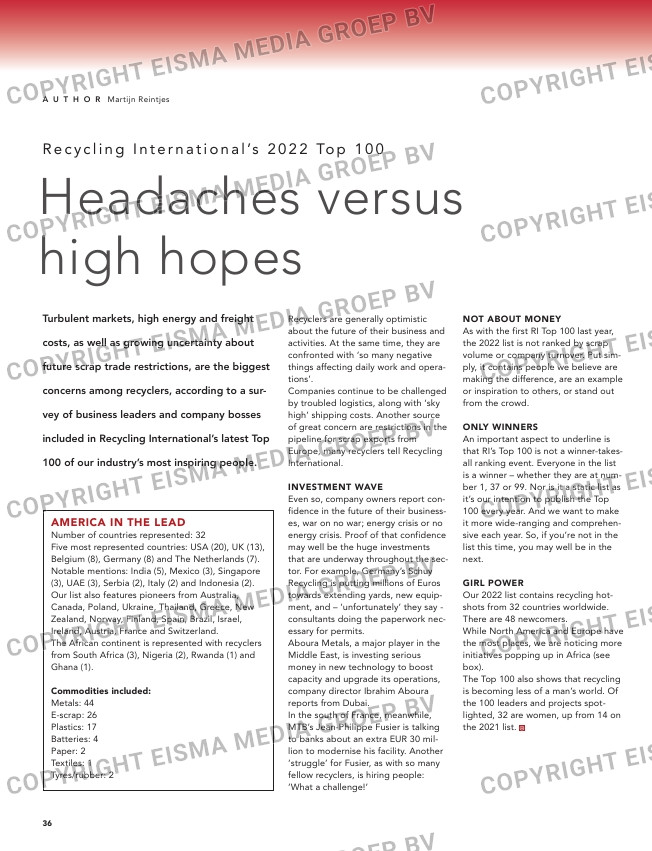 36
Headaches versus
high hopes
R e c y c l i n g I n t e r n a t i o n a l 's 2 0 2 2 To p 1 0 0
Turbulent markets, high energy and freight
costs, as well as growing uncertainty about
future scrap trade restrictions, are the biggest
concerns among recyclers, according to a sur-
vey of business leaders and company bosses
included in Recycling International's latest Top
100 of our industry's most inspiring people.
Recyclers are generally optimistic
about the future of their business and
activities. At the same time, they are
confronted with 'so many negative
things affecting daily work and opera-
tions'.
Companies continue to be challenged
by troubled logistics, along with 'sky
high' shipping costs. Another source
of great concern are restrictions in the
pipeline for scrap exports from
Europe, many recyclers tell Recycling
International.
INVESTMENT WAVE
Even so, company owners report con-
fidence in the future of their business-
es, war on no war; energy crisis or no
energy crisis. Proof of that confidence
may well be the huge investments
that are underway throughout the sec-
tor. For example, Germany's Schuy
Recycling is putting millions of Euros
towards extending yards, new equip-
ment, and – 'unfortunately' they say –
consultants doing the paperwork nec-
essary for permits.
Aboura Metals, a major player in the
Middle East, is investing serious
money in new technology to boost
capacity and upgrade its operations,
company director Ibrahim Aboura
reports from Dubai.
In the south of France, meanwhile,
MTB's Jean-Philippe Fusier is talking
to banks about an extra EUR 30 mil-
lion to modernise his facility. Another
'struggle' for Fusier, as with so many
fellow recyclers, is hiring people:
'What a challenge!'
NOT ABOUT MONEY
As with the first RI Top 100 last year,
the 2022 list is not ranked by scrap
volume or company turnover. Put sim-
ply, it contains people we believe are
making the difference, are an example
or inspiration to others, or stand out
from the crowd.
ONLY WINNERS
An important aspect to underline is
that RI's Top 100 is not a winner-takes-
all ranking event. Everyone in the list
is a winner – whether they are at num-
ber 1, 37 or 99. Nor is it a static list as
it's our intention to publish the Top
100 every year. And we want to make
it more wide-ranging and comprehen-
sive each year. So, if you're not in the
list this time, you may well be in the
next.
GIRL POWER
Our 2022 list contains recycling hot-
shots from 32 countries worldwide.
There are 48 newcomers.
While North America and Europe have
the most places, we are noticing more
initiatives popping up in Africa (see
box).
The Top 100 also shows that recycling
is becoming less of a man's world. Of
the 100 leaders and projects spot-
lighted, 32 are women, up from 14 on
the 2021 list.
AMERICA IN THE LEAD
Number of countries represented: 32
Five most represented countries: USA (20), UK (13),
Belgium (8), Germany (8) and The Netherlands (7).
Notable mentions: India (5), Mexico (3), Singapore
(3), UAE (3), Serbia (2), Italy (2) and Indonesia (2).
Our list also features pioneers from Australia,
Canada, Poland, Ukraine, Thailand, Greece, New
Zealand, Norway, Finland, Spain, Brazil, Israel,
Ireland, Austria, France and Switzerland.
The African continent is represented with recyclers
from South Africa (3), Nigeria (2), Rwanda (1) and
Ghana (1).
Commodities included:
Metals: 44
E-scrap: 26
Plastics: 17
Batteries: 4
Paper: 2
Textiles: 1
Tyres/rubber: 2
A U T H O R Martijn Reintjes
#9
36-37_top100_opening.indd 36 07-07-2022 08:14