The 2022 Top 100 issue!
Subscribe
Page 31 from: The 2022 Top 100 issue!
CONFERENCE REPORT 31recyclinginternational.com | July/August | 2022 parency are key factors to meet demand in a sustainable way.' Eng, senior vp and head of sensor- based sorting solutions provider Tomra Recycling, was equally bull...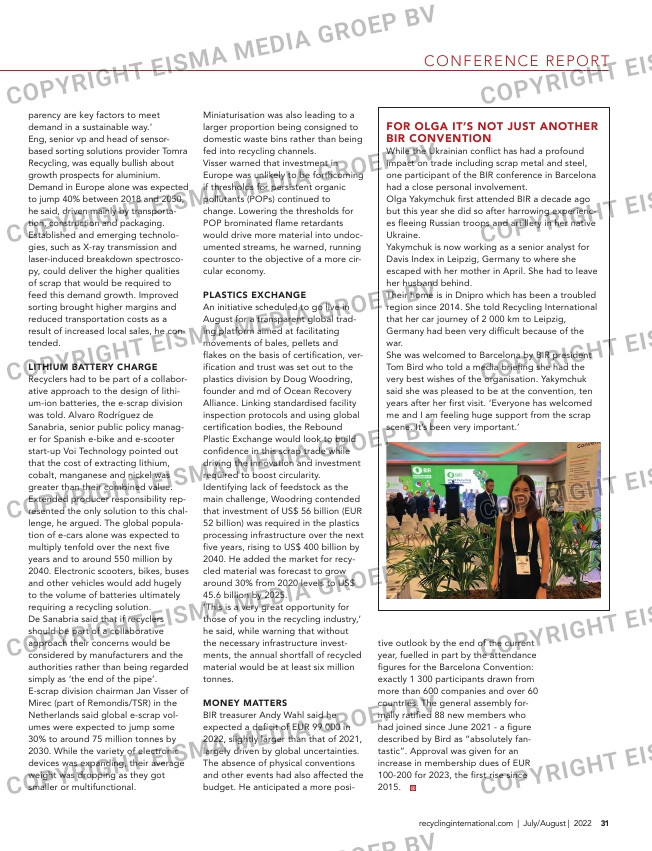 CONFERENCE REPORT
31recyclinginternational.com | July/August | 2022
parency are key factors to meet
demand in a sustainable way.'
Eng, senior vp and head of sensor-
based sorting solutions provider Tomra
Recycling, was equally bullish about
growth prospects for aluminium.
Demand in Europe alone was expected
to jump 40% between 2018 and 2050,
he said, driven mainly by transporta-
tion, construction and packaging.
Established and emerging technolo-
gies, such as X-ray transmission and
laser-induced breakdown spectrosco-
py, could deliver the higher qualities
of scrap that would be required to
feed this demand growth. Improved
sorting brought higher margins and
reduced transportation costs as a
result of increased local sales, he con-
tended.
LITHIUM BATTERY CHARGE
Recyclers had to be part of a collabor-
ative approach to the design of lithi-
um-ion batteries, the e-scrap division
was told. Alvaro Rodríguez de
Sanabria, senior public policy manag-
er for Spanish e-bike and e-scooter
start-up Voi Technology pointed out
that the cost of extracting lithium,
cobalt, manganese and nickel was
greater than their combined value.
Extended producer responsibility rep-
resented the only solution to this chal-
lenge, he argued. The global popula-
tion of e-cars alone was expected to
multiply tenfold over the next five
years and to around 550 million by
2040. Electronic scooters, bikes, buses
and other vehicles would add hugely
to the volume of batteries ultimately
requiring a recycling solution.
De Sanabria said that if recyclers
should be part of a collaborative
approach their concerns would be
considered by manufacturers and the
authorities rather than being regarded
simply as 'the end of the pipe'.
E-scrap division chairman Jan Visser of
Mirec (part of Remondis/TSR) in the
Netherlands said global e-scrap vol-
umes were expected to jump some
30% to around 75 million tonnes by
2030. While the variety of electronic
devices was expanding, their average
weight was dropping as they got
smaller or multifunctional.
Miniaturisation was also leading to a
larger proportion being consigned to
domestic waste bins rather than being
fed into recycling channels.
Visser warned that investment in
Europe was unlikely to be forthcoming
if thresholds for persistent organic
pollutants (POPs) continued to
change. Lowering the thresholds for
POP brominated flame retardants
would drive more material into undoc-
umented streams, he warned, running
counter to the objective of a more cir-
cular economy.
PLASTICS EXCHANGE
An initiative scheduled to go live in
August for a transparent global trad-
ing platform aimed at facilitating
movements of bales, pellets and
flakes on the basis of certification, ver-
ification and trust was set out to the
plastics division by Doug Woodring,
founder and md of Ocean Recovery
Alliance. Linking standardised facility
inspection protocols and using global
certification bodies, the Rebound
Plastic Exchange would look to build
confidence in this scrap trade while
driving the innovation and investment
required to boost circularity.
Identifying lack of feedstock as the
main challenge, Woodring contended
that investment of US$ 56 billion (EUR
52 billion) was required in the plastics
processing infrastructure over the next
five years, rising to US$ 400 billion by
2040. He added the market for recy-
cled material was forecast to grow
around 30% from 2020 levels to US$
45.6 billion by 2025.
'This is a very great opportunity for
those of you in the recycling industry,'
he said, while warning that without
the necessary infrastructure invest-
ments, the annual shortfall of recycled
material would be at least six million
tonnes.
MONEY MATTERS
BIR treasurer Andy Wahl said he
expected a deficit of EUR 99 000 in
2022, slightly larger than that of 2021,
largely driven by global uncertainties.
The absence of physical conventions
and other events had also affected the
budget. He anticipated a more posi-
tive outlook by the end of the current
year, fuelled in part by the attendance
figures for the Barcelona Convention:
exactly 1 300 participants drawn from
more than 600 companies and over 60
countries. The general assembly for-
mally ratified 88 new members who
had joined since June 2021 – a figure
described by Bird as "absolutely fan-
tastic". Approval was given for an
increase in membership dues of EUR
100-200 for 2023, the first rise since
2015.
If the industry took up this new option
for managing price risk in sufficient
numbers, he explained, then further
contracts could follow. Pointing to the
volatility of OCC prices over recent
years, he suggested that the recov-
ered paper sector had every right to
feel exposed whereas hedging via a
futures contract offered predictability.
BRIGHTER PROSPECTS
Upbeat contributions to the non-fer-
rous division session came from guest
speakers Inka Guixà and Tom Eng.
Guixà, chief executive of semi-finished
copper and copper alloy products
manufacturer La Farga, pointed to
projections of a doubling in copper
demand to 60 million tonnes per year
by 2050, driven by key sectors such as
renewable energy, electrification and
e-mobility. This represented 'a very
good opportunity for the recycling
sector', she said.
Some 14 million tonnes of secondary
copper were generated annually and
yet only nine million tonnes were recy-
cled 'so five million tonnes are lost
along the way'. The challenge, Guixà
said, was to innovate to maximise
recovery while achieving quality
requirements. 'Traceability and trans-
FOR OLGA IT'S NOT JUST ANOTHER
BIR CONVENTION
While the Ukrainian conflict has had a profound
impact on trade including scrap metal and steel,
one participant of the BIR conference in Barcelona
had a close personal involvement.
Olga Yakymchuk first attended BIR a decade ago
but this year she did so after harrowing experienc-
es fleeing Russian troops and artillery in her native
Ukraine.
Yakymchuk is now working as a senior analyst for
Davis Index in Leipzig, Germany to where she
escaped with her mother in April. She had to leave
her husband behind.
Their home is in Dnipro which has been a troubled
region since 2014. She told Recycling International
that her car journey of 2 000 km to Leipzig,
Germany had been very difficult because of the
war.
She was welcomed to Barcelona by BIR president
Tom Bird who told a media briefing she had the
very best wishes of the organisation. Yakymchuk
said she was pleased to be at the convention, ten
years after her first visit. 'Everyone has welcomed
me and I am feeling huge support from the scrap
scene. It's been very important.'
28-29-30-31_birbarcelona.indd 31 05-07-2022 13:39