The 2022 Top 100 issue!
Subscribe
Page 30 from: The 2022 Top 100 issue!
30 parency are key factors to meet demand in a sustainable way.' Eng, senior vp and head of sensor- based sorting solutions provider Tomra Recycling, was equally bullish about growth prospects for aluminium. Demand in Europe alone wa...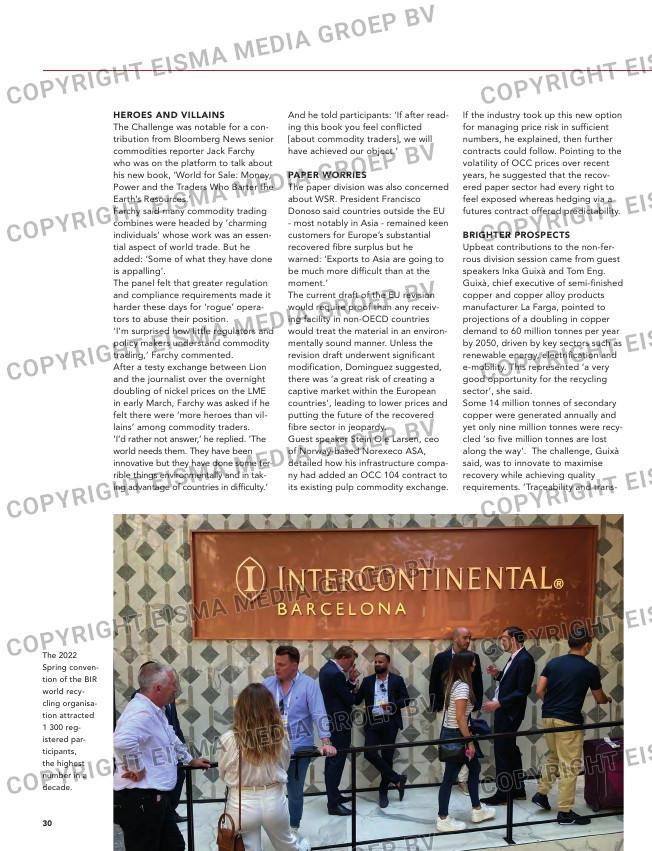 30
parency are key factors to meet
demand in a sustainable way.'
Eng, senior vp and head of sensor-
based sorting solutions provider Tomra
Recycling, was equally bullish about
growth prospects for aluminium.
Demand in Europe alone was expected
to jump 40% between 2018 and 2050,
he said, driven mainly by transporta-
tion, construction and packaging.
Established and emerging technolo-
gies, such as X-ray transmission and
laser-induced breakdown spectrosco-
py, could deliver the higher qualities
of scrap that would be required to
feed this demand growth. Improved
sorting brought higher margins and
reduced transportation costs as a
result of increased local sales, he con-
tended.
LITHIUM BATTERY CHARGE
Recyclers had to be part of a collabor-
ative approach to the design of lithi-
um-ion batteries, the e-scrap division
was told. Alvaro Rodríguez de
Sanabria, senior public policy manag-
er for Spanish e-bike and e-scooter
start-up Voi Technology pointed out
that the cost of extracting lithium,
cobalt, manganese and nickel was
greater than their combined value.
Extended producer responsibility rep-
resented the only solution to this chal-
lenge, he argued. The global popula-
tion of e-cars alone was expected to
multiply tenfold over the next five
years and to around 550 million by
2040. Electronic scooters, bikes, buses
and other vehicles would add hugely
to the volume of batteries ultimately
requiring a recycling solution.
De Sanabria said that if recyclers
should be part of a collaborative
approach their concerns would be
considered by manufacturers and the
authorities rather than being regarded
simply as 'the end of the pipe'.
E-scrap division chairman Jan Visser of
Mirec (part of Remondis/TSR) in the
Netherlands said global e-scrap vol-
umes were expected to jump some
30% to around 75 million tonnes by
2030. While the variety of electronic
devices was expanding, their average
weight was dropping as they got
smaller or multifunctional.
HEROES AND VILLAINS
The Challenge was notable for a con-
tribution from Bloomberg News senior
commodities reporter Jack Farchy
who was on the platform to talk about
his new book, 'World for Sale: Money,
Power and the Traders Who Barter the
Earth's Resources.'
Farchy said many commodity trading
combines were headed by 'charming
individuals' whose work was an essen-
tial aspect of world trade. But he
added: 'Some of what they have done
is appalling'.
The panel felt that greater regulation
and compliance requirements made it
harder these days for 'rogue' opera-
tors to abuse their position.
'I'm surprised how little regulators and
policy makers understand commodity
trading,' Farchy commented.
After a testy exchange between Lion
and the journalist over the overnight
doubling of nickel prices on the LME
in early March, Farchy was asked if he
felt there were 'more heroes than vil-
lains' among commodity traders.
'I'd rather not answer,' he replied. 'The
world needs them. They have been
innovative but they have done some ter-
rible things environmentally and in tak-
ing advantage of countries in difficulty.'
And he told participants: 'If after read-
ing this book you feel conflicted
[about commodity traders], we will
have achieved our object.'
PAPER WORRIES
The paper division was also concerned
about WSR. President Francisco
Donoso said countries outside the EU
– most notably in Asia – remained keen
customers for Europe's substantial
recovered fibre surplus but he
warned: 'Exports to Asia are going to
be much more difficult than at the
moment.'
The current draft of the EU revision
would require proof than any receiv-
ing facility in non-OECD countries
would treat the material in an environ-
mentally sound manner. Unless the
revision draft underwent significant
modification, Dominguez suggested,
there was 'a great risk of creating a
captive market within the European
countries', leading to lower prices and
putting the future of the recovered
fibre sector in jeopardy.
Guest speaker Stein Ole Larsen, ceo
of Norway-based Norexeco ASA,
detailed how his infrastructure compa-
ny had added an OCC 104 contract to
its existing pulp commodity exchange.
If the industry took up this new option
for managing price risk in sufficient
numbers, he explained, then further
contracts could follow. Pointing to the
volatility of OCC prices over recent
years, he suggested that the recov-
ered paper sector had every right to
feel exposed whereas hedging via a
futures contract offered predictability.
BRIGHTER PROSPECTS
Upbeat contributions to the non-fer-
rous division session came from guest
speakers Inka Guixà and Tom Eng.
Guixà, chief executive of semi-finished
copper and copper alloy products
manufacturer La Farga, pointed to
projections of a doubling in copper
demand to 60 million tonnes per year
by 2050, driven by key sectors such as
renewable energy, electrification and
e-mobility. This represented 'a very
good opportunity for the recycling
sector', she said.
Some 14 million tonnes of secondary
copper were generated annually and
yet only nine million tonnes were recy-
cled 'so five million tonnes are lost
along the way'. The challenge, Guixà
said, was to innovate to maximise
recovery while achieving quality
requirements. 'Traceability and trans-
The 2022
Spring conven-
tion of the BIR
world recy-
cling organisa-
tion attracted
1 300 reg-
istered par-
ticipants,
the highest
number in a
decade.
28-29-30-31_birbarcelona.indd 30 05-07-2022 13:39