The 2022 Top 100 issue!
Subscribe
Page 24 from: The 2022 Top 100 issue!
24 A U T H O R Kirstin Linnenkoper GHOST NETS POWER ELECTRIC CARS Several start-ups were pres- ent at IFAT. One is trying to clean up the Italian coast by turning old fishing nets into packaging. 'We are a young company with only a...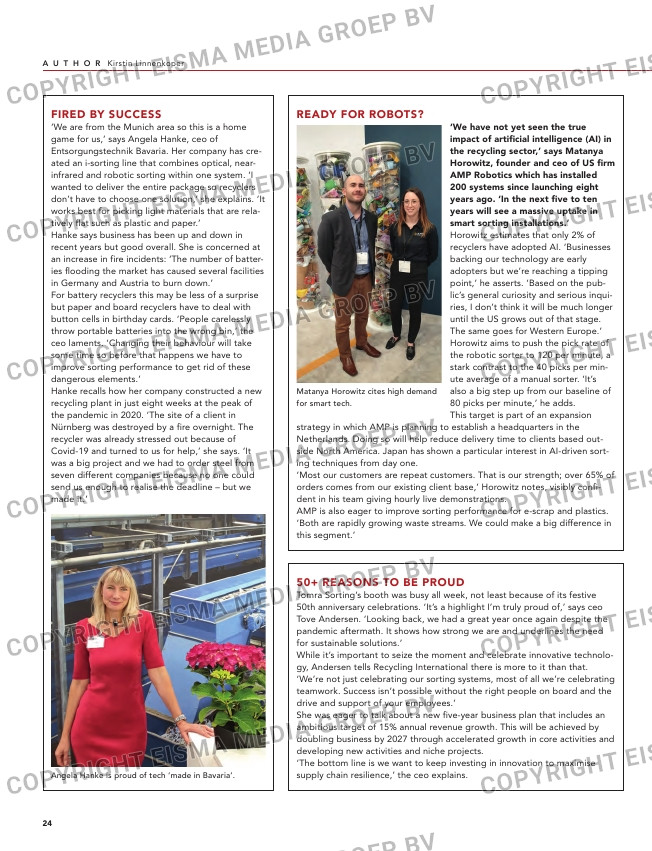 24
A U T H O R Kirstin Linnenkoper
GHOST NETS POWER ELECTRIC CARS
Several start-ups were pres-
ent at IFAT. One is trying to
clean up the Italian coast by
turning old fishing nets into
packaging. 'We are a young
company with only a couple
of years' experience under
our belt but we are eager to
contribute to sustainability,'
says Chiara Lurlaro, R&D
specialist at Iris Srl, based in
Turin.
'We use pyrolysis to convert so-called ghost nets and marine litter into flexi-
ble packaging. We recently installed a pilot plant in Genoa, which is the big-
gest harbour city in Italy.' The popular area is also a major plastic waste
hotspot in the Mediterranean. 'A mobile solution of ours has been deployed
on a boat to help clean up the ocean.'
Lurlaro describes her team as being creative and driven. 'Our slogan is:
"The playground for new ideas". Something we picked for a reason. We
want to take a different approach to recycling, to stir the conversation, get
people talking,' Iurlaro adds.
'We figured e-mobility is trending right now so let's do a project that cap-
tures people's attention. We created a system that turns the waste into
energy that can power electric cars. One unit can power ten EVs for an
entire day.'
'WASTE TRANSFORMER'
Innovation and partnership often go hand in hand. Lindner Recyclingtech is
collaborating with the Johannes Keppler Institute to advance plastic scrap
recycling in Austria. The partners have set up a pilot plant in Linz and are
conducting tests to pinpoint the best process for mixed fractions.
Austria currently collects 20% of plastics in a single stream, the rest having
high levels of contamination. 'As a result, only 26% of the 920 000 tonnes
generated annually gets recycled,' says Professor Jörg Fischer, who leads
the recycling project. 'The EU wants to push this up to 55% by the end of
2025. The question is: "Is this possible – and how?"'
The EUR 6.2 million R&D venture, circPLAST-mr, has attracted 11 scientific
and 14 industrial partners. Together, they are striving to recover mixed plas-
tic scrap into high quality products.
'We want to create cosmetics packaging, hopefully even food-grade pack-
aging, not just the usual park benches and flower pots,' Fischer tells
Recycling International in Munich.
'Nowadays most parties take care of their own plastics recycling – whether
you're talking about supermarkets like Lidl and chemical companies like
Borealis or leading waste companies like Suez. More independent invest-
ment equals a bigger focus on plastics across the industry.'
Here is where Lindner comes in, according to Stefan Scheiflinger-
Ehrenwerth, head of product management. 'All the big brands just men-
tioned will need turnkey solutions. And the list grows every year.'
At the heart of it, Lindner wants to be a 'waste transformer', he says. This
means recycling solutions that are more powerful and capable of handling
growing waste streams. 'Our answer is the new Komet 2 shredder and the
upgraded Atlas unit, our biggest shredder to date.'
Angela Hanke is proud of tech 'made in Bavaria'.
FIRED BY SUCCESS
'We are from the Munich area so this is a home
game for us,' says Angela Hanke, ceo of
Entsorgungstechnik Bavaria. Her company has cre-
ated an i-sorting line that combines optical, near-
infrared and robotic sorting within one system. 'I
wanted to deliver the entire package so recyclers
don't have to choose one solution,' she explains. 'It
works best for picking light materials that are rela-
tively flat such as plastic and paper.'
Hanke says business has been up and down in
recent years but good overall. She is concerned at
an increase in fire incidents: 'The number of batter-
ies flooding the market has caused several facilities
in Germany and Austria to burn down.'
For battery recyclers this may be less of a surprise
but paper and board recyclers have to deal with
button cells in birthday cards. 'People carelessly
throw portable batteries into the wrong bin,' the
ceo laments. 'Changing their behaviour will take
some time so before that happens we have to
improve sorting performance to get rid of these
dangerous elements.'
Hanke recalls how her company constructed a new
recycling plant in just eight weeks at the peak of
the pandemic in 2020. 'The site of a client in
Nürnberg was destroyed by a fire overnight. The
recycler was already stressed out because of
Covid-19 and turned to us for help,' she says. 'It
was a big project and we had to order steel from
seven different companies because no one could
send us enough to realise the deadline – but we
made it.'
READY FOR ROBOTS?
'We have not yet seen the true
impact of artificial intelligence (AI) in
the recycling sector,' says Matanya
Horowitz, founder and ceo of US firm
AMP Robotics which has installed
200 systems since launching eight
years ago. 'In the next five to ten
years will see a massive uptake in
smart sorting installations.'
Horowitz estimates that only 2% of
recyclers have adopted AI. 'Businesses
backing our technology are early
adopters but we're reaching a tipping
point,' he asserts. 'Based on the pub-
lic's general curiosity and serious inqui-
ries, I don't think it will be much longer
until the US grows out of that stage.
The same goes for Western Europe.'
Horowitz aims to push the pick rate of
the robotic sorter to 120 per minute, a
stark contrast to the 40 picks per min-
ute average of a manual sorter. 'It's
also a big step up from our baseline of
80 picks per minute,' he adds.
This target is part of an expansion
strategy in which AMP is planning to establish a headquarters in the
Netherlands. Doing so will help reduce delivery time to clients based out-
side North America. Japan has shown a particular interest in AI-driven sort-
ing techniques from day one.
'Most our customers are repeat customers. That is our strength; over 65% of
orders comes from our existing client base,' Horowitz notes, visibly confi-
dent in his team giving hourly live demonstrations.
AMP is also eager to improve sorting performance for e-scrap and plastics.
'Both are rapidly growing waste streams. We could make a big difference in
this segment.'
50+ REASONS TO BE PROUD
Tomra Sorting's booth was busy all week, not least because of its festive
50th anniversary celebrations. 'It's a highlight I'm truly proud of,' says ceo
Tove Andersen. 'Looking back, we had a great year once again despite the
pandemic aftermath. It shows how strong we are and underlines the need
for sustainable solutions.'
While it's important to seize the moment and celebrate innovative technolo-
gy, Andersen tells Recycling International there is more to it than that.
'We're not just celebrating our sorting systems, most of all we're celebrating
teamwork. Success isn't possible without the right people on board and the
drive and support of your employees.'
She was eager to talk about a new five-year business plan that includes an
ambitious target of 15% annual revenue growth. This will be achieved by
doubling business by 2027 through accelerated growth in core activities and
developing new activities and niche projects.
'The bottom line is we want to keep investing in innovation to maximise
supply chain resilience,' the ceo explains.
Matanya Horowitz cites high demand
for smart tech.
20-21-22-23-24-25-26-27_thebestofifat.indd 24 05-07-2022 13:38