The 2022 Top 100 issue!
Subscribe
Page 14 from: The 2022 Top 100 issue!
14 STADLER® E n g i n e e r i n g a t i t s b e s t weeeSwiss Technology AG is part of the STADLER Group +41 79 706 07 31
[email protected]
www.weeeswiss.ch As part of the STADLER Group, weeeSwiss offers you a solid know-h...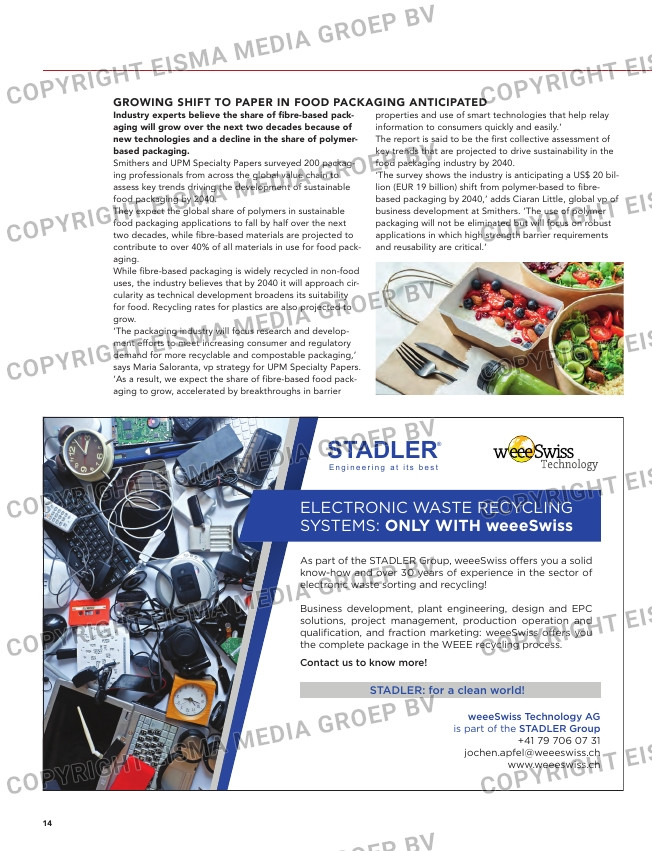 14
STADLER®
E n g i n e e r i n g a t i t s b e s t
weeeSwiss Technology AG
is part of the STADLER Group
+41 79 706 07 31
[email protected]
www.weeeswiss.ch
As part of the STADLER Group, weeeSwiss offers you a solid
know-how and over 30 years of experience in the sector of
electronic waste sorting and recycling!
Business development, plant engineering, design and EPC
solutions, project management, production operation and
qualification, and fraction marketing: weeeSwiss offers you
the complete package in the WEEE recycling process.
Contact us to know more!
STADLER: for a clean world!
ELECTRONIC WASTE RECYCLING
SYSTEMS: ONLY WITH weeeSwiss

US INVESTOR EYES MAJOR UK SCRAP COMPANY
One of the UK's biggest waste managers, Biffa, has indicated it could be taken
over and would recommend a deal if talks result in a firm offer.
A statement from the board says it has received a series of 'unsolicited and indicative
proposals' from Energy Capital Partners (ECP), a US-based investor in energy infrastruc-
ture.
'Following a period of discussion and negotiation, ECP's proposal is in respect of a pos-
sible offer at a price of 445 pence (EUR 5.20) per Biffa share in cash,' the statement
says. 'The board of Biffa has concluded that should a firm offer be made on the same
financial terms as the proposal it would be minded to recommend it to Biffa sharehold-
ers, subject to the agreement of other customary terms and conditions.'
Reuters says the quoted ECP offer values Biffa at £1.36 billion (EUR 1.59 billion).
The company statement references progress on Biffa's potentially costly dispute with
the UK Treasury over alleged mis-description of waste sent to landfill, which the compa-
ny rejects. It says there is no certainty that HMRC [Her Majesty's Revenue and Customs]
will bring a claim and it is not possible 'to ascertain the quantum of any potential liabili-
ty with any certainty or precision'.
Biffa adds: 'The potential liability could range from approximately £170 000 (based on
the liability declared by Biffa to HMRC following an extensive review with Ernst &
Young) up to a possible maximum of approximately £153 million (being the total
amount of protective assessments issued by HMRC to Biffa for the period from March
2016 to March 2020) plus penalties and interest.'
Biffa was founded in London in 1912 and employs 10 000 people. It collects waste from
thousands of businesses and millions of households across the UK and has diversified in
recent years, adding plastic recycling and energy-from-waste facilities to its portfolio.
ECP was founded in 2005 Doug Kimmelman who headed Goldman Sachs Power
Investing in the 1990s. The company has previously invested in the UK, owning energy-
from-waste operator Wheelabrator between 2014 and 2018.
GROWING SHIFT TO PAPER IN FOOD PACKAGING ANTICIPATED
Industry experts believe the share of fibre-based pack-
aging will grow over the next two decades because of
new technologies and a decline in the share of polymer-
based packaging.
Smithers and UPM Specialty Papers surveyed 200 packag-
ing professionals from across the global value chain to
assess key trends driving the development of sustainable
food packaging by 2040.
They expect the global share of polymers in sustainable
food packaging applications to fall by half over the next
two decades, while fibre-based materials are projected to
contribute to over 40% of all materials in use for food pack-
aging.
While fibre-based packaging is widely recycled in non-food
uses, the industry believes that by 2040 it will approach cir-
cularity as technical development broadens its suitability
for food. Recycling rates for plastics are also projected to
grow.
'The packaging industry will focus research and develop-
ment efforts to meet increasing consumer and regulatory
demand for more recyclable and compostable packaging,'
says Maria Saloranta, vp strategy for UPM Specialty Papers.
'As a result, we expect the share of fibre-based food pack-
aging to grow, accelerated by breakthroughs in barrier
properties and use of smart technologies that help relay
information to consumers quickly and easily.'
The report is said to be the first collective assessment of
key trends that are projected to drive sustainability in the
food packaging industry by 2040.
'The survey shows the industry is anticipating a US$ 20 bil-
lion (EUR 19 billion) shift from polymer-based to fibre-
based packaging by 2040,' adds Ciaran Little, global vp of
business development at Smithers. 'The use of polymer
packaging will not be eliminated but will focus on robust
applications in which high strength barrier requirements
and reusability are critical.'
DUTCH STEEL RECYCLER MISSES OUT ON CONTAMINATED
SCRAP
Two year after its launch, Netherlands-based Purified Metal Company (PMC) is in seri-
ous financial trouble because of a shortage of contaminated scrap. Some staff have
been made redundant and the company will continue in a slimmed-down form.
PMC was opened in 2020 by King Willem-Alexander of the Netherlands. The factory pro-
cesses steel scrap contaminated with Chromium-6 and asbestos. After processing, the scrap
can be used in the fabrication of new steel.
Chromium-6 metal scrap does not have 'hazardous' status in the Netherlands so special
processing is not required. As a result, PMC misses out on a lot of scrap. An additional
problem is that since July last year the dumping of asbestos-containing steel in the
Netherlands has been banned requiring separate processing. However, inadequate compli-
ance means much asbestos scrap disappears through other channels.
PMC has challenged the Dutch Government in court to list contaminated steel scrap as
'dangerous' to ensure the company gets more supplies.
EUR 70 million has been invested in the PMC factory, of which approximately EUR 50 mil-
lion is government money. At its launch in 2020 PMC, expected to be profitable by 2021
with the workforce of 30 growing to 65 once the plant was at full capacity.
A former Soviet submarine that was dismantled and scrapped at the Janssen Recycling yard
in Rotterdam was the first major demolition in which contaminated scrap was processed at
PMC. The company had plans to set up similar facilities at other locations around the world.
10-11-12-13-14-15_trendsupdates.indd 14 06-07-2022 13:37