Recycling International July issue | 2022 + TOP 100!
Subscribe
Page 12 from: Recycling International July issue | 2022 + TOP 100!
12 Big scrap, big business Convert your heavy steel scrap into profits Recycle your heavy steel scrap in a flexible and profitable way with the Fractum impact breakers Erritsø Møllebanke 11 7000 Fredericia Denmark Email:
[email protected]
...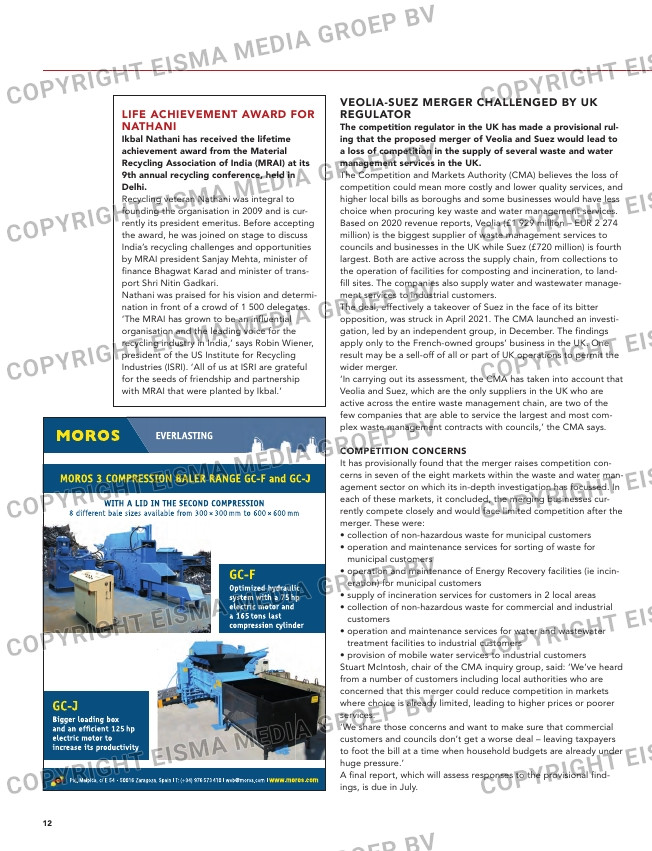 12
Big scrap, big business
Convert your heavy steel scrap into profits

Recycle your heavy steel scrap in a flexible and profitable way
with the Fractum impact breakers
Erritsø Møllebanke 11
7000 Fredericia Denmark
Email: [email protected]
Phone: +45 7262 7300 www.fractum.com/scrap-metal/

VEOLIA-SUEZ MERGER CHALLENGED BY UK
REGULATOR
The competition regulator in the UK has made a provisional rul-
ing that the proposed merger of Veolia and Suez would lead to
a loss of competition in the supply of several waste and water
management services in the UK.
The Competition and Markets Authority (CMA) believes the loss of
competition could mean more costly and lower quality services, and
higher local bills as boroughs and some businesses would have less
choice when procuring key waste and water management services.
Based on 2020 revenue reports, Veolia (£1 929 million – EUR 2 274
million) is the biggest supplier of waste management services to
councils and businesses in the UK while Suez (£720 million) is fourth
largest. Both are active across the supply chain, from collections to
the operation of facilities for composting and incineration, to land-
fill sites. The companies also supply water and wastewater manage-
ment services to industrial customers.
The deal, effectively a takeover of Suez in the face of its bitter
opposition, was struck in April 2021. The CMA launched an investi-
gation, led by an independent group, in December. The findings
apply only to the French-owned groups' business in the UK. One
result may be a sell-off of all or part of UK operations to permit the
wider merger.
'In carrying out its assessment, the CMA has taken into account that
Veolia and Suez, which are the only suppliers in the UK who are
active across the entire waste management chain, are two of the
few companies that are able to service the largest and most com-
plex waste management contracts with councils,' the CMA says.
COMPETITION CONCERNS
It has provisionally found that the merger raises competition con-
cerns in seven of the eight markets within the waste and water man-
agement sector on which its in-depth investigation has focussed. In
each of these markets, it concluded, the merging businesses cur-
rently compete closely and would face limited competition after the
merger. These were:
• collection of non-hazardous waste for municipal customers
• operation and maintenance services for sorting of waste for
municipal customers
• operation and maintenance of Energy Recovery facilities (ie incin-
eration) for municipal customers
• supply of incineration services for customers in 2 local areas
• collection of non-hazardous waste for commercial and industrial
customers
• operation and maintenance services for water and wastewater
treatment facilities to industrial customers
• provision of mobile water services to industrial customers
Stuart McIntosh, chair of the CMA inquiry group, said: 'We've heard
from a number of customers including local authorities who are
concerned that this merger could reduce competition in markets
where choice is already limited, leading to higher prices or poorer
services.
'We share those concerns and want to make sure that commercial
customers and councils don't get a worse deal – leaving taxpayers
to foot the bill at a time when household budgets are already under
huge pressure.'
A final report, which will assess responses to the provisional find-
ings, is due in July.
LIFE ACHIEVEMENT AWARD FOR
NATHANI
Ikbal Nathani has received the lifetime
achievement award from the Material
Recycling Association of India (MRAI) at its
9th annual recycling conference, held in
Delhi.
Recycling veteran Nathani was integral to
founding the organisation in 2009 and is cur-
rently its president emeritus. Before accepting
the award, he was joined on stage to discuss
India's recycling challenges and opportunities
by MRAI president Sanjay Mehta, minister of
finance Bhagwat Karad and minister of trans-
port Shri Nitin Gadkari.
Nathani was praised for his vision and determi-
nation in front of a crowd of 1 500 delegates.
'The MRAI has grown to be an influential
organisation and the leading voice for the
recycling industry in India,' says Robin Wiener,
president of the US Institute for Recycling
Industries (ISRI). 'All of us at ISRI are grateful
for the seeds of friendship and partnership
with MRAI that were planted by Ikbal.'
SOLAR PANELS A VITAL PIECE OF THE CIRCULAR
ECONOMY PUZZLE?
'Two decades after the rapid
expansion of photovoltaics (PVs),
the number of solar panels reach-
ing end-of-life is increasing,'
observes the National University
of Singapore. Its claims it has
found a way to transform discard-
ed solar cells into 'thermo-elec-
tronics'.
While precious metals such as silver and copper are typically recycled from
used solar panels, silicon, which makes up the bulk of a solar cell, goes to
landfill. The impurities of most silicon-based technologies mean it is uneco-
nomic to purify waste silicon.
Thermo-electrics could be a game-changer, according to Ady Suwadi, assis-
tant professor in the department of materials science and engineering. His
team has been conducting tests on the PV module material for the past two
years have found that polycrystalline silicon can be pulverised into powder
and pelletised into ingots.
The novel process uses spark plasma sintering to dope the silicon with 1%
germanium and 4% phosphorus. Suwadi's team processed 16 cm fragment
at 1 150° Celsius for five minutes.
The upcycling of silicon, present in about 90% of decommissioned PV mod-
ules, from PV waste into thermos-electrics is said to be possible for all types
of silicon-based panels.
Suwadi explains that thermo-electric material has a dual function: convert-
ing waste heat into electricity and electricity into cooling. The researcher
further points out that thermo-electronics represent a rare class of material
in which defects and impurities can be engineered to enhance the perfor-
mance. 'This is because of the majority-carrier nature, making it defect- and
impurity-tolerant.'
Suwadi is confident the innovative work represents 'an important piece of
the puzzle' in realising a circular economy for PV and electronic waste.
10-11-12-13-14-15_trendsupdates.indd 12 06-07-2022 13:37