September 2010
Subscribe
Page 8 from: September 2010
8 September 2010 N E W S A well-known recycling company in Malaysia, having 20 years experience in International Ferrous – Non Ferrous Trading, managed by professional team, planning to expand its operations globally, wishes to ...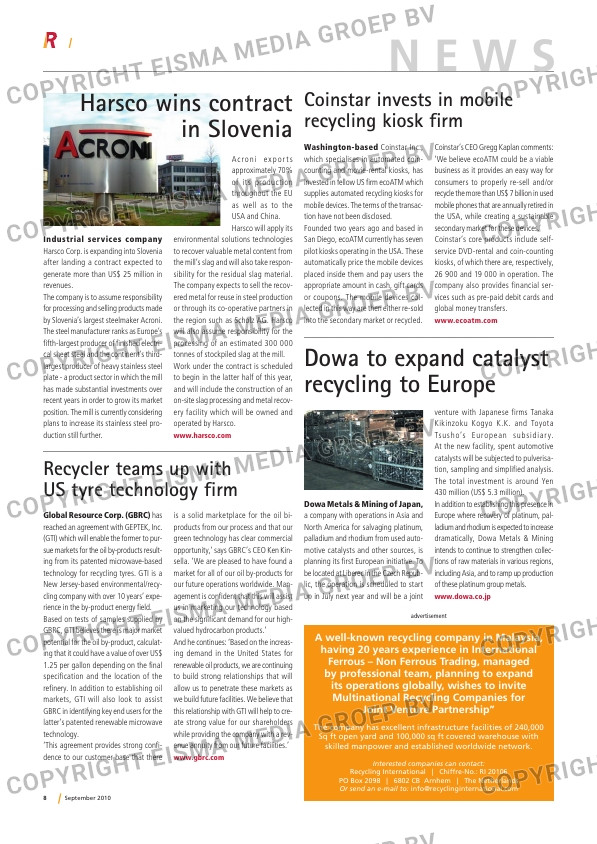 8 September 2010
N E W S

A well-known recycling company in Malaysia,
having 20 years experience in International

Ferrous – Non Ferrous Trading, managed
by professional team, planning to expand

its operations globally, wishes to invite
Multinational Recycling Companies for

Joint Venture Partnership"

The company has excellent infrastructure facilities of 240,000
Sq ft open yard and 100,000 sq ft covered warehouse with
skilled manpower and established worldwide network.
Interested companies can contact:
Recycling International | Chiffre-No.: RI 20106
PO Box 2098 | 6802 CB Arnhem | The Netherlands
Or send an e-mail to: [email protected]
advertisement
Industrial services company
Harsco Corp. is expanding into Slovenia
after landing a contract expected to
generate more than US$ 25 million in
revenues.
The company is to assume responsibility
for processing and selling products made
by Slovenia's largest steelmaker Acroni.
The steel manufacturer ranks as Europe's
fifth-largest producer of finished electri-
cal sheet steel and the continent's third-
largest producer of heavy stainless steel
plate – a product sector in which the mill
has made substantial investments over
recent years in order to grow its market
position. The mill is currently considering
plans to increase its stainless steel pro-
duction still further.
Ac ron i e x p o r t s
ap prox imately 70%
of its production
throughout the EU
as well as to the
USA and China.
Harsco will apply its
environmental solutions technologies
to recover valuable metal content from
the mill's slag and will also take respon-
sibility for the residual slag material.
The company expects to sell the recov-
ered metal for reuse in steel production
or through its co-operative partners in
the region such as Scholz AG. Harsco
will also assume responsibility for the
processing of an estimated 300 000
tonnes of stockpiled slag at the mill.
Work under the contract is scheduled
to begin in the latter half of this year,
and will include the construction of an
on-site slag processing and metal recov-
ery facility which will be owned and
operated by Harsco.
www.harsco.com
Global Resource Corp. (GBRC) has
reached an agreement with GEPTEK, Inc.
(GTI) which will enable the former to pur-
sue markets for the oil by-products result-
ing from its patented microwave-based
technology for recycling tyres. GTI is a
New Jersey-based environmental/recy-
cling company with over 10 years' expe-
rience in the by-product energy field.
Based on tests of samples supplied by
GBRC, GTI believes there is major market
potential for the oil by-product, calculat-
ing that it could have a value of over US$
1.25 per gallon depending on the final
specification and the location of the
refinery. In addition to establishing oil
markets, GTI will also look to assist
GBRC in identifying key end users for the
latter's patented renewable microwave
technology.
'This agreement provides strong confi-
dence to our customer base that there
is a solid marketplace for the oil bi-
products from our process and that our
green technology has clear commercial
opportunity,' says GBRC's CEO Ken Kin-
sella. 'We are pleased to have found a
market for all of our oil by-products for
our future operations worldwide. Man-
agement is confident that this will assist
us in marketing our technology based
on the significant demand for our high-
valued hydrocarbon products.'
And he continues: 'Based on the increas-
ing demand in the United States for
renewable oil products, we are continuing
to build strong relationships that will
allow us to penetrate these markets as
we build future facilities. We believe that
this relationship with GTI will help to cre-
ate strong value for our shareholders
while providing the company with a rev-
enue annuity from our future facilities.'
www.gbrc.com
Dowa Metals & Mining of Japan,
a company with operations in Asia and
North America for salvaging platinum,
palladium and rhodium from used auto-
motive catalysts and other sources, is
planning its first European initiative. To
be located at Liberec in the Czech Repub-
lic, the operation is scheduled to start
up in July next year and will be a joint
venture with Japanese firms Tanaka
Kikinzoku Kogyo K.K. and Toyota
Tsusho's European subsid iar y.
At the new facility, spent automotive
catalysts will be subjected to pulverisa-
tion, sampling and simplified analysis.
The total investment is around Yen
430 million (US$ 5.3 million).
In addition to establishing this presence in
Europe where recovery of platinum, pal-
ladium and rhodium is expected to increase
dramatically, Dowa Metals & Mining
intends to continue to strengthen collec-
tions of raw materials in various regions,
including Asia, and to ramp up production
of these platinum group metals.
www.dowa.co.jp
Washington-based Coinstar Inc.,
which specialises in automated coin-
counting and movie-rental kiosks, has
invested in fellow US firm ecoATM which
supplies automated recycling kiosks for
mobile devices. The terms of the transac-
tion have not been disclosed.
Founded two years ago and based in
San Diego, ecoATM currently has seven
pilot kiosks operating in the USA. These
automatically price the mobile devices
placed inside them and pay users the
appropriate amount in cash, gift cards
or coupons. The mobile devices col-
lected in this way are then either re-sold
into the secondary market or recycled.
Coinstar's CEO Gregg Kaplan comments:
'We believe ecoATM could be a viable
business as it provides an easy way for
consumers to properly re-sell and/or
recycle the more than US$ 7 billion in used
mobile phones that are annually retired in
the USA, while creating a sustainable
secondary market for these devices.'
Coinstar's core products include self-
service DVD-rental and coin-counting
kiosks, of which there are, respectively,
26 900 and 19 000 in operation. The
company also provides financial ser-
vices such as pre-paid debit cards and
global money transfers.
www.ecoatm.com
Recycler teams up with
US tyre technology firm

Dowa to expand catalyst
recycling to Europe

Coinstar invests in mobile
recycling kiosk firm

Harsco wins contract
in Slovenia

P08_NEWS 8 03-09-2010 10:11:07