September 2010
Subscribe
Page 31 from: September 2010
31September 2010 fl ights provides us with many opportunities, and we are expanding our waste management and consulting services to other airports as well.' Airlines claiming to invest in recycling are often referring to the recyc...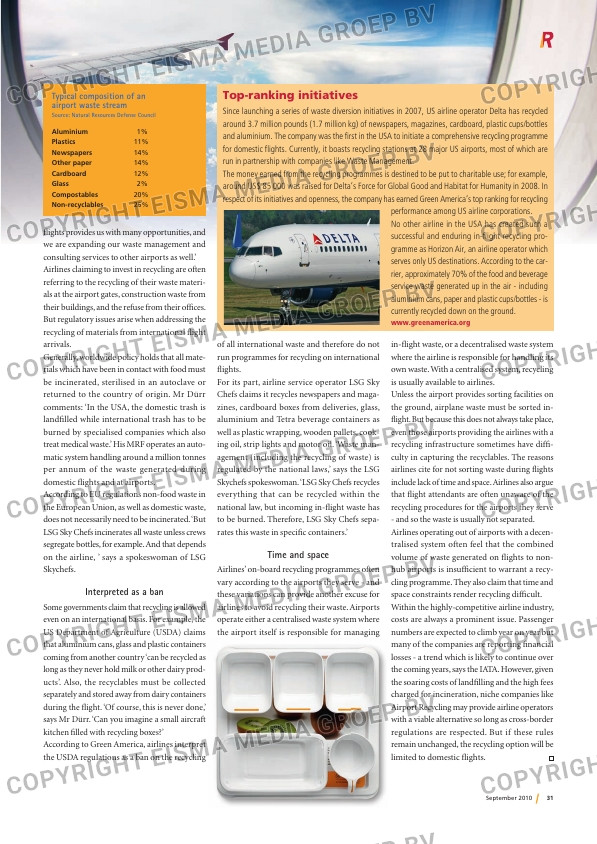 31September 2010
fl ights provides us with many opportunities, and
we are expanding our waste management and
consulting services to other airports as well.'
Airlines claiming to invest in recycling are often
referring to the recycling of their waste materi-
als at the airport gates, construction waste from
their buildings, and the refuse from their offi ces.
But regulatory issues arise when addressing the
recycling of materials from international fl ight
arrivals.
Generally, worldwide policy holds that all mate-
rials which have been in contact with food must
be incinerated, sterilised in an autoclave or
returned to the country of origin. Mr Dürr
comments: 'In the USA, the domestic trash is
landfi lled while international trash has to be
burned by specialised companies which also
treat medical waste.' His MRF operates an auto-
matic system handling around a million tonnes
per annum of the waste generated during
domestic fl ights and at airports.
According to EU regulations non-food waste in
the European Union, as well as domestic waste,
does not necessarily need to be incinerated. 'But
LSG Sky Chefs incinerates all waste unless crews
segregate bottles, for example. And that depends
on the airline, ' says a spokeswoman of LSG
Skychefs.
Interpreted as a ban
Some governments claim that recycling is allowed
even on an international basis. For example, the
US Department of Agriculture (USDA) claims
that aluminium cans, glass and plastic containers
coming from another country 'can be recycled as
long as they never hold milk or other dairy prod-
ucts'. Also, the recyclables must be collected
separately and stored away from dairy containers
during the fl ight. 'Of course, this is never done,'
says Mr Dürr. 'Can you imagine a small aircraft
kitchen fi lled with recycling boxes?'
According to Green America, airlines interpret
the USDA regulations as a ban on the recycling
of all international waste and therefore do not
run programmes for recycling on international
fl ights.
For its part, airline service operator LSG Sky
Chefs claims it recycles newspapers and maga-
zines, cardboard boxes from deliveries, glass,
aluminium and Tetra beverage containers as
well as plastic wrapping, wooden pallets, cook-
ing oil, strip lights and motor oil. 'Waste man-
agement (including the recycling of waste) is
regulated by the national laws,' says the LSG
Skychefs spokeswoman. 'LSG Sky Chefs recycles
everything that can be recycled within the
national law, but incoming in-fl ight waste has
to be burned. Therefore, LSG Sky Chefs sepa-
rates this waste in specifi c containers.'
Time and space
Airlines' on-board recycling programmes often
vary according to the airports they serve – and
these variations can provide another excuse for
airlines to avoid recycling their waste. Airports
operate either a centralised waste system where
the airport itself is responsible for managing
in-fl ight waste, or a decentralised waste system
where the airline is responsible for handling its
own waste. With a centralised system, recycling
is usually available to airlines.
Unless the airport provides sorting facilities on
the ground, airplane waste must be sorted in-
fl ight. But because this does not always take place,
even those airports providing the airlines with a
recycling infrastructure sometimes have diffi –
culty in capturing the recyclables. The reasons
airlines cite for not sorting waste during fl ights
include lack of time and space. Airlines also argue
that fl ight attendants are often unaware of the
recycling procedures for the airports they serve
– and so the waste is usually not separated.
Airlines operating out of airports with a decen-
tralised system often feel that the combined
volume of waste generated on fl ights to non-
hub airports is insuffi cient to warrant a recy-
cling programme. They also claim that time and
space constraints render recycling diffi cult.
Within the highly-competitive airline industry,
costs are always a prominent issue. Passenger
numbers are expected to climb year on year but
many of the companies are reporting fi nancial
losses – a trend which is likely to continue over
the coming years, says the IATA. However, given
the soaring costs of landfi lling and the high fees
charged for incineration, niche companies like
Airport Recycling may provide airline operators
with a viable alternative so long as cross-border
regulations are respected. But if these rules
remain unchanged, the recycling option will be
limited to domestic fl ights.
Airlines' in-flight recycling:
grounded by regulation

Topranking initiatives
Since launching a series of waste diversion initiatives in 2007, US airline operator Delta has recycled
around 3.7 million pounds (1.7 million kg) of newspapers, magazines, cardboard, plastic cups/bottles
and aluminium. The company was the first in the USA to initiate a comprehensive recycling programme
for domestic flights. Currently, it boasts recycling stations at 28 major US airports, most of which are
run in partnership with companies like Waste Management.
The money earned from the recycling programmes is destined to be put to charitable use; for example,
around US$ 85 000 was raised for Delta's Force for Global Good and Habitat for Humanity in 2008. In
respect of its initiatives and openness, the company has earned Green America's top ranking for recycling
performance among US airline corporations.
No other airline in the USA has created such a
successful and enduring in-flight recycling pro-
gramme as Horizon Air, an airline operator which
serves only US destinations. According to the car-
rier, approximately 70% of the food and beverage
service waste generated up in the air – including
aluminium cans, paper and plastic cups/bottles – is
currently recycled down on the ground.
www.greenamerica.org
Typical composition of an
airport waste stream
Source: Natural Resources Defense Council

Aluminium 1%
Plastics 11%
Newspapers 14%
Other paper 14%
Cardboard 12%
Glass 2%
Compostables 20%
Nonrecyclables 26%
P30_Airline waste streams 31 02-09-2010 16:08:54