September 2010
Subscribe
Page 19 from: September 2010
19September 2010 A R G E N T I N A forced to repair harm to the environment. The 'Ley Nacional' concerns the integrated management of industrial and service activity waste, and deals with the generation, handling, transportati...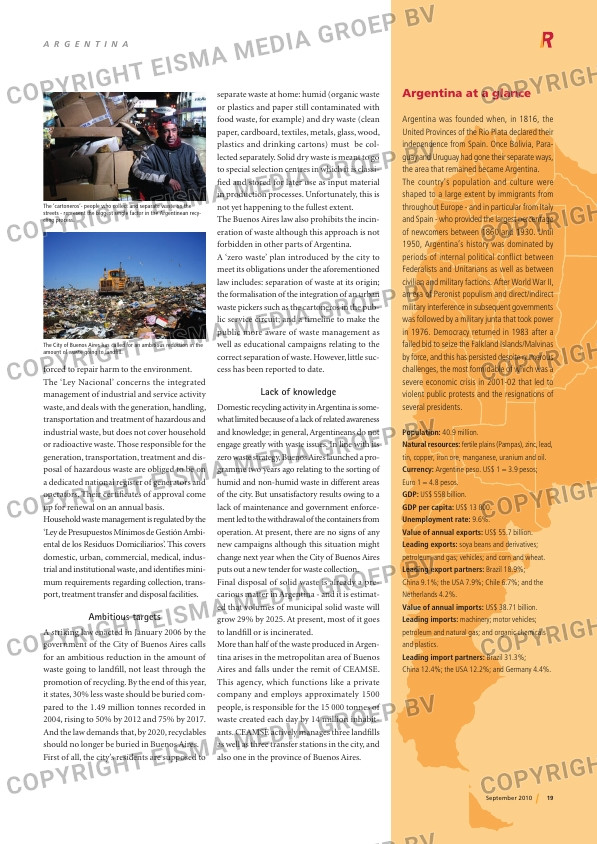 19September 2010
A R G E N T I N A

forced to repair harm to the environment.
The 'Ley Nacional' concerns the integrated
management of industrial and service activity
waste, and deals with the generation, handling,
transportation and treatment of hazardous and
industrial waste, but does not cover household
or radioactive waste. Those responsible for the
generation, transportation, treatment and dis-
posal of hazardous waste are obliged to be on
a dedicated national register of generators and
operators. Their certifi cates of approval come
up for renewal on an annual basis.
Household waste management is regulated by the
'Ley de Presupuestos Mínimos de Gestión Ambi-
ental de los Residuos Domiciliarios'. This covers
domestic, urban, commercial, medical, indus-
trial and institutional waste, and identifi es mini-
mum requirements regarding collection, trans-
port, treatment transfer and disposal facilities.
Ambitious targets
A striking law enacted in January 2006 by the
government of the City of Buenos Aires calls
for an ambitious reduction in the amount of
waste going to landfi ll, not least through the
promotion of recycling. By the end of this year,
it states, 30% less waste should be buried com-
pared to the 1.49 million tonnes recorded in
2004, rising to 50% by 2012 and 75% by 2017.
And the law demands that, by 2020, recyclables
should no longer be buried in Buenos Aires.
First of all, the city's residents are supposed to
separate waste at home: humid (organic waste
or plastics and paper still contaminated with
food waste, for example) and dry waste (clean
paper, cardboard, textiles, metals, glass, wood,
plastics and drinking cartons) must be col-
lected separately. Solid dry waste is meant to go
to special selection centres in which it is classi-
fi ed and stored for later use as input material
in production processes. Unfortunately, this is
not yet happening to the fullest extent.
The Buenos Aires law also prohibits the incin-
eration of waste although this approach is not
forbidden in other parts of Argentina.
A 'zero waste' plan introduced by the city to
meet its obligations under the aforementioned
law includes: separation of waste at its origin;
the formalisation of the integration of an urban
waste pickers such as the cartoneros in the pub-
lic service circuit; and a timeline to make the
public more aware of waste management as
well as educational campaigns relating to the
correct separation of waste. However, little suc-
cess has been reported to date.
Lack of knowledge
Domestic recycling activity in Argentina is some-
what limited because of a lack of related awareness
and knowledge; in general, Argentineans do not
engage greatly with waste issues. In line with its
zero waste strategy, Buenos Aires launched a pro-
gramme two years ago relating to the sorting of
humid and non-humid waste in different areas
of the city. But unsatisfactory results owing to a
lack of maintenance and government enforce-
ment led to the withdrawal of the containers from
operation. At present, there are no signs of any
new campaigns although this situation might
change next year when the City of Buenos Aires
puts out a new tender for waste collection.
Final disposal of solid waste is already a pre-
carious matter in Argentina – and it is estimat-
ed that volumes of municipal solid waste will
grow 29% by 2025. At present, most of it goes
to landfi ll or is incinerated.
More than half of the waste produced in Argen-
tina arises in the metropolitan area of Buenos
Aires and falls under the remit of CEAMSE.
This agency, which functions like a private
company and employs approximately 1500
people, is responsible for the 15 000 tonnes of
waste created each day by 14 million inhabit-
ants. CEAMSE actively manages three landfi lls
as well as three transfer stations in the city, and
also one in the province of Buenos Aires.
Argentina at a glance
Argentina was founded when, in 1816, the
United Provinces of the Rio Plata declared their
independence from Spain. Once Bolivia, Para-
guay and Uruguay had gone their separate ways,
the area that remained became Argentina.
The country's population and culture were
shaped to a large extent by immigrants from
throughout Europe – and in particular from Italy
and Spain – who provided the largest percentage
of newcomers between 1860 and 1930. Until
1950, Argentina's history was dominated by
periods of internal political conflict between
Federalists and Unitarians as well as between
civilian and military factions. After World War II,
an era of Peronist populism and direct/indirect
military interference in subsequent governments
was followed by a military junta that took power
in 1976. Democracy returned in 1983 after a
failed bid to seize the Falkland Islands/Malvinas
by force, and this has persisted despite numerous
challenges, the most formidable of which was a
severe economic crisis in 2001-02 that led to
violent public protests and the resignations of
several presidents.
Population: 40.9 million.
Natural resources: fertile plains (Pampas), zinc, lead,
tin, copper, iron ore, manganese, uranium and oil.
Currency: Argentine peso. US$ 1 = 3.9 pesos;
Euro 1 = 4.8 pesos.
GDP: US$ 558 billion.
GDP per capita: US$ 13 800.
Unemployment rate: 9.6%.
Value of annual exports: US$ 55.7 billion.
Leading exports: soya beans and derivatives;
petroleum and gas; vehicles; and corn and wheat.
Leading export partners: Brazil 18.9%;
China 9.1%; the USA 7.9%; Chile 6.7%; and the
Netherlands 4.2%.
Value of annual imports: US$ 38.71 billion.
Leading imports: machinery; motor vehicles;
petroleum and natural gas; and organic chemicals
and plastics.
Leading import partners: Brazil 31.3%;
China 12.4%; the USA 12.2%; and Germany 4.4%.
The 'cartoneros'- people who collect and separate waste on the
streets – represent the biggest single factor in the Argentinean recy-
cling process.
The City of Buenos Aires has called for an ambitious reduction in the
amount of waste going to landfill.
P16_Argentina 19 02-09-2010 14:42:57