September 2010
Subscribe
Page 17 from: September 2010
17September 2010 Over recent years, tentative steps have been taken to establish recycling more firmly in Argentina's national psyche. This scene- setting article looks at the country itself and its waste management/ recycling framew...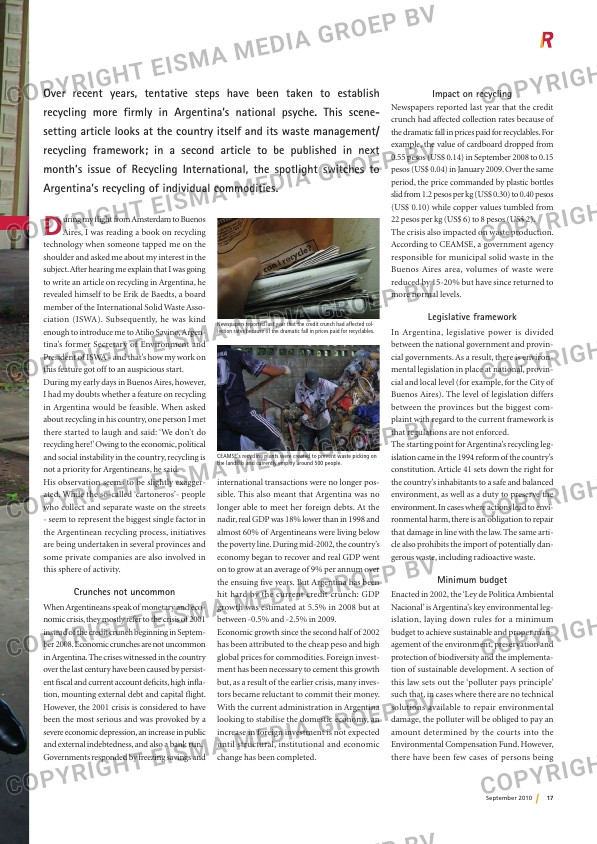 17September 2010
Over recent years, tentative steps have been taken to establish

recycling more firmly in Argentina's national psyche. This scene-

setting article looks at the country itself and its waste management/

recycling framework; in a second article to be published in next

month's issue of Recycling International, the spotlight switches to

Argentina's recycling of individual commodities.

During my fl ight from Amsterdam to Buenos Aires, I was reading a book on recycling
technology when someone tapped me on the
shoulder and asked me about my interest in the
subject. After hearing me explain that I was going
to write an article on recycling in Argentina, he
revealed himself to be Erik de Baedts, a board
member of the International Solid Waste Asso-
ciation (ISWA). Subsequently, he was kind
enough to introduce me to Atilio Savino, Argen-
tina's former Secretary of Environment and
President of ISWA – and that's how my work on
this feature got off to an auspicious start.
During my early days in Buenos Aires, however,
I had my doubts whether a feature on recycling
in Argentina would be feasible. When asked
about recycling in his country, one person I met
there started to laugh and said: 'We don't do
recycling here!' Owing to the economic, political
and social instability in the country, recycling is
not a priority for Argentineans, he said.
His observation seems to be slightly exagger-
ated. While the so-called 'cartoneros'- people
who collect and separate waste on the streets
– seem to represent the biggest single factor in
the Argentinean recycling process, initiatives
are being undertaken in several provinces and
some private companies are also involved in
this sphere of activity.
Crunches not uncommon
When Argentineans speak of monetary and eco-
nomic crisis, they mostly refer to the crisis of 2001
instead of the credit crunch beginning in Septem-
ber 2008. Economic crunches are not uncommon
in Argentina. The crises witnessed in the country
over the last century have been caused by persist-
ent fi scal and current account defi cits, high infl a-
tion, mounting external debt and capital fl ight.
However, the 2001 crisis is considered to have
been the most serious and was provoked by a
severe economic depression, an increase in public
and external indebtedness, and also a bank run.
Governments responded by freezing savings and
international transactions were no longer pos-
sible. This also meant that Argentina was no
longer able to meet her foreign debts. At the
nadir, real GDP was 18% lower than in 1998 and
almost 60% of Argentineans were living below
the poverty line. During mid-2002, the country's
economy began to recover and real GDP went
on to grow at an average of 9% per annum over
the ensuing fi ve years. But Argentina has been
hit hard by the current credit crunch: GDP
growth was estimated at 5.5% in 2008 but at
between -0.5% and -2.5% in 2009.
Economic growth since the second half of 2002
has been attributed to the cheap peso and high
global prices for commodities. Foreign invest-
ment has been necessary to cement this growth
but, as a result of the earlier crisis, many inves-
tors became reluctant to commit their money.
With the current administration in Argentina
looking to stabilise the domestic economy, an
increase in foreign investment is not expected
until structural, institutional and economic
change has been completed.
Impact on recycling
Newspapers reported last year that the credit
crunch had affected collection rates because of
the dramatic fall in prices paid for recyclables. For
example, the value of cardboard dropped from
0.55 pesos (US$ 0.14) in September 2008 to 0.15
pesos (US$ 0.04) in January 2009. Over the same
period, the price commanded by plastic bottles
slid from 1.2 pesos per kg (US$ 0.30) to 0.40 pesos
(US$ 0.10) while copper values tumbled from
22 pesos per kg (US$ 6) to 8 pesos (US$ 2).
The crisis also impacted on waste production.
According to CEAMSE, a government agency
responsible for municipal solid waste in the
Buenos Aires area, volumes of waste were
reduced by 15-20% but have since returned to
more normal levels.
Legislative framework
In Argentina, legislative power is divided
between the national government and provin-
cial governments. As a result, there is environ-
mental legislation in place at national, provin-
cial and local level (for example, for the City of
Buenos Aires). The level of legislation differs
between the provinces but the biggest com-
plaint with regard to the current framework is
that regulations are not enforced.
The starting point for Argentina's recycling leg-
islation came in the 1994 reform of the country's
constitution. Article 41 sets down the right for
the country's inhabitants to a safe and balanced
environment, as well as a duty to preserve the
environment. In cases where actions lead to envi-
ronmental harm, there is an obligation to repair
that damage in line with the law. The same arti-
cle also prohibits the import of potentially dan-
gerous waste, including radioactive waste.
Minimum budget
Enacted in 2002, the 'Ley de Politíca Ambiental
Nacional' is Argentina's key environmental leg-
islation, laying down rules for a minimum
budget to achieve sustainable and proper man-
agement of the environment, preservation and
protection of biodiversity and the implementa-
tion of sustainable development. A section of
this law sets out the 'polluter pays principle'
such that, in cases where there are no technical
solutions available to repair environmental
damage, the polluter will be obliged to pay an
amount determined by the courts into the
Environmental Compensation Fund. However,
there have been few cases of persons being
Aiming
high

but progress patchy
CEAMSE's recycling plants were created to prevent waste picking on
the landfills and currently employ around 500 people.
Recycling in Argentina (part I)

Newspapers reported last year that the credit crunch had affected col-
lection rates because of the dramatic fall in prices paid for recyclables.
P16_Argentina 17 03-09-2010 10:22:47