Recycling Technology 2022
Subscribe
Page 9 from: Recycling Technology 2022
9 Techtalks 2022 ++ ++ ++ AI & digitalisation Sensor based sorting machines Turnkey sorting plants Waste processing plants ++ RECYCLING & WASTE TREATMENT S OLUTIONS REDWAVE 2i The new generation of INTELLIGENT sorting ...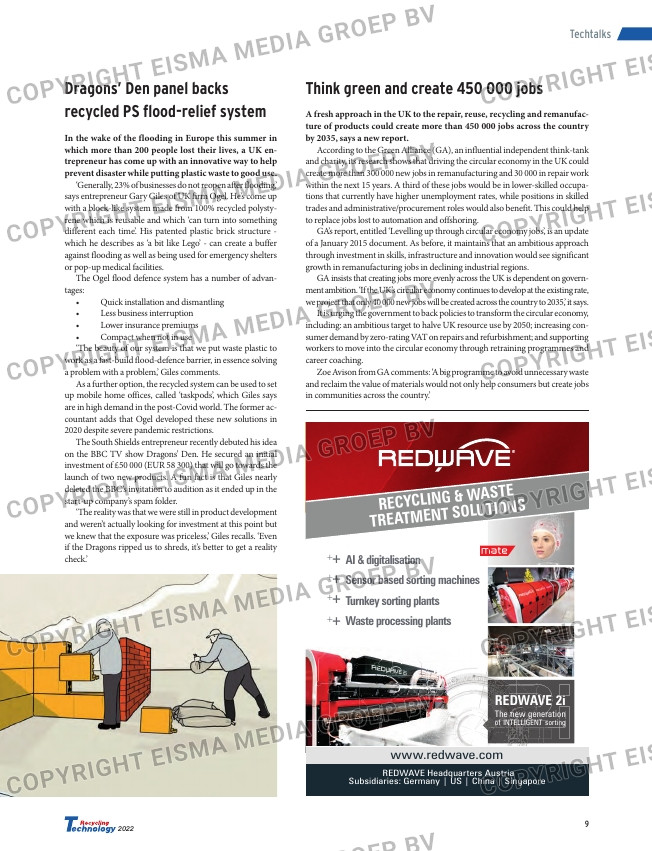 9
Techtalks
2022

++
++
++

AI & digitalisation

Sensor based sorting machines

Turnkey sorting plants

Waste processing plants ++

RECYCLING &
WASTE

TREATMENT S
OLUTIONS

REDWAVE 2i
The new generation
of INTELLIGENT sorting
www.redwave.com
REDWAVE Headquarters Austria
Subsidiaries: Germany | US | China | Singapore
Dragons' Den panel backs
recycled PS flood-relief system
In the wake of the flooding in Europe this summer in
which more than 200 people lost their lives, a UK en-
trepreneur has come up with an innovative way to help
prevent disaster while putting plastic waste to good use.

'Generally, 23% of businesses do not reopen after flooding,'
says entrepreneur Gary Giles of UK firm Ogel. He's come up
with a block-like system made from 100% recycled polysty-
rene which is reusable and which 'can turn into something
different each time'. His patented plastic brick structure –
which he describes as 'a bit like Lego' – can create a buffer
against flooding as well as being used for emergency shelters
or pop-up medical facilities.
The Ogel flood defence system has a number of advan-
tages:
• Quick installation and dismantling
• Less business interruption
• Lower insurance premiums
• Compact when not in use
'The beauty of our system is that we put waste plastic to
work as a fast-build flood-defence barrier, in essence solving
a problem with a problem,' Giles comments.
As a further option, the recycled system can be used to set
up mobile home offices, called 'taskpods', which Giles says
are in high demand in the post-Covid world. The former ac-
countant adds that Ogel developed these new solutions in
2020 despite severe pandemic restrictions.
The South Shields entrepreneur recently debuted his idea
on the BBC TV show Dragons' Den. He secured an initial
investment of £50 000 (EUR 58 300) that will go towards the
launch of two new products. A fun fact is that Giles nearly
deleted the BBC's invitation to audition as it ended up in the
start-up company's spam folder.
'The reality was that we were still in product development
and weren't actually looking for investment at this point but
we knew that the exposure was priceless,' Giles recalls. 'Even
if the Dragons ripped us to shreds, it's better to get a reality
check.'
Think green and create 450 000 jobs
A fresh approach in the UK to the repair, reuse, recycling and remanufac-
ture of products could create more than 450 000 jobs across the country
by 2035, says a new report.

According to the Green Alliance (GA), an influential independent think-tank
and charity, its research shows that driving the circular economy in the UK could
create more than 300 000 new jobs in remanufacturing and 30 000 in repair work
within the next 15 years. A third of these jobs would be in lower-skilled occupa-
tions that currently have higher unemployment rates, while positions in skilled
trades and administrative/procurement roles would also benefit. This could help
to replace jobs lost to automation and offshoring.
GA's report, entitled 'Levelling up through circular economy jobs', is an update
of a January 2015 document. As before, it maintains that an ambitious approach
through investment in skills, infrastructure and innovation would see significant
growth in remanufacturing jobs in declining industrial regions.
GA insists that creating jobs more evenly across the UK is dependent on govern-
ment ambition. 'If the UK's circular economy continues to develop at the existing rate,
we project that only 40 000 new jobs will be created across the country to 2035,' it says.
It is urging the government to back policies to transform the circular economy,
including: an ambitious target to halve UK resource use by 2050; increasing con-
sumer demand by zero-rating VAT on repairs and refurbishment; and supporting
workers to move into the circular economy through retraining programmes and
career coaching.
Zoe Avison from GA comments: 'A big programme to avoid unnecessary waste
and reclaim the value of materials would not only help consumers but create jobs
in communities across the country.'
06-07-08-09-10-11_techtalks.indd 9 31-08-21 15:53