Recycling Technology 2022
Subscribe
Page 6 from: Recycling Technology 2022
6 2022 Techtalks Pellenc's new sorting line achieves high levels of purity French recycling technology supplier Pellenc has launched a new sorting line, claimed to be an intelligent solution to ever more complex waste streams. The...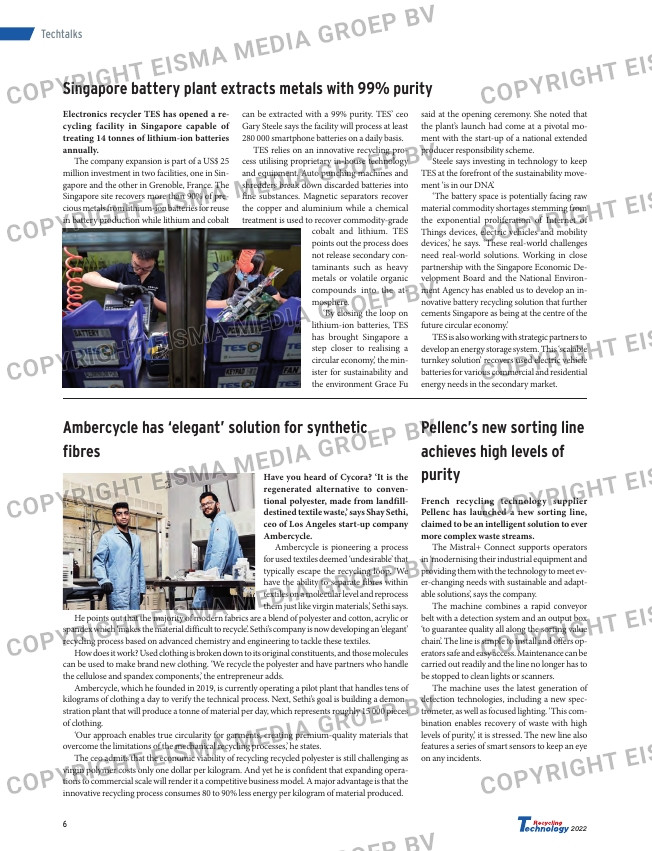 6
2022

Techtalks
Pellenc's new sorting line
achieves high levels of
purity
French recycling technology supplier
Pellenc has launched a new sorting line,
claimed to be an intelligent solution to ever
more complex waste streams.

The Mistral+ Connect supports operators
in 'modernising their industrial equipment and
providing them with the technology to meet ev-
er-changing needs with sustainable and adapt-
able solutions', says the company.
The machine combines a rapid conveyor
belt with a detection system and an output box
'to guarantee quality all along the sorting value
chain'. The line is simple to install and offers op-
erators safe and easy access. Maintenance can be
carried out readily and the line no longer has to
be stopped to clean lights or scanners.
The machine uses the latest generation of
detection technologies, including a new spec-
trometer, as well as focused lighting. 'This com-
bination enables recovery of waste with high
levels of purity,' it is stressed. The new line also
features a series of smart sensors to keep an eye
on any incidents.
Ambercycle has 'elegant' solution for synthetic
fibres

Have you heard of Cycora? 'It is the
regenerated alternative to conven-
tional polyester, made from landfill-
destined textile waste,' says Shay Sethi,
ceo of Los Angeles start-up company
Ambercycle.

Ambercycle is pioneering a process
for used textiles deemed 'undesirable' that
typically escape the recycling loop. 'We
have the ability to separate fibres within
textiles on a molecular level and reprocess
them just like virgin materials,' Sethi says.
He points out that the majority of modern fabrics are a blend of polyester and cotton, acrylic or
spandex which 'makes the material difficult to recycle'. Sethi's company is now developing an 'elegant'
recycling process based on advanced chemistry and engineering to tackle these textiles.
How does it work? Used clothing is broken down to its original constituents, and those molecules
can be used to make brand new clothing. 'We recycle the polyester and have partners who handle
the cellulose and spandex components,' the entrepreneur adds.
Ambercycle, which he founded in 2019, is currently operating a pilot plant that handles tens of
kilograms of clothing a day to verify the technical process. Next, Sethi's goal is building a demon-
stration plant that will produce a tonne of material per day, which represents roughly 15 000 pieces
of clothing.
'Our approach enables true circularity for garments, creating premium-quality materials that
overcome the limitations of the mechanical recycling processes,' he states.
The ceo admits that the economic viability of recycling recycled polyester is still challenging as
virgin polymer costs only one dollar per kilogram. And yet he is confident that expanding opera-
tions to commercial scale will render it a competitive business model. A major advantage is that the
innovative recycling process consumes 80 to 90% less energy per kilogram of material produced.
Singapore battery plant extracts metals with 99% purity
Electronics recycler TES has opened a re-
cycling facility in Singapore capable of
treating 14 tonnes of lithium-ion batteries
annually.

The company expansion is part of a US$ 25
million investment in two facilities, one in Sin-
gapore and the other in Grenoble, France. The
Singapore site recovers more than 90% of pre-
cious metals from lithium-ion batteries for reuse
in battery production while lithium and cobalt
can be extracted with a 99% purity. TES' ceo
Gary Steele says the facility will process at least
280 000 smartphone batteries on a daily basis.
TES relies on an innovative recycling pro-
cess utilising proprietary in-house technology
and equipment. Auto punching machines and
shredders break down discarded batteries into
fine substances. Magnetic separators recover
the copper and aluminium while a chemical
treatment is used to recover commodity-grade
cobalt and lithium. TES
points out the process does
not release secondary con-
taminants such as heavy
metals or volatile organic
compounds into the at-
mosphere.
'By closing the loop on
lithium-ion batteries, TES
has brought Singapore a
step closer to realising a
circular economy,' the min-
ister for sustainability and
the environment Grace Fu
said at the opening ceremony. She noted that
the plant's launch had come at a pivotal mo-
ment with the start-up of a national extended
producer responsibility scheme.
Steele says investing in technology to keep
TES at the forefront of the sustainability move-
ment 'is in our DNA'.
'The battery space is potentially facing raw
material commodity shortages stemming from
the exponential proliferation of Internet of
Things devices, electric vehicles and mobility
devices,' he says. 'These real-world challenges
need real-world solutions. Working in close
partnership with the Singapore Economic De-
velopment Board and the National Environ-
ment Agency has enabled us to develop an in-
novative battery recycling solution that further
cements Singapore as being at the centre of the
future circular economy.'
TES is also working with strategic partners to
develop an energy storage system. This 'scalable
turnkey solution' recovers used electric vehicle
batteries for various commercial and residential
energy needs in the secondary market.
06-07-08-09-10-11_techtalks.indd 6 31-08-21 15:52