Recycling Technology 2022
Subscribe
Page 53 from: Recycling Technology 2022
Recyclers put the spotlight on gallium A consortium of six companies and institutions in the UK has been formed to find practical methods of recovering gallium when LED lamps are recycled. Currently, gallium and gallium nitride used in...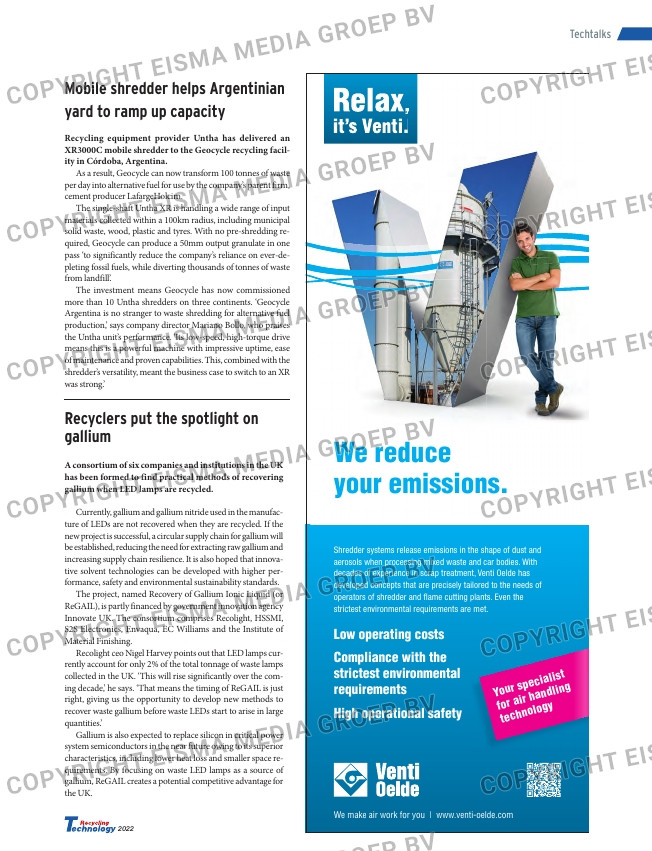 Recyclers put the spotlight on
gallium

A consortium of six companies and institutions in the UK
has been formed to find practical methods of recovering
gallium when LED lamps are recycled.

Currently, gallium and gallium nitride used in the manufac-
ture of LEDs are not recovered when they are recycled. If the
new project is successful, a circular supply chain for gallium will
be established, reducing the need for extracting raw gallium and
increasing supply chain resilience. It is also hoped that innova-
tive solvent technologies can be developed with higher per-
formance, safety and environmental sustainability standards.
The project, named Recovery of Gallium Ionic Liquid (or
ReGAIL), is partly financed by government innovation agency
Innovate UK. The consortium comprises Recolight, HSSMI,
S2S Electronics, Envaqua, EC Williams and the Institute of
Material Finishing.
Recolight ceo Nigel Harvey points out that LED lamps cur-
rently account for only 2% of the total tonnage of waste lamps
collected in the UK. 'This will rise significantly over the com-
ing decade,' he says. 'That means the timing of ReGAIL is just
right, giving us the opportunity to develop new methods to
recover waste gallium before waste LEDs start to arise in large
quantities.'
Gallium is also expected to replace silicon in critical power
system semiconductors in the near future owing to its superior
characteristics, including lower heat loss and smaller space re-
quirements. By focusing on waste LED lamps as a source of
gallium, ReGAIL creates a potential competitive advantage for
the UK.
2022

Techtalks
Mobile shredder helps Argentinian
yard to ramp up capacity
Recycling equipment provider Untha has delivered an
XR3000C mobile shredder to the Geocycle recycling facil-
ity in Córdoba, Argentina.

As a result, Geocycle can now transform 100 tonnes of waste
per day into alternative fuel for use by the company's parent firm,
cement producer LafargeHolcim.
The single-shaft Untha XR is handling a wide range of input
materials collected within a 100km radius, including municipal
solid waste, wood, plastic and tyres. With no pre-shredding re-
quired, Geocycle can produce a 50mm output granulate in one
pass 'to significantly reduce the company's reliance on ever-de-
pleting fossil fuels, while diverting thousands of tonnes of waste
from landfill'.
The investment means Geocycle has now commissioned
more than 10 Untha shredders on three continents. 'Geocycle
Argentina is no stranger to waste shredding for alternative fuel
production,' says company director Mariano Bollo, who praises
the Untha unit's performance. 'Its low-speed, high-torque drive
means this is a powerful machine with impressive uptime, ease
of maintenance and proven capabilities. This, combined with the
shredder's versatility, meant the business case to switch to an XR
was strong.'
Shredder systems release emissions in the shape of dust and
aerosols when processing mixed waste and car bodies. With
decades of experience in scrap treatment, Venti Oelde has
developed concepts that are precisely tailored to the needs of
operators of shredder and fl ame cutting plants. Even the
strictest environmental requirements are met.
Low operating costs
Compliance with the
strictest environmental
requirements
High operational safety
We make air work for you | www.venti-oelde.com
Relax,
it's Venti.
We reduce
your emissions.
Your
speci
alist
for ai
r han
dling
techn
ology
Recycling Tech 01_20_100x268mm.indd 1 02.07.20 12:1248-49-50-51-52-53_techtalks.indd 53 31-08-21 16:05