Recycling Technology 2022
Subscribe
Page 50 from: Recycling Technology 2022
50 Techtalks 2022 High hopes for US battery recycling initiative US Heritage Group and tech partner Romeo Power are developing a battery reuse and recycling facility in the south west of the country. Heritage provides environmental and...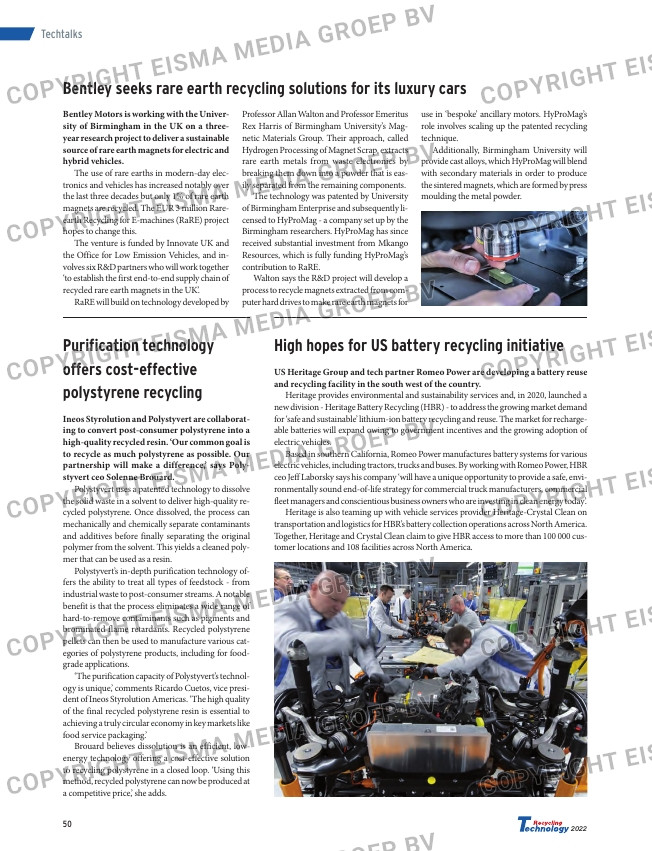 50
Techtalks
2022

High hopes for US battery recycling initiative
US Heritage Group and tech partner Romeo Power are developing a battery reuse
and recycling facility in the south west of the country.

Heritage provides environmental and sustainability services and, in 2020, launched a
new division – Heritage Battery Recycling (HBR) – to address the growing market demand
for 'safe and sustainable' lithium-ion battery recycling and reuse. The market for recharge-
able batteries will expand owing to government incentives and the growing adoption of
electric vehicles.
Based in southern California, Romeo Power manufactures battery systems for various
electric vehicles, including tractors, trucks and buses. By working with Romeo Power, HBR
ceo Jeff Laborsky says his company 'will have a unique opportunity to provide a safe, envi-
ronmentally sound end-of-life strategy for commercial truck manufacturers, commercial
fleet managers and conscientious business owners who are investing in clean energy today'.
Heritage is also teaming up with vehicle services provider Heritage-Crystal Clean on
transportation and logistics for HBR's battery collection operations across North America.
Together, Heritage and Crystal Clean claim to give HBR access to more than 100 000 cus-
tomer locations and 108 facilities across North America.
Purification technology
offers cost-effective
polystyrene recycling
Ineos Styrolution and Polystyvert are collaborat-
ing to convert post-consumer polystyrene into a
high-quality recycled resin. 'Our common goal is
to recycle as much polystyrene as possible. Our
partnership will make a difference,' says Poly-
styvert ceo Solenne Brouard.

Polystyvert uses a patented technology to dissolve
the solid waste in a solvent to deliver high-quality re-
cycled polystyrene. Once dissolved, the process can
mechanically and chemically separate contaminants
and additives before finally separating the original
polymer from the solvent. This yields a cleaned poly-
mer that can be used as a resin.
Polystyvert's in-depth purification technology of-
fers the ability to treat all types of feedstock – from
industrial waste to post-consumer streams. A notable
benefit is that the process eliminates a wide range of
hard-to-remove contaminants such as pigments and
brominated flame retardants. Recycled polystyrene
pellets can then be used to manufacture various cat-
egories of polystyrene products, including for food-
grade applications.
'The purification capacity of Polystyvert's technol-
ogy is unique,' comments Ricardo Cuetos, vice presi-
dent of Ineos Styrolution Americas. 'The high quality
of the final recycled polystyrene resin is essential to
achieving a truly circular economy in key markets like
food service packaging.'
Brouard believes dissolution is an efficient, low-
energy technology offering a cost-effective solution
to recycling polystyrene in a closed loop. 'Using this
method, recycled polystyrene can now be produced at
a competitive price,' she adds.
Bentley seeks rare earth recycling solutions for its luxury cars
Bentley Motors is working with the Univer-
sity of Birmingham in the UK on a three-
year research project to deliver a sustainable
source of rare earth magnets for electric and
hybrid vehicles.

The use of rare earths in modern-day elec-
tronics and vehicles has increased notably over
the last three decades but only 1% of rare earth
magnets are recycled. The EUR 3 million Rare-
earth Recycling for E-machines (RaRE) project
hopes to change this.
The venture is funded by Innovate UK and
the Office for Low Emission Vehicles, and in-
volves six R&D partners who will work together
'to establish the first end-to-end supply chain of
recycled rare earth magnets in the UK'.
RaRE will build on technology developed by
Professor Allan Walton and Professor Emeritus
Rex Harris of Birmingham University's Mag-
netic Materials Group. Their approach, called
Hydrogen Processing of Magnet Scrap, extracts
rare earth metals from waste electronics by
breaking them down into a powder that is eas-
ily separated from the remaining components.
The technology was patented by University
of Birmingham Enterprise and subsequently li-
censed to HyProMag – a company set up by the
Birmingham researchers. HyProMag has since
received substantial investment from Mkango
Resources, which is fully funding HyProMag's
contribution to RaRE.
Walton says the R&D project will develop a
process to recycle magnets extracted from com-
puter hard drives to make rare earth magnets for
use in 'bespoke' ancillary motors. HyProMag's
role involves scaling up the patented recycling
technique.
Additionally, Birmingham University will
provide cast alloys, which HyProMag will blend
with secondary materials in order to produce
the sintered magnets, which are formed by press
moulding the metal powder.
48-49-50-51-52-53_techtalks.indd 50 31-08-21 16:05