Recycling Technology 2022
Subscribe
Page 44 from: Recycling Technology 2022
44 2022 Innovation Beverage cans, aerosols? Yes, we can! Whether you're talking about lightweight cars, trendy electronics or food packaging, it's clear that aluminium is an invaluable material for countless industries. While can-t...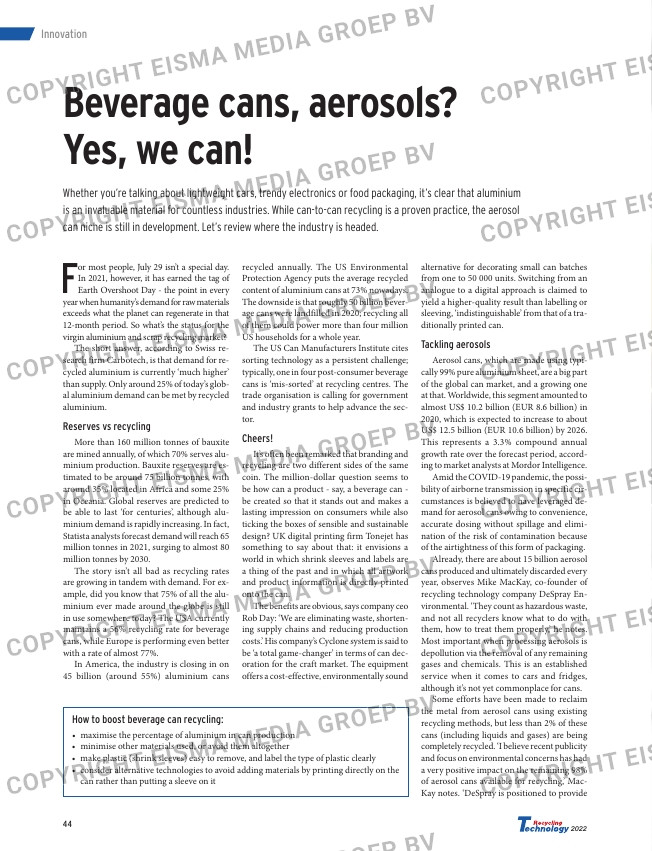 44
2022

Innovation
Beverage cans, aerosols?
Yes, we can!
Whether you're talking about lightweight cars, trendy electronics or food packaging, it's clear that aluminium
is an invaluable material for countless industries. While can-to-can recycling is a proven practice, the aerosol
can niche is still in development. Let's review where the industry is headed.
F
or most people, July 29 isn't a special day.
In 2021, however, it has earned the tag of
Earth Overshoot Day – the point in every
year when humanity's demand for raw materials
exceeds what the planet can regenerate in that
12-month period. So what's the status for the
virgin aluminium and scrap recycling market?
The short answer, according to Swiss re-
search firm Carbotech, is that demand for re-
cycled aluminium is currently 'much higher'
than supply. Only around 25% of today's glob-
al aluminium demand can be met by recycled
aluminium.
Reserves vs recycling
More than 160 million tonnes of bauxite
are mined annually, of which 70% serves alu-
minium production. Bauxite reserves are es-
timated to be around 75 billion tonnes, with
around 35% located in Africa and some 25%
in Oceania. Global reserves are predicted to
be able to last 'for centuries', although alu-
minium demand is rapidly increasing. In fact,
Statista analysts forecast demand will reach 65
million tonnes in 2021, surging to almost 80
million tonnes by 2030.
The story isn't all bad as recycling rates
are growing in tandem with demand. For ex-
ample, did you know that 75% of all the alu-
minium ever made around the globe is still
in use somewhere today? The USA currently
maintains a 56% recycling rate for beverage
cans, while Europe is performing even better
with a rate of almost 77%.
In America, the industry is closing in on
45 billion (around 55%) aluminium cans
recycled annually. The US Environmental
Protection Agency puts the average recycled
content of aluminium cans at 73% nowadays.
The downside is that roughly 50 billion bever-
age cans were landfilled in 2020; recycling all
of them could power more than four million
US households for a whole year.
The US Can Manufacturers Institute cites
sorting technology as a persistent challenge;
typically, one in four post-consumer beverage
cans is 'mis-sorted' at recycling centres. The
trade organisation is calling for government
and industry grants to help advance the sec-
tor.
Cheers!
It's often been remarked that branding and
recycling are two different sides of the same
coin. The million-dollar question seems to
be how can a product – say, a beverage can –
be created so that it stands out and makes a
lasting impression on consumers while also
ticking the boxes of sensible and sustainable
design? UK digital printing firm Tonejet has
something to say about that: it envisions a
world in which shrink sleeves and labels are
a thing of the past and in which all artwork
and product information is directly printed
onto the can.
The benefits are obvious, says company ceo
Rob Day: 'We are eliminating waste, shorten-
ing supply chains and reducing production
costs.' His company's Cyclone system is said to
be 'a total game-changer' in terms of can dec-
oration for the craft market. The equipment
offers a cost-effective, environmentally sound
alternative for decorating small can batches
from one to 50 000 units. Switching from an
analogue to a digital approach is claimed to
yield a higher-quality result than labelling or
sleeving, 'indistinguishable' from that of a tra-
ditionally printed can.
Tackling aerosols
Aerosol cans, which are made using typi-
cally 99% pure aluminium sheet, are a big part
of the global can market, and a growing one
at that. Worldwide, this segment amounted to
almost US$ 10.2 billion (EUR 8.6 billion) in
2020, which is expected to increase to about
US$ 12.5 billion (EUR 10.6 billion) by 2026.
This represents a 3.3% compound annual
growth rate over the forecast period, accord-
ing to market analysts at Mordor Intelligence.
Amid the COVID-19 pandemic, the possi-
bility of airborne transmission in specific cir-
cumstances is believed to have leveraged de-
mand for aerosol cans owing to convenience,
accurate dosing without spillage and elimi-
nation of the risk of contamination because
of the airtightness of this form of packaging.
Already, there are about 15 billion aerosol
cans produced and ultimately discarded every
year, observes Mike MacKay, co-founder of
recycling technology company DeSpray En-
vironmental. 'They count as hazardous waste,
and not all recyclers know what to do with
them, how to treat them properly,' he notes.
Most important when processing aerosols is
depollution via the removal of any remaining
gases and chemicals. This is an established
service when it comes to cars and fridges,
although it's not yet commonplace for cans.
Some efforts have been made to reclaim
the metal from aerosol cans using existing
recycling methods, but less than 2% of these
cans (including liquids and gases) are being
completely recycled. 'I believe recent publicity
and focus on environmental concerns has had
a very positive impact on the remaining 98%
of aerosol cans available for recycling,' Mac-
Kay notes. 'DeSpray is positioned to provide
How to boost beverage can recycling:
• maximise the percentage of aluminium in can production
• minimise other materials used, or avoid them altogether
• make plastic (shrink sleeves) easy to remove, and label the type of plastic clearly
• consider alternative technologies to avoid adding materials by printing directly on the
can rather than putting a sleeve on it
44-45-46-47_aerosols.indd 44 31-08-21 16:05