Recycling Technology 2022
Subscribe
Page 41 from: Recycling Technology 2022
41 2022 Innovation Stephen Spencer: 'We want to boost our capacity to 40 000 tonnes per annum by the end of 2021.' strength of the blended materials are said to be 'extremely powerful'. Product formulation manager Jonathan At...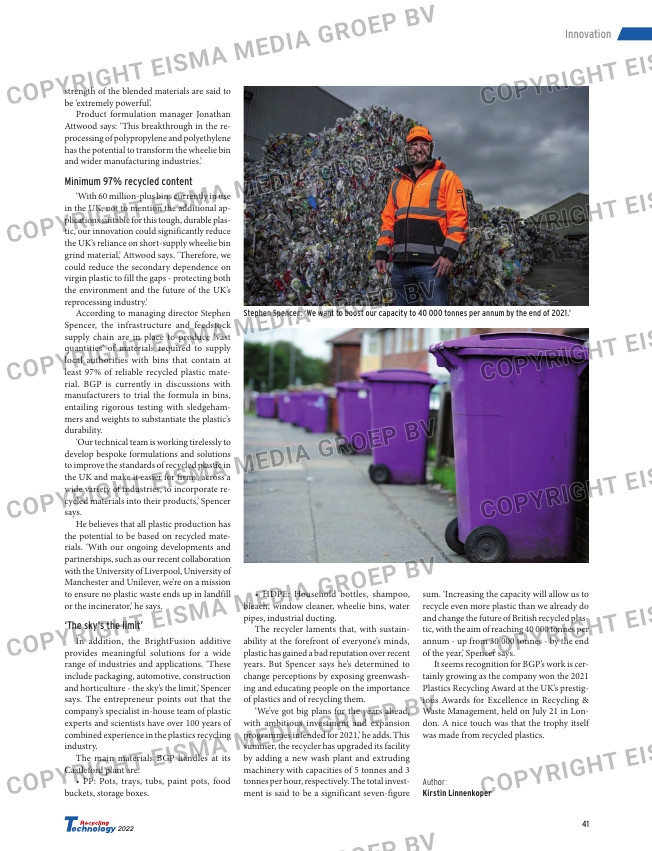 41
2022

Innovation
Stephen Spencer: 'We want to boost our capacity to 40 000 tonnes per annum by the end of 2021.'
strength of the blended materials are said to
be 'extremely powerful'.
Product formulation manager Jonathan
Attwood says: 'This breakthrough in the re-
processing of polypropylene and polyethylene
has the potential to transform the wheelie bin
and wider manufacturing industries.'
Minimum 97% recycled content
'With 60 million-plus bins currently in use
in the UK, not to mention the additional ap-
plications suitable for this tough, durable plas-
tic, our innovation could significantly reduce
the UK's reliance on short-supply wheelie bin
grind material,' Attwood says. 'Therefore, we
could reduce the secondary dependence on
virgin plastic to fill the gaps – protecting both
the environment and the future of the UK's
reprocessing industry.'
According to managing director Stephen
Spencer, the infrastructure and feedstock
supply chain are in place to produce 'vast
quantities' of materials required to supply
local authorities with bins that contain at
least 97% of reliable recycled plastic mate-
rial. BGP is currently in discussions with
manufacturers to trial the formula in bins,
entailing rigorous testing with sledgeham-
mers and weights to substantiate the plastic's
durability.
'Our technical team is working tirelessly to
develop bespoke formulations and solutions
to improve the standards of recycled plastic in
the UK and make it easier for firms, across a
wide variety of industries, to incorporate re-
cycled materials into their products,' Spencer
says.
He believes that all plastic production has
the potential to be based on recycled mate-
rials. 'With our ongoing developments and
partnerships, such as our recent collaboration
with the University of Liverpool, University of
Manchester and Unilever, we're on a mission
to ensure no plastic waste ends up in landfill
or the incinerator,' he says.
'The sky's the limit'
In addition, the BrightFusion additive
provides meaningful solutions for a wide
range of industries and applications. 'These
include packaging, automotive, construction
and horticulture – the sky's the limit,' Spencer
says. The entrepreneur points out that the
company's specialist in-house team of plastic
experts and scientists have over 100 years of
combined experience in the plastics recycling
industry.
The main materials BGP handles at its
Castleford plant are:
• PP: Pots, trays, tubs, paint pots, food
buckets, storage boxes.
• HDPE: Household bottles, shampoo,
bleach, window cleaner, wheelie bins, water
pipes, industrial ducting.
The recycler laments that, with sustain-
ability at the forefront of everyone's minds,
plastic has gained a bad reputation over recent
years. But Spencer says he's determined to
change perceptions by exposing greenwash-
ing and educating people on the importance
of plastics and of recycling them.
'We've got big plans for the years ahead,
with ambitious investment and expansion
programmes intended for 2021,' he adds. This
summer, the recycler has upgraded its facility
by adding a new wash plant and extruding
machinery with capacities of 5 tonnes and 3
tonnes per hour, respectively. The total invest-
ment is said to be a significant seven-figure
sum. 'Increasing the capacity will allow us to
recycle even more plastic than we already do
and change the future of British recycled plas-
tic, with the aim of reaching 40 000 tonnes per
annum – up from 30 000 tonnes – by the end
of the year,' Spencer says.
It seems recognition for BGP's work is cer-
tainly growing as the company won the 2021
Plastics Recycling Award at the UK's prestig-
ious Awards for Excellence in Recycling &
Waste Management, held on July 21 in Lon-
don. A nice touch was that the trophy itself
was made from recycled plastics.
Author:
Kirstin Linnenkoper

40-41_greenplastics.indd 41 31-08-21 16:04