Recycling Technology 2022
Subscribe
Page 33 from: Recycling Technology 2022
33 2022 Cover story/Application I n a competitive marketplace, you don't want to be the least efficient recycler,' says Scott Newell, chairman of US-based Newell Re- cycling Equipment via a Zoom chat from his office in El Paso, Te...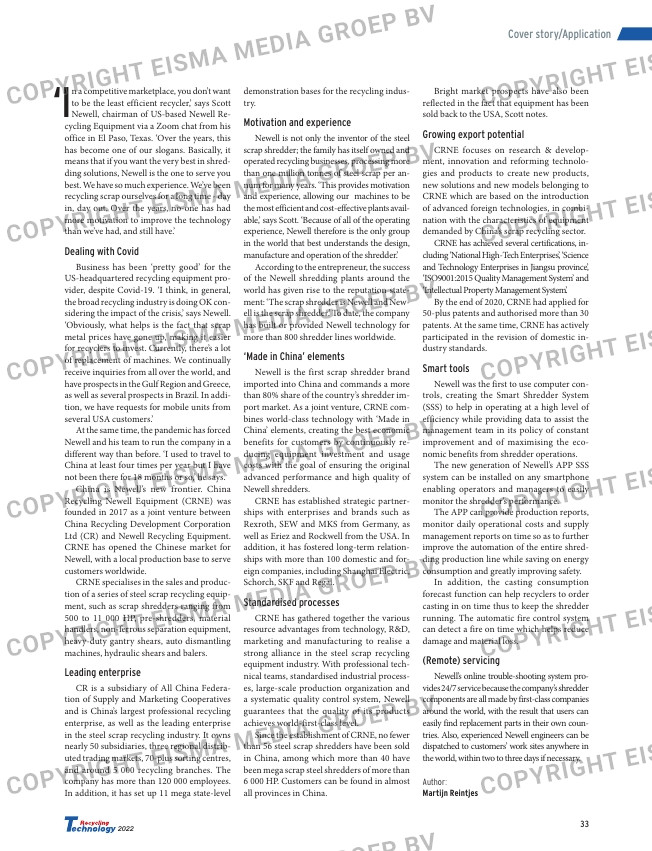 33
2022

Cover story/Application
I
n a competitive marketplace, you don't want
to be the least efficient recycler,' says Scott
Newell, chairman of US-based Newell Re-
cycling Equipment via a Zoom chat from his
office in El Paso, Texas. 'Over the years, this
has become one of our slogans. Basically, it
means that if you want the very best in shred-
ding solutions, Newell is the one to serve you
best. We have so much experience. We've been
recycling scrap ourselves for a long time – day
in, day out. Over the years, no-one has had
more motivation to improve the technology
than we've had, and still have.'
Dealing with Covid
Business has been 'pretty good' for the
US-headquartered recycling equipment pro-
vider, despite Covid-19. 'I think, in general,
the broad recycling industry is doing OK con-
sidering the impact of the crisis,' says Newell.
'Obviously, what helps is the fact that scrap
metal prices have gone up, making it easier
for recyclers to invest. Currently, there's a lot
of replacement of machines. We continually
receive inquiries from all over the world, and
have prospects in the Gulf Region and Greece,
as well as several prospects in Brazil. In addi-
tion, we have requests for mobile units from
several USA customers.'
At the same time, the pandemic has forced
Newell and his team to run the company in a
different way than before. 'I used to travel to
China at least four times per year but I have
not been there for 18 months or so,' he says.
China is Newell's new frontier. China
Recycling Newell Equipment (CRNE) was
founded in 2017 as a joint venture between
China Recycling Development Corporation
Ltd (CR) and Newell Recycling Equipment.
CRNE has opened the Chinese market for
Newell, with a local production base to serve
customers worldwide.
CRNE specialises in the sales and produc-
tion of a series of steel scrap recycling equip-
ment, such as scrap shredders ranging from
500 to 11 000 HP, pre-shredders, material
handlers, non-ferrous separation equipment,
heavy-duty gantry shears, auto dismantling
machines, hydraulic shears and balers.
Leading enterprise
CR is a subsidiary of All China Federa-
tion of Supply and Marketing Cooperatives
and is China's largest professional recycling
enterprise, as well as the leading enterprise
in the steel scrap recycling industry. It owns
nearly 50 subsidiaries, three regional distrib-
uted trading markets, 70-plus sorting centres,
and around 5 000 recycling branches. The
company has more than 120 000 employees.
In addition, it has set up 11 mega state-level
demonstration bases for the recycling indus-
try.
Motivation and experience
Newell is not only the inventor of the steel
scrap shredder; the family has itself owned and
operated recycling businesses, processing more
than one million tonnes of steel scrap per an-
num for many years. 'This provides motivation
and experience, allowing our machines to be
the most efficient and cost-effective plants avail-
able,' says Scott. 'Because of all of the operating
experience, Newell therefore is the only group
in the world that best understands the design,
manufacture and operation of the shredder.'
According to the entrepreneur, the success
of the Newell shredding plants around the
world has given rise to the reputation state-
ment: 'The scrap shredder is Newell and New-
ell is the scrap shredder.' To date, the company
has built or provided Newell technology for
more than 800 shredder lines worldwide.
'Made in China' elements
Newell is the first scrap shredder brand
imported into China and commands a more
than 80% share of the country's shredder im-
port market. As a joint venture, CRNE com-
bines world-class technology with 'Made in
China' elements, creating the best economic
benefits for customers by continuously re-
ducing equipment investment and usage
costs with the goal of ensuring the original
advanced performance and high quality of
Newell shredders.
CRNE has established strategic partner-
ships with enterprises and brands such as
Rexroth, SEW and MKS from Germany, as
well as Eriez and Rockwell from the USA. In
addition, it has fostered long-term relation-
ships with more than 100 domestic and for-
eign companies, including Shanghai Electric,
Schorch, SKF and Regal.
Standardised processes
CRNE has gathered together the various
resource advantages from technology, R&D,
marketing and manufacturing to realise a
strong alliance in the steel scrap recycling
equipment industry. With professional tech-
nical teams, standardised industrial process-
es, large-scale production organization and
a systematic quality control system, Newell
guarantees that the quality of its products
achieves world-first-class level.
Since the establishment of CRNE, no fewer
than 56 steel scrap shredders have been sold
in China, among which more than 40 have
been mega scrap steel shredders of more than
6 000 HP. Customers can be found in almost
all provinces in China.
Bright market prospects have also been
reflected in the fact that equipment has been
sold back to the USA, Scott notes.
Growing export potential
CRNE focuses on research & develop-
ment, innovation and reforming technolo-
gies and products to create new products,
new solutions and new models belonging to
CRNE which are based on the introduction
of advanced foreign technologies, in combi-
nation with the characteristics of equipment
demanded by China's scrap recycling sector.
CRNE has achieved several certifications, in-
cluding 'National High-Tech Enterprises', 'Science
and Technology Enterprises in Jiangsu province',
'ISO9001:2015 Quality Management System' and
'Intellectual Property Management System'.
By the end of 2020, CRNE had applied for
50-plus patents and authorised more than 30
patents. At the same time, CRNE has actively
participated in the revision of domestic in-
dustry standards.
Smart tools
Newell was the first to use computer con-
trols, creating the Smart Shredder System
(SSS) to help in operating at a high level of
efficiency while providing data to assist the
management team in its policy of constant
improvement and of maximising the eco-
nomic benefits from shredder operations.
The new generation of Newell's APP SSS
system can be installed on any smartphone
enabling operators and managers to easily
monitor the shredder's performance.
The APP can provide production reports,
monitor daily operational costs and supply
management reports on time so as to further
improve the automation of the entire shred-
ding production line while saving on energy
consumption and greatly improving safety.
In addition, the casting consumption
forecast function can help recyclers to order
casting in on time thus to keep the shredder
running. The automatic fire control system
can detect a fire on time which helps reduce
damage and material loss.
(Remote) servicing
Newell's online trouble-shooting system pro-
vides 24/7 service because the company's shredder
components are all made by first-class companies
around the world, with the result that users can
easily find replacement parts in their own coun-
tries. Also, experienced Newell engineers can be
dispatched to customers' work sites anywhere in
the world, within two to three days if necessary.
Author:
Martijn Reintjes

'
32-33-34-35_chinarecyclingnewell.indd 33 31-08-21 16:02