Recycling Technology 2022
Subscribe
Page 23 from: Recycling Technology 2022
23 2022 Application Pre-delivery testing of Vezzani's VS gravity- fed, pre-compression shear before painting and shipment to the customer. The VS shear has the ability to travel to the scrap inside a yard, which saves on the logisti...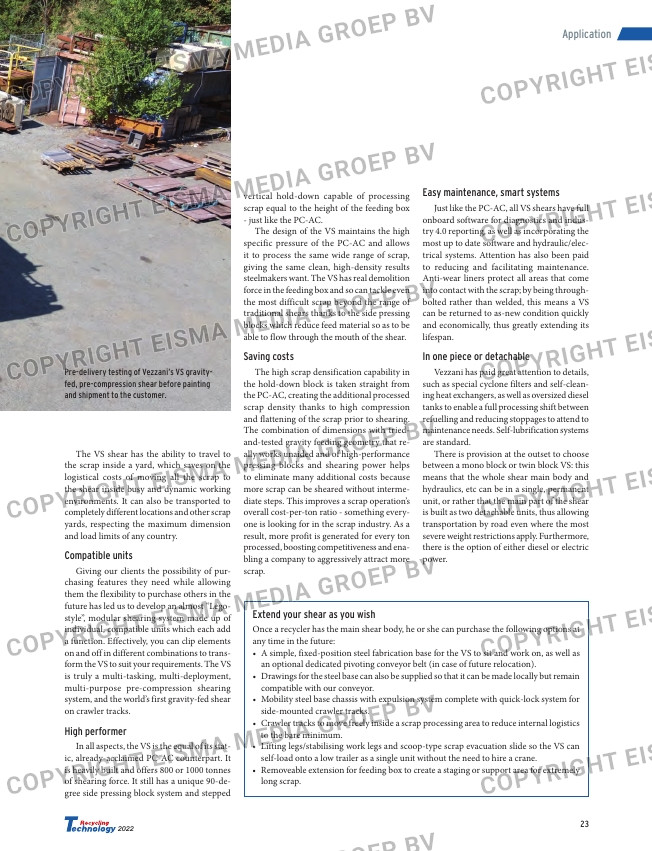 23
2022

Application
Pre-delivery testing of Vezzani's VS gravity-
fed, pre-compression shear before painting
and shipment to the customer.
The VS shear has the ability to travel to
the scrap inside a yard, which saves on the
logistical costs of moving all the scrap to
the shear inside busy and dynamic working
environments. It can also be transported to
completely different locations and other scrap
yards, respecting the maximum dimension
and load limits of any country.
Compatible units
Giving our clients the possibility of pur-
chasing features they need while allowing
them the flexibility to purchase others in the
future has led us to develop an almost "Lego-
style", modular shearing system made up of
individual, compatible units which each add
a function. Effectively, you can clip elements
on and off in different combinations to trans-
form the VS to suit your requirements. The VS
is truly a multi-tasking, multi-deployment,
multi-purpose pre-compression shearing
system, and the world's first gravity-fed shear
on crawler tracks.
High performer
In all aspects, the VS is the equal of its stat-
ic, already-acclaimed PC-AC counterpart. It
is heavily built and offers 800 or 1000 tonnes
of shearing force. It still has a unique 90-de-
gree side pressing block system and stepped
vertical hold-down capable of processing
scrap equal to the height of the feeding box
– just like the PC-AC.
The design of the VS maintains the high
specific pressure of the PC-AC and allows
it to process the same wide range of scrap,
giving the same clean, high-density results
steelmakers want. The VS has real demolition
force in the feeding box and so can tackle even
the most difficult scrap beyond the range of
traditional shears thanks to the side pressing
blocks which reduce feed material so as to be
able to flow through the mouth of the shear.
Saving costs
The high scrap densification capability in
the hold-down block is taken straight from
the PC-AC, creating the additional processed
scrap density thanks to high compression
and flattening of the scrap prior to shearing.
The combination of dimensions with tried-
and-tested gravity feeding geometry that re-
ally works unaided and of high-performance
pressing blocks and shearing power helps
to eliminate many additional costs because
more scrap can be sheared without interme-
diate steps. This improves a scrap operation's
overall cost-per-ton ratio – something every-
one is looking for in the scrap industry. As a
result, more profit is generated for every ton
processed, boosting competitiveness and ena-
bling a company to aggressively attract more
scrap.
Easy maintenance, smart systems
Just like the PC-AC, all VS shears have full
onboard software for diagnostics and indus-
try 4.0 reporting, as well as incorporating the
most up to date software and hydraulic/elec-
trical systems. Attention has also been paid
to reducing and facilitating maintenance.
Anti-wear liners protect all areas that come
into contact with the scrap; by being through-
bolted rather than welded, this means a VS
can be returned to as-new condition quickly
and economically, thus greatly extending its
lifespan.
In one piece or detachable
Vezzani has paid great attention to details,
such as special cyclone filters and self-clean-
ing heat exchangers, as well as oversized diesel
tanks to enable a full processing shift between
refuelling and reducing stoppages to attend to
maintenance needs. Self-lubrification systems
are standard.
There is provision at the outset to choose
between a mono block or twin block VS: this
means that the whole shear main body and
hydraulics, etc can be in a single, permanent
unit, or rather that the main part of the shear
is built as two detachable units, thus allowing
transportation by road even where the most
severe weight restrictions apply. Furthermore,
there is the option of either diesel or electric
power.
Extend your shear as you wish
Once a recycler has the main shear body, he or she can purchase the following options at
any time in the future:
• A simple, fixed-position steel fabrication base for the VS to sit and work on, as well as
an optional dedicated pivoting conveyor belt (in case of future relocation).
• Drawings for the steel base can also be supplied so that it can be made locally but remain
compatible with our conveyor.
• Mobility steel base chassis with expulsion system complete with quick-lock system for
side-mounted crawler tracks.
• Crawler tracks to move freely inside a scrap processing area to reduce internal logistics
to the bare minimum.
• Lifting legs/stabilising work legs and scoop-type scrap evacuation slide so the VS can
self-load onto a low trailer as a single unit without the need to hire a crane.
• Removeable extension for feeding box to create a staging or support area for extremely
long scrap.
22-23_vezzani-applicationstory.indd 23 31-08-21 15:56