Recycling Technology 2022
Subscribe
Page 19 from: Recycling Technology 2022
19 2022 Innovation Alexandre Citvaras: 'Recyclers in Brazil are facing a dirty and heavily co-mingled waste stream.' expected,' Citvaras notes. 'It makes sense. Af- ter all, the waste composition and volume are very different ov...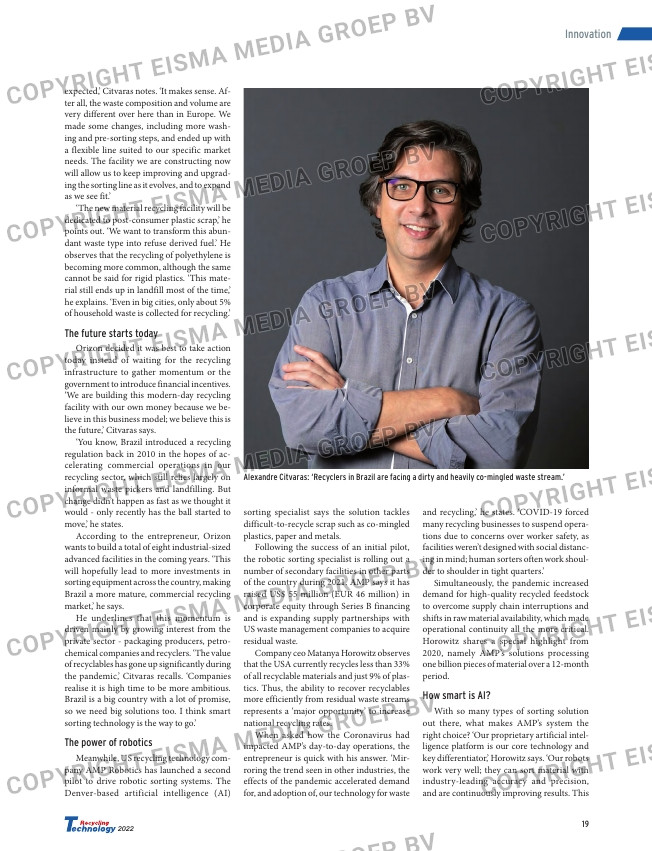 19
2022

Innovation
Alexandre Citvaras: 'Recyclers in Brazil are facing a dirty and heavily co-mingled waste stream.'
expected,' Citvaras notes. 'It makes sense. Af-
ter all, the waste composition and volume are
very different over here than in Europe. We
made some changes, including more wash-
ing and pre-sorting steps, and ended up with
a flexible line suited to our specific market
needs. The facility we are constructing now
will allow us to keep improving and upgrad-
ing the sorting line as it evolves, and to expand
as we see fit.'
'The new material recycling facility will be
dedicated to post-consumer plastic scrap,' he
points out. 'We want to transform this abun-
dant waste type into refuse derived fuel.' He
observes that the recycling of polyethylene is
becoming more common, although the same
cannot be said for rigid plastics. 'This mate-
rial still ends up in landfill most of the time,'
he explains. 'Even in big cities, only about 5%
of household waste is collected for recycling.'
The future starts today
Orizon decided it was best to take action
today instead of waiting for the recycling
infrastructure to gather momentum or the
government to introduce financial incentives.
'We are building this modern-day recycling
facility with our own money because we be-
lieve in this business model; we believe this is
the future,' Citvaras says.
'You know, Brazil introduced a recycling
regulation back in 2010 in the hopes of ac-
celerating commercial operations in our
recycling sector, which still relies largely on
informal waste pickers and landfilling. But
change didn't happen as fast as we thought it
would – only recently has the ball started to
move,' he states.
According to the entrepreneur, Orizon
wants to build a total of eight industrial-sized
advanced facilities in the coming years. 'This
will hopefully lead to more investments in
sorting equipment across the country, making
Brazil a more mature, commercial recycling
market,' he says.
He underlines that this momentum is
driven mainly by growing interest from the
private sector – packaging producers, petro-
chemical companies and recyclers. 'The value
of recyclables has gone up significantly during
the pandemic,' Citvaras recalls. 'Companies
realise it is high time to be more ambitious.
Brazil is a big country with a lot of promise,
so we need big solutions too. I think smart
sorting technology is the way to go.'
The power of robotics
Meanwhile, US recycling technology com-
pany AMP Robotics has launched a second
pilot to drive robotic sorting systems. The
Denver-based artificial intelligence (AI)
sorting specialist says the solution tackles
difficult-to-recycle scrap such as co-mingled
plastics, paper and metals.
Following the success of an initial pilot,
the robotic sorting specialist is rolling out a
number of secondary facilities in other parts
of the country during 2021. AMP says it has
raised US$ 55 million (EUR 46 million) in
corporate equity through Series B financing
and is expanding supply partnerships with
US waste management companies to acquire
residual waste.
Company ceo Matanya Horowitz observes
that the USA currently recycles less than 33%
of all recyclable materials and just 9% of plas-
tics. Thus, the ability to recover recyclables
more efficiently from residual waste streams
represents a 'major opportunity' to increase
national recycling rates.
When asked how the Coronavirus had
impacted AMP's day-to-day operations, the
entrepreneur is quick with his answer. 'Mir-
roring the trend seen in other industries, the
effects of the pandemic accelerated demand
for, and adoption of, our technology for waste
and recycling,' he states. 'COVID-19 forced
many recycling businesses to suspend opera-
tions due to concerns over worker safety, as
facilities weren't designed with social distanc-
ing in mind; human sorters often work shoul-
der to shoulder in tight quarters.'
Simultaneously, the pandemic increased
demand for high-quality recycled feedstock
to overcome supply chain interruptions and
shifts in raw material availability, which made
operational continuity all the more critical.
Horowitz shares a special highlight from
2020, namely AMP's solutions processing
one billion pieces of material over a 12-month
period.
How smart is AI?
With so many types of sorting solution
out there, what makes AMP's system the
right choice? 'Our proprietary artificial intel-
ligence platform is our core technology and
key differentiator,' Horowitz says. 'Our robots
work very well; they can sort material with
industry-leading accuracy and precision,
and are continuously improving results. This
18-19-20-21_smartsorting.indd 19 31-08-21 15:56