Recycling Technology 2020
Subscribe
Page 49 from: Recycling Technology 2020
49 2020 Techtalks We deliver Turnkey Recycling Solutions and modules tailored to your needs. w w w . e l d a n - r e c y c l i n g . c o m Reduce CO2 emissions up to 200 ton / yr Unique rotor Designed for minimum wear Saves money ...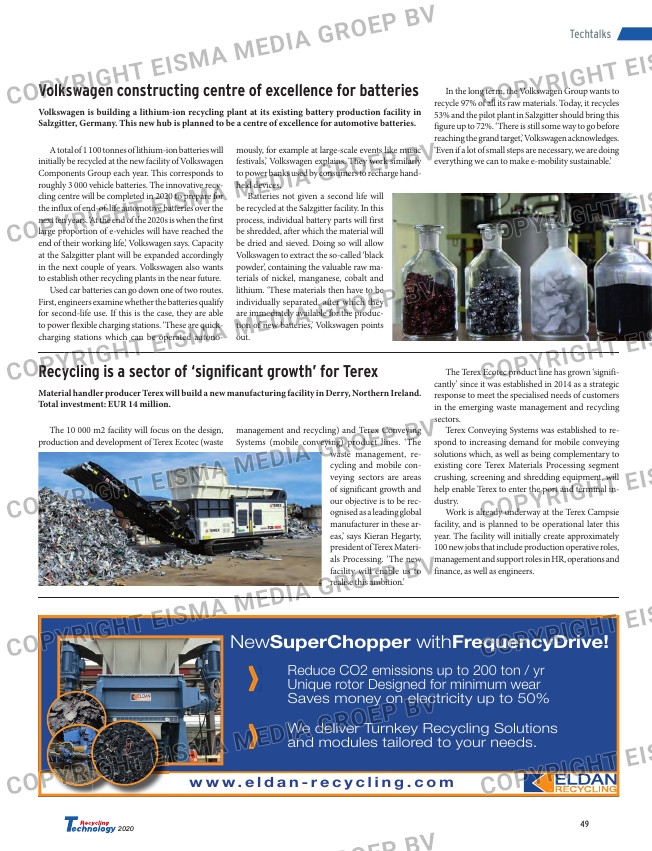 49
2020

Techtalks
We deliver Turnkey Recycling Solutions
and modules tailored to your needs.
w w w . e l d a n – r e c y c l i n g . c o m
Reduce CO2 emissions up to 200 ton / yr
Unique rotor Designed for minimum wear
Saves money on electricity up to 50%
NewSuperChopper withFrequencyDrive!
Recycling is a sector of 'significant growth' for Terex
Material handler producer Terex will build a new manufacturing facility in Derry, Northern Ireland.
Total investment: EUR 14 million.

The 10 000 m2 facility will focus on the design,
production and development of Terex Ecotec (waste
management and recycling) and Terex Conveying
Systems (mobile conveying) product lines. 'The
waste management, re-
cycling and mobile con-
veying sectors are areas
of significant growth and
our objective is to be rec-
ognised as a leading global
manufacturer in these ar-
eas,' says Kieran Hegarty,
president of Terex Materi-
als Processing. 'The new
facility will enable us to
realise this ambition.'
The Terex Ecotec product line has grown 'signifi-
cantly' since it was established in 2014 as a strategic
response to meet the specialised needs of customers
in the emerging waste management and recycling
sectors.
Terex Conveying Systems was established to re-
spond to increasing demand for mobile conveying
solutions which, as well as being complementary to
existing core Terex Materials Processing segment
crushing, screening and shredding equipment, will
help enable Terex to enter the port and terminal in-
dustry.
Work is already underway at the Terex Campsie
facility, and is planned to be operational later this
year. The facility will initially create approximately
100 new jobs that include production operative roles,
management and support roles in HR, operations and
finance, as well as engineers.
Volkswagen constructing centre of excellence for batteries
Volkswagen is building a lithium-ion recycling plant at its existing battery production facility in
Salzgitter, Germany. This new hub is planned to be a centre of excellence for automotive batteries.

A total of 1 100 tonnes of lithium-ion batteries will
initially be recycled at the new facility of Volkswagen
Components Group each year. This corresponds to
roughly 3 000 vehicle batteries. The innovative recy-
cling centre will be completed in 2020 to prepare for
the influx of end-of-life automotive batteries over the
next ten years. 'At the end of the 2020s is when the first
large proportion of e-vehicles will have reached the
end of their working life,' Volkswagen says. Capacity
at the Salzgitter plant will be expanded accordingly
in the next couple of years. Volkswagen also wants
to establish other recycling plants in the near future.
Used car batteries can go down one of two routes.
First, engineers examine whether the batteries qualify
for second-life use. If this is the case, they are able
to power flexible charging stations. 'These are quick-
charging stations which can be operated autono-
mously, for example at large-scale events like music
festivals,' Volkswagen explains. They work similarly
to power banks used by consumers to recharge hand-
held devices.
Batteries not given a second life will
be recycled at the Salzgitter facility. In this
process, individual battery parts will first
be shredded, after which the material will
be dried and sieved. Doing so will allow
Volkswagen to extract the so-called 'black
powder', containing the valuable raw ma-
terials of nickel, manganese, cobalt and
lithium. 'These materials then have to be
individually separated, after which they
are immediately available for the produc-
tion of new batteries,' Volkswagen points
out.
In the long term, the Volkswagen Group wants to
recycle 97% of all its raw materials. Today, it recycles
53% and the pilot plant in Salzgitter should bring this
figure up to 72%. 'There is still some way to go before
reaching the grand target,' Volkswagen acknowledges.
'Even if a lot of small steps are necessary, we are doing
everything we can to make e-mobility sustainable.'
44-45-46-47-48-49_techtalks.indd 49 13-09-19 14:04