Recycling Technology 2020
Subscribe
Page 48 from: Recycling Technology 2020
48 2020 Techtalks Metso expands pre-shredder portfolio citing 'huge' demand Metso has developed two new K-series pre-shredders, the M&J K160 and M&J K210. The models were made especially for sites requiring pro- duction fr...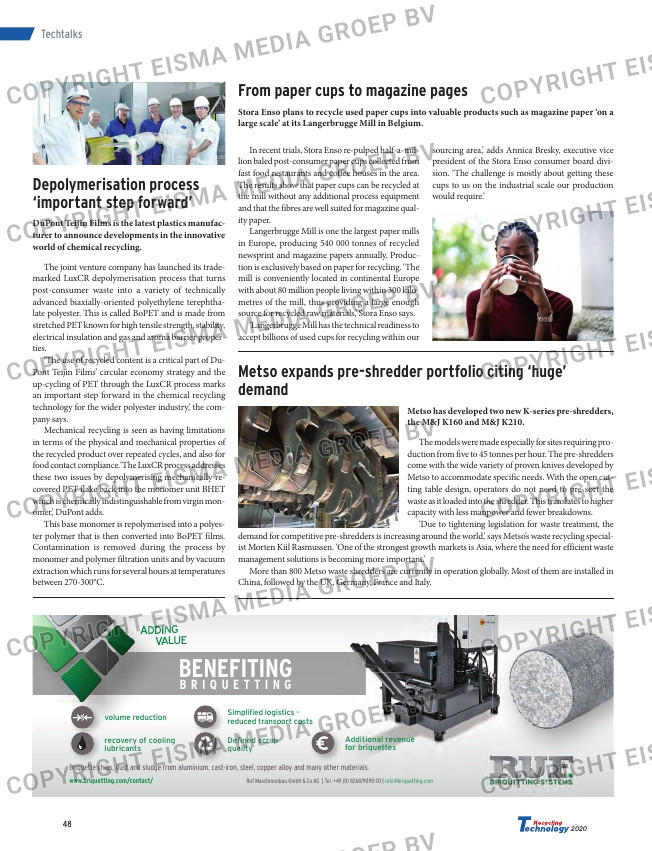 48
2020

Techtalks
Metso expands pre-shredder portfolio citing 'huge'
demand

Metso has developed two new K-series pre-shredders,
the M&J K160 and M&J K210.

The models were made especially for sites requiring pro-
duction from five to 45 tonnes per hour. The pre-shredders
come with the wide variety of proven knives developed by
Metso to accommodate specific needs. With the open cut-
ting table design, operators do not need to pre-sort the
waste as it loaded into the shredder. This translates to higher
capacity with less manpower and fewer breakdowns.
'Due to tightening legislation for waste treatment, the
demand for competitive pre-shredders is increasing around the world,' says Metso's waste recycling special-
ist Morten Kiil Rasmussen. 'One of the strongest growth markets is Asia, where the need for efficient waste
management solutions is becoming more important.'
More than 800 Metso waste shredders are currently in operation globally. Most of them are installed in
China, followed by the UK, Germany, France and Italy.
From paper cups to magazine pages
Stora Enso plans to recycle used paper cups into valuable products such as magazine paper 'on a
large scale' at its Langerbrugge Mill in Belgium.

In recent trials, Stora Enso re-pulped half-a-mil-
lion baled post-consumer paper cups collected from
fast food restaurants and coffee houses in the area.
The results show that paper cups can be recycled at
the mill without any additional process equipment
and that the fibres are well suited for magazine qual-
ity paper.
Langerbrugge Mill is one the largest paper mills
in Europe, producing 540 000 tonnes of recycled
newsprint and magazine papers annually. Produc-
tion is exclusively based on paper for recycling. 'The
mill is conveniently located in continental Europe
with about 80 million people living within 300 kilo-
metres of the mill, thus providing a large enough
source for recycled raw materials,' Stora Enso says.
'Langerbrugge Mill has the technical readiness to
accept billions of used cups for recycling within our
sourcing area,' adds Annica Bresky, executive vice
president of the Stora Enso consumer board divi-
sion. 'The challenge is mostly about getting these
cups to us on the industrial scale our production
would require.'
Depolymerisation process
'important step forward'
DuPont Teijin Films is the latest plastics manufac-
turer to announce developments in the innovative
world of chemical recycling.

The joint venture company has launched its trade-
marked LuxCR depolymerisation process that turns
post-consumer waste into a variety of technically
advanced biaxially-oriented polyethylene terephtha-
late polyester. This is called BoPET and is made from
stretched PET known for high tensile strength, stability,
electrical insulation and gas and aroma barrier proper-
ties.
'The use of recycled content is a critical part of Du-
Pont Teijin Films' circular economy strategy and the
up-cycling of PET through the LuxCR process marks
an important step forward in the chemical recycling
technology for the wider polyester industry,' the com-
pany says.
Mechanical recycling is seen as having limitations
in terms of the physical and mechanical properties of
the recycled product over repeated cycles, and also for
food contact compliance.'The LuxCR process addresses
these two issues by depolymerising mechanically re-
covered PET flake back into the monomer unit BHET
which is chemically indistinguishable from virgin mon-
omer,' DuPont adds.
This base monomer is repolymerised into a polyes-
ter polymer that is then converted into BoPET films.
Contamination is removed during the process by
monomer and polymer filtration units and by vacuum
extraction which runs for several hours at temperatures
between 270-300°C.
ADDING
VALUE
www.briquetting.com/contact/ Ruf Maschinenbau GmbH & Co.KG | Tel. +49 (0) 8268/9090-20 | [email protected]
BENEFITING
B R I Q U E T T I N G

Briquette chips, dust and sludge from aluminium, cast-iron, steel, copper alloy and many other materials.
recovery of cooling
lubricants
Simplifi ed logistics –
reduced transport costs
Additional revenue
for briquettes
Defi ned scrap
quality
volume reduction
RUF_M11_RecInt_205x64_oM_GB_neu.indd 1 03.09.18 19:42
44-45-46-47-48-49_techtalks.indd 48 13-09-19 14:04