Recycling Technology 2020
Subscribe
Page 45 from: Recycling Technology 2020
45 2020 Techtalks Tracking containers as easy as ordering a pizza The Port of Rotterdam in the Netherlands has launched a trial of a 'smart' container. Over the next two years, everything that hap- pens to the container will be caref...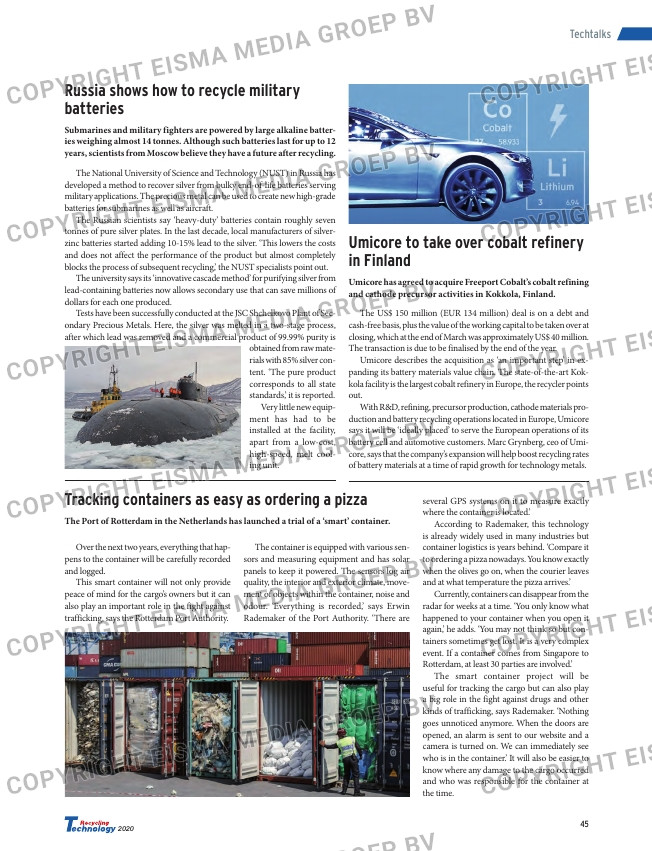 45
2020

Techtalks
Tracking containers as easy as ordering a pizza
The Port of Rotterdam in the Netherlands has launched a trial of a 'smart' container.

Over the next two years, everything that hap-
pens to the container will be carefully recorded
and logged.
This smart container will not only provide
peace of mind for the cargo's owners but it can
also play an important role in the fight against
trafficking, says the Rotterdam Port Authority.
The container is equipped with various sen-
sors and measuring equipment and has solar
panels to keep it powered. The sensors log air
quality, the interior and exterior climate, move-
ment of objects within the container, noise and
odour. 'Everything is recorded,' says Erwin
Rademaker of the Port Authority. 'There are
several GPS systems on it to measure exactly
where the container is located.'
According to Rademaker, this technology
is already widely used in many industries but
container logistics is years behind. 'Compare it
to ordering a pizza nowadays. You know exactly
when the olives go on, when the courier leaves
and at what temperature the pizza arrives.'
Currently, containers can disappear from the
radar for weeks at a time. 'You only know what
happened to your container when you open it
again,' he adds. 'You may not think so but con-
tainers sometimes get lost. It is a very complex
event. If a container comes from Singapore to
Rotterdam, at least 30 parties are involved.'
The smart container project will be
useful for tracking the cargo but can also play
a big role in the fight against drugs and other
kinds of trafficking, says Rademaker. 'Nothing
goes unnoticed anymore. When the doors are
opened, an alarm is sent to our website and a
camera is turned on. We can immediately see
who is in the container.' It will also be easier to
know where any damage to the cargo occurred
and who was responsible for the container at
the time.
Umicore to take over cobalt refinery
in Finland
Umicore has agreed to acquire Freeport Cobalt's cobalt refining
and cathode precursor activities in Kokkola, Finland.

The US$ 150 million (EUR 134 million) deal is on a debt and
cash-free basis, plus the value of the working capital to be taken over at
closing, which at the end of March was approximately US$ 40 million.
The transaction is due to be finalised by the end of the year.
Umicore describes the acquisition as 'an important step' in ex-
panding its battery materials value chain. The state-of-the-art Kok-
kola facility is the largest cobalt refinery in Europe, the recycler points
out.
With R&D, refining, precursor production, cathode materials pro-
duction and battery recycling operations located in Europe, Umicore
says it will be 'ideally placed' to serve the European operations of its
battery cell and automotive customers. Marc Grynberg, ceo of Umi-
core, says that the company's expansion will help boost recycling rates
of battery materials at a time of rapid growth for technology metals.
Russia shows how to recycle military
batteries
Submarines and military fighters are powered by large alkaline batter-
ies weighing almost 14 tonnes. Although such batteries last for up to 12
years, scientists from Moscow believe they have a future after recycling.

The National University of Science and Technology (NUST) in Russia has
developed a method to recover silver from bulky end-of-life batteries serving
military applications. The precious metal can be used to create new high-grade
batteries for submarines as well as aircraft.
The Russian scientists say 'heavy-duty' batteries contain roughly seven
tonnes of pure silver plates. In the last decade, local manufacturers of silver-
zinc batteries started adding 10-15% lead to the silver. 'This lowers the costs
and does not affect the performance of the product but almost completely
blocks the process of subsequent recycling,' the NUST specialists point out.
The university says its 'innovative cascade method' for purifying silver from
lead-containing batteries now allows secondary use that can save millions of
dollars for each one produced.
Tests have been successfully conducted at the JSC Shchelkovo Plant of Sec-
ondary Precious Metals. Here, the silver was melted in a two-stage process,
after which lead was removed and a commercial product of 99.99% purity is
obtained from raw mate-
rials with 85% silver con-
tent. 'The pure product
corresponds to all state
standards,' it is reported.
Very little new equip-
ment has had to be
installed at the facility,
apart from a low-cost,
high-speed, melt cool-
ing unit.
44-45-46-47-48-49_techtalks.indd 45 13-09-19 14:04