Recycling Technology 2020
Subscribe
Page 4 from: Recycling Technology 2020
4 2020 Editorial The can-do wave R ecycling technology experts and scientists are true optimists. No matter how tough and complex the challenges may seem, there's al- ways a solution looming on the horizon. Take Boyan Slat, the yo...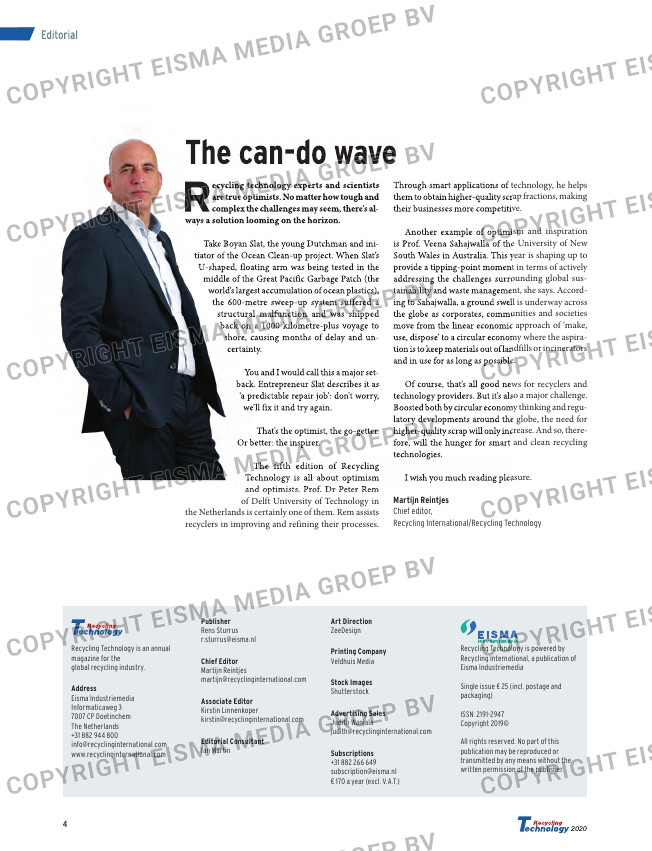 4
2020

Editorial
The can-do wave

R
ecycling technology experts and scientists
are true optimists. No matter how tough and
complex the challenges may seem, there's al-

ways a solution looming on the horizon.

Take Boyan Slat, the young Dutchman and ini-
tiator of the Ocean Clean-up project. When Slat's
U-shaped, floating arm was being tested in the
middle of the Great Pacific Garbage Patch (the
world's largest accumulation of ocean plastics),
the 600-metre sweep-up system suffered a
structural malfunction and was shipped
back on a 1000 kilometre-plus voyage to
shore, causing months of delay and un-
certainty.
You and I would call this a major set-
back. Entrepreneur Slat describes it as
'a predictable repair job': don't worry,
we'll fix it and try again.
That's the optimist, the go-getter.
Or better: the inspirer.
The fifth edition of Recycling
Technology is all about optimism
and optimists. Prof. Dr Peter Rem
of Delft University of Technology in
the Netherlands is certainly one of them. Rem assists
recyclers in improving and refining their processes.
Through smart applications of technology, he helps
them to obtain higher-quality scrap fractions, making
their businesses more competitive.
Another example of optimism and inspiration
is Prof. Veena Sahajwalla of the University of New
South Wales in Australia. This year is shaping up to
provide a tipping-point moment in terms of actively
addressing the challenges surrounding global sus-
tainability and waste management, she says. Accord-
ing to Sahajwalla, a ground swell is underway across
the globe as corporates, communities and societies
move from the linear economic approach of 'make,
use, dispose' to a circular economy where the aspira-
tion is to keep materials out of landfills or incinerators
and in use for as long as possible.
Of course, that's all good news for recyclers and
technology providers. But it's also a major challenge.
Boosted both by circular economy thinking and regu-
latory developments around the globe, the need for
higher-quality scrap will only increase. And so, there-
fore, will the hunger for smart and clean recycling
technologies.
I wish you much reading pleasure.
Martijn Reintjes
Chief editor,
Recycling International/Recycling Technology
Recycling Technology is an annual
magazine for the
global recycling industry.
Address
Eisma Industriemedia
Informaticaweg 3
7007 CP Doetinchem
The Netherlands
+31 882 944 800
[email protected]
www.recyclinginternational.com
Publisher
Rens Sturrus
[email protected]
Chief Editor
Martijn Reintjes
[email protected]
Associate Editor
Kirstin Linnenkoper
[email protected]
Editorial Consultant
Ian Martin
Art Direction
ZeeDesign
Printing Company
Veldhuis Media
Stock Images
Shutterstock
Advertising Sales
Judith Wanjala
[email protected]
Subscriptions
+31 882 266 649
[email protected]
€ 170 a year (excl. V.A.T.)
Recycling Technology is powered by
Recycling International, a publication of
Eisma Industriemedia
Single issue € 25 (incl. postage and
packaging)
ISSN: 2191-2947
Copyright 2019©
All rights reserved. No part of this
publication may be reproduced or
transmitted by any means without the
written permission of the publisher.
04_viewpointchiefeditor.indd 4 12-09-19 13:56