Recycling Technology 2020
Subscribe
Page 39 from: Recycling Technology 2020
Research into products will come with 'marginal costs'. The new digital ID can easily connect any item to the Internet of Things, Franck notes. In her envisioned 'smart system', the product details - such as material composit...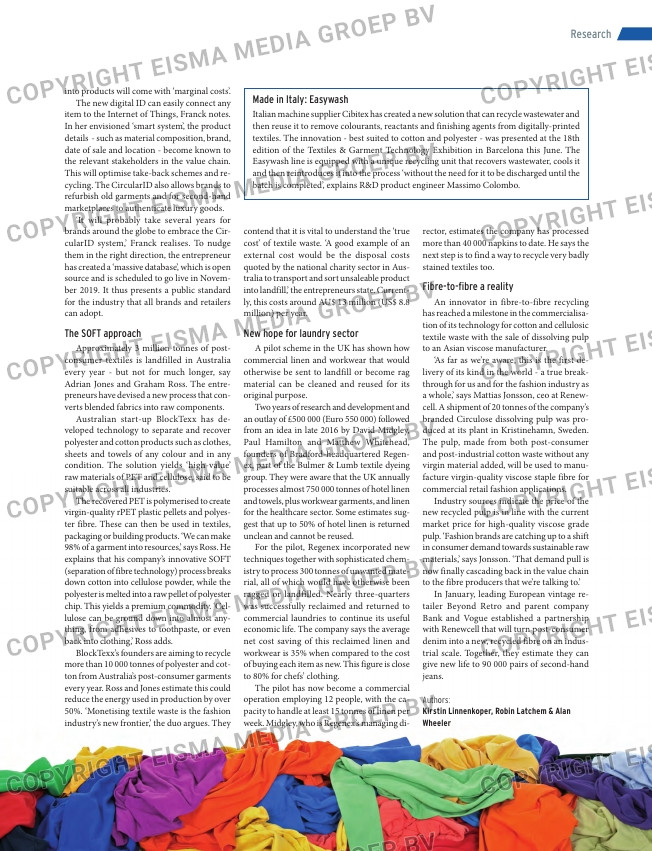 Research
into products will come with 'marginal costs'.
The new digital ID can easily connect any
item to the Internet of Things, Franck notes.
In her envisioned 'smart system', the product
details – such as material composition, brand,
date of sale and location – become known to
the relevant stakeholders in the value chain.
This will optimise take-back schemes and re-
cycling. The CircularID also allows brands to
refurbish old garments and for second-hand
marketplaces to authenticate luxury goods.
'It will probably take several years for
brands around the globe to embrace the Cir-
cularID system,' Franck realises. To nudge
them in the right direction, the entrepreneur
has created a 'massive database', which is open
source and is scheduled to go live in Novem-
ber 2019. It thus presents a public standard
for the industry that all brands and retailers
can adopt.
The SOFT approach
Approximately 3 million tonnes of post-
consumer textiles is landfilled in Australia
every year – but not for much longer, say
Adrian Jones and Graham Ross. The entre-
preneurs have devised a new process that con-
verts blended fabrics into raw components.
Australian start-up BlockTexx has de-
veloped technology to separate and recover
polyester and cotton products such as clothes,
sheets and towels of any colour and in any
condition. The solution yields 'high-value'
raw materials of PET and cellulose, said to be
suitable across all industries.
The recovered PET is polymerised to create
virgin-quality rPET plastic pellets and polyes-
ter fibre. These can then be used in textiles,
packaging or building products. 'We can make
98% of a garment into resources,' says Ross. He
explains that his company's innovative SOFT
(separation of fibre technology) process breaks
down cotton into cellulose powder, while the
polyester is melted into a raw pellet of polyester
chip. This yields a premium commodity. 'Cel-
lulose can be ground down into almost any-
thing, from adhesives to toothpaste, or even
back into clothing,' Ross adds.
BlockTexx's founders are aiming to recycle
more than 10 000 tonnes of polyester and cot-
ton from Australia's post-consumer garments
every year. Ross and Jones estimate this could
reduce the energy used in production by over
50%. 'Monetising textile waste is the fashion
industry's new frontier,' the duo argues. They
contend that it is vital to understand the 'true
cost' of textile waste. 'A good example of an
external cost would be the disposal costs
quoted by the national charity sector in Aus-
tralia to transport and sort unsaleable product
into landfill,' the entrepreneurs state. Current-
ly, this costs around AU$ 13 million (US$ 8.8
million) per year.
New hope for laundry sector
A pilot scheme in the UK has shown how
commercial linen and workwear that would
otherwise be sent to landfill or become rag
material can be cleaned and reused for its
original purpose.
Two years of research and development and
an outlay of £500 000 (Euro 550 000) followed
from an idea in late 2016 by David Midgley,
Paul Hamilton and Matthew Whitehead,
founders of Bradford-headquartered Regen-
ex, part of the Bulmer & Lumb textile dyeing
group. They were aware that the UK annually
processes almost 750 000 tonnes of hotel linen
and towels, plus workwear garments, and linen
for the healthcare sector. Some estimates sug-
gest that up to 50% of hotel linen is returned
unclean and cannot be reused.
For the pilot, Regenex incorporated new
techniques together with sophisticated chem-
istry to process 300 tonnes of unwanted mate-
rial, all of which would have otherwise been
ragged or landfilled. Nearly three-quarters
was successfully reclaimed and returned to
commercial laundries to continue its useful
economic life. The company says the average
net cost saving of this reclaimed linen and
workwear is 35% when compared to the cost
of buying each item as new. This figure is close
to 80% for chefs' clothing.
The pilot has now become a commercial
operation employing 12 people, with the ca-
pacity to handle at least 15 tonnes of linen per
week. Midgley, who is Regenex's managing di-
rector, estimates the company has processed
more than 40 000 napkins to date. He says the
next step is to find a way to recycle very badly
stained textiles too.
Fibre-to-fibre a reality
An innovator in fibre-to-fibre recycling
has reached a milestone in the commercialisa-
tion of its technology for cotton and cellulosic
textile waste with the sale of dissolving pulp
to an Asian viscose manufacturer.
'As far as we're aware, this is the first de-
livery of its kind in the world – a true break-
through for us and for the fashion industry as
a whole,' says Mattias Jonsson, ceo at Renew-
cell. A shipment of 20 tonnes of the company's
branded Circulose dissolving pulp was pro-
duced at its plant in Kristinehamn, Sweden.
The pulp, made from both post-consumer
and post-industrial cotton waste without any
virgin material added, will be used to manu-
facture virgin-quality viscose staple fibre for
commercial retail fashion applications.
Industry sources indicate the price of the
new recycled pulp is in line with the current
market price for high-quality viscose grade
pulp. 'Fashion brands are catching up to a shift
in consumer demand towards sustainable raw
materials,' says Jonsson. 'That demand pull is
now finally cascading back in the value chain
to the fibre producers that we're talking to.'
In January, leading European vintage re-
tailer Beyond Retro and parent company
Bank and Vogue established a partnership
with Renewcell that will turn post-consumer
denim into a new, recycled fibre on an indus-
trial scale. Together, they estimate they can
give new life to 90 000 pairs of second-hand
jeans.
Authors:
Kirstin Linnenkoper, Robin Latchem & Alan
Wheeler

Made in Italy: Easywash
Italian machine supplier Cibitex has created a new solution that can recycle wastewater and
then reuse it to remove colourants, reactants and finishing agents from digitally-printed
textiles. The innovation – best suited to cotton and polyester – was presented at the 18th
edition of the Textiles & Garment Technology Exhibition in Barcelona this June. The
Easywash line is equipped with a unique recycling unit that recovers wastewater, cools it
and then reintroduces it into the process 'without the need for it to be discharged until the
batch is completed', explains R&D product engineer Massimo Colombo.
36-37-38-39_textiles.indd 39 12-09-19 14:22